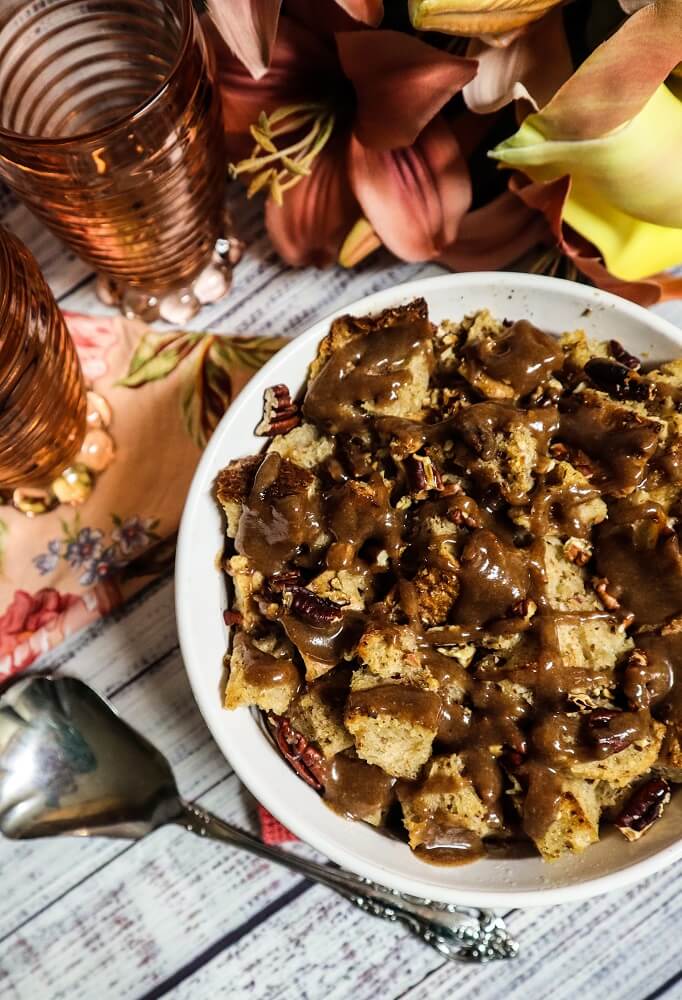 Vegan Maple Pecan French Toast Casserole 
I always loved french toast growing up.  Even though it is something that is supposed to be made with leftover stale dry bread, I always thought it was special because I didn't get to have it often. Yet, we always had the ingredients on hand. I thought that when I went vegan it would be harder to make delicious french toast, but I was wrong.  It is actually easy!  Especially if you go the route I did, and make it in a nice big casserole fit for a brunch feast!  Plus you don't have all of the raw eggs and milk in it (which I am actually kind of grossed out by now, since I have been vegan for a while).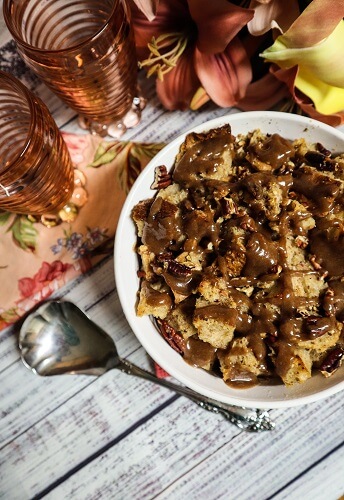 I had a slightly stale good quality loaf of sourdough bread last week, and I decided that a fabulous french toast casserole sounded like the perfect way to use it. I could have gone the old fashioned route with french toast and made slices to cook individually, but since Easter is coming up, and Easter brunch is a big thing I thought why not develop a recipe that could feed more than a few people as a side. So I cubed up the bread and got to work on the soak for it. Traditionally it would have eggs, milk and a little sugar, but instead of the eggs, I used flax eggs (1 Tbsp ground flax seed plus 3 Tbsp filtered water per egg), oat milk and maple syrup instead.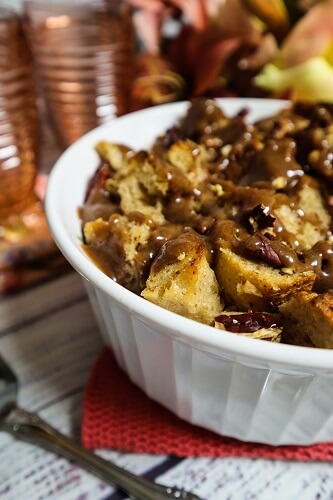 I let the bread soak in the mixture for a little bit and tasted a chunk and it had good flavor even before it was baked so I could not wait to try it!  I mixed in some pecans as well for texture and crunch and since they go so well with maple syrup and french toast. I lastly sprinkled it with some maple sugar so it would get nice and crispy on top.  It smelled amazing while baking.  The aroma of sweet maple filling the air!  Kind of like caramel rolls (because I like to use maple in mine).
I could not wait to try it!  Once it cooled down a little I had to dive in.  It was totally crave worthy!  I haven't had anything like this in years, and I have always wanted to make a french toast casserole. It was sweet, but just the right amount of sweet with a maple flavor throughout, with a tender soft texture at the bottom and crunch on top!  The crunchy pecans were a nice touch. If you are looking for a dish to share for Easter, this would be perfect!  Or just for a weekend treat, because you should definitely not wait to make this.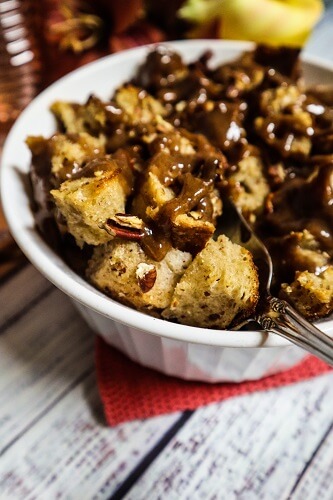 Vegan Maple Pecan French Toast Casserole  
Serves 4-6
Ingredients:
Casserole:
2 Tbsp ground flax seed, mixed with 6 Tbsp filtered water
1 3/4 cups oat milk (or your favorite plant based milk)
1/4 cup maple syrup
1/4 tsp sea salt
1 tsp pure vanilla extract
6 cups lightly packed cubed sourdough bread
3/4 cup chopped pecans
2 Tbsp maple sugar (or coconut sugar)
Caramel:
1/4 cup pecan butter (cashew or almond would also work)
1/4 cup maple syrup
1/4 tsp sea salt
Instructions:
Preheat the oven to 350F degrees, and oil a 1 1/2 or 2 quart baking dish (see bottom for other options).
In a bowl, whisk together the flax mixture, oat milk, maple syrup, sea salt, and vanilla until well combined, then add the bread cubes and toss to coat in the mixture.  Toss the pecans with the bread.
Transfer the mixture to the prepared baking dish, (including the liquid, pour it over it). Sprinkle with the maple sugar.
Place in the oven on a tray, and bake for about 25-30 minutes (see bottom for other pan sizes baking times), or until the top is starting to brown and the liquid has absorbed and baked into pudding at the bottom.
Remove from oven.
Let cool about 10 minutes and enjoy warm!
For 6 small ramakins: bake 15 minutes
For 1 8x8 inch square pan or 2 quart baking dish: bake 30-40 minutes
(Visited 226 times, 1 visits today)