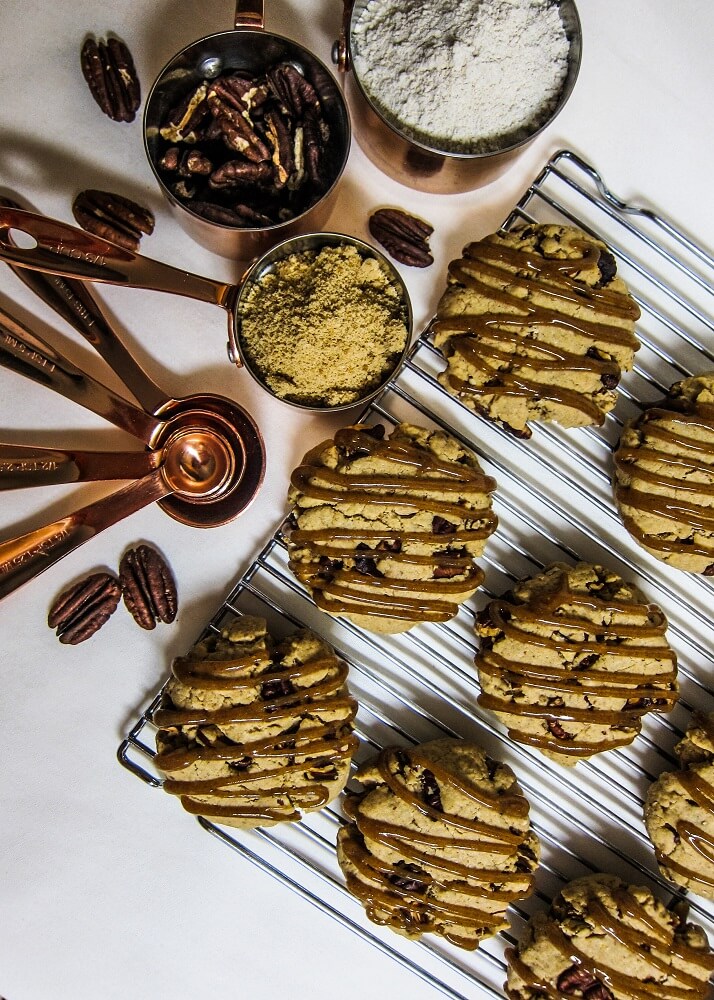 Vegan Maple Pecan Cookies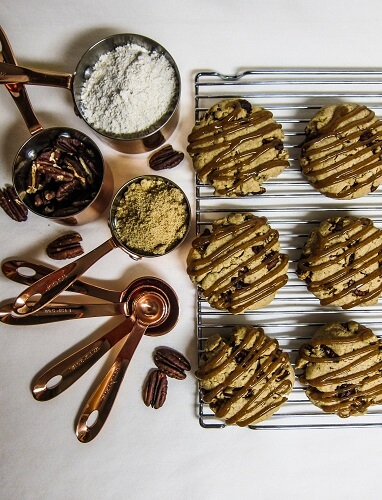 I have only made one Christmas cookie this year so far, and I only have 3 more weeks, so I am getting on it making some! When I was little my Mom and I would pick out a bunch of cookies to make every year then store them in the freezer to enjoy throughout the holiday season.  We had our favorites from my Grandma's recipes or church cookbooks, but we also liked to go to the library and get cookbooks to find recipes in. I still like to continue on this tradition of making a variety of cookies to enjoy for a month or two from the freezer and to give as gifts.  At one point we had made some really good pecan sugar type cookies, and I was craving them the other day so I decided to whip up a veganized batch.  I had just bought some maple sugar so it was perfect!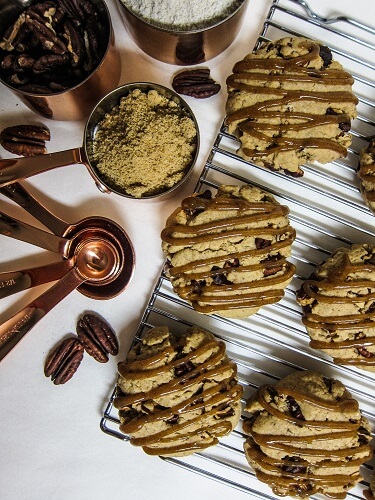 I based them off of my vegan sugar cookie recipe using the maple sugar instead of regular sugar or coconut sugar to give them a bit of a maple flavor to start.  I love maple sugar because it is more delicate than coconut sugar and dissolves a little better in a recipe like these cookies. Plus I just love the flavor.  It is basically maple syrup turned into granules. I also added a bit of vanilla extract and maple extract to make these smell heavenly!  Lastly some toasted pecans for crunch.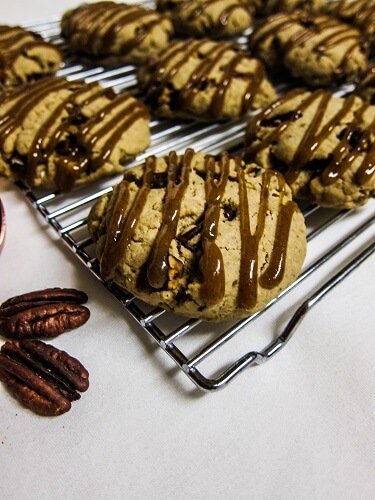 This cookie dough is actually really easy to make, just mix, roll into balls, and bake!  None of that whipping the dough for a while, or chilling or cutting out or all that jazz.  In the extra time you save since they are so easy to make I highly recommend sampling the dough, it is amazing!  I could not stop tasting it in fact.  But eating cookie dough is my favorite part of the cookie making process.  They baked up beautifully!  I could not wait to try them.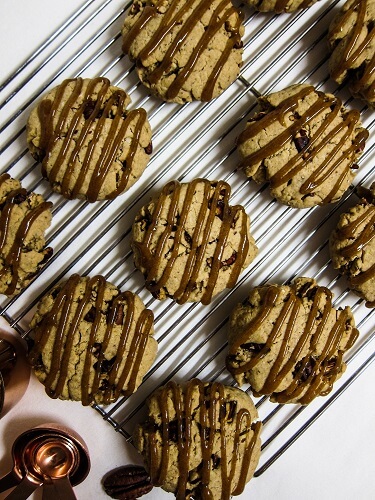 But I wanted to add something to make them even more delicious first, a maple pecan glaze!  I whisked together a bit of pecan butter, maple syrup and coconut butter and it was perfect on the cookies!  If you don't have pecan butter you could use another nut butter like cashew or almond.  The cookies were sooo good!  They tasted rich buttery and delicious with the aroma of maple and crunch of toasted pecans!  If you are a big maple fan like me, definitely give these a try!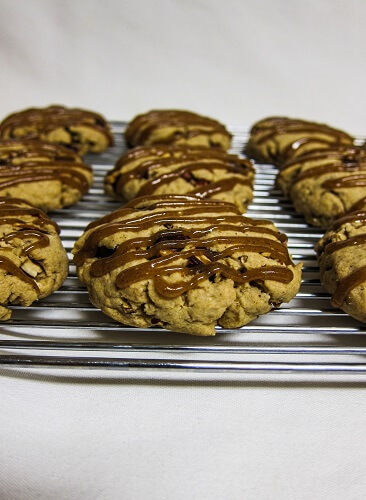 Vegan Maple Pecan Cookies
Makes 28 cookies
Ingredients:
2 Tbsp ground flax seed
1/4 cup plus 2 Tbsp filtered water
1 cup coconut oil, warmed to liquid
1 1/2 cups maple sugar
1 teaspoon vanilla extract
1 tsp maple extract
1 teaspoon baking soda
1/2 teaspoon sea salt
3 1/2 cups organic whole wheat pastry flour*
1 cup chopped toasted pecans
Instructions:
Preheat your oven to 350F degrees.
In a small bowl, whisk together the flax seed and filtered water.  Set aside in the refrigerator for 15 minutes.
In a large bowl, mix coconut oil with sugar and mix until well combined.
Mix in the vanilla extract, maple extract and flax mixture until well combined.
Add the baking soda, salt, then the flour, a cup at a time, mixing between each addition, until well combined.
Mix in the pecans.
Roll dough into about 1 1/2 inch balls, and place on prepared cookie sheets a couple inches apart, pressing them down slightly to flatten a bit.
Place in the oven and Bake for about 13 minutes, until puffed and just starting to brown slightly.  Remove from the oven and let cool on the pan a few minutes, then remove to a wire rack to cool.
Repeat with remaining cookies and let cool completely before you make the glaze.
*If you want to make these gluten free, swap the whole wheat pastry flour 1:1 with Bob's Red Mill All Purpose Baking Flour.  I have tried this brand and know it works well (I can not say the same for all other brands as I have not tried them).
(Visited 753 times, 1 visits today)