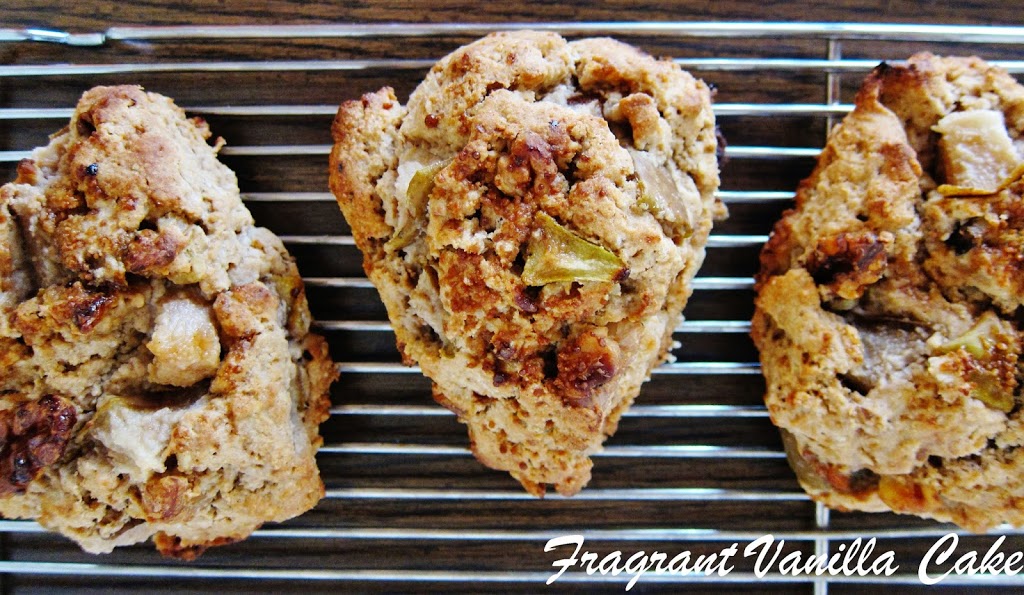 Vegan Maple Oatmeal Walnut Pear Scones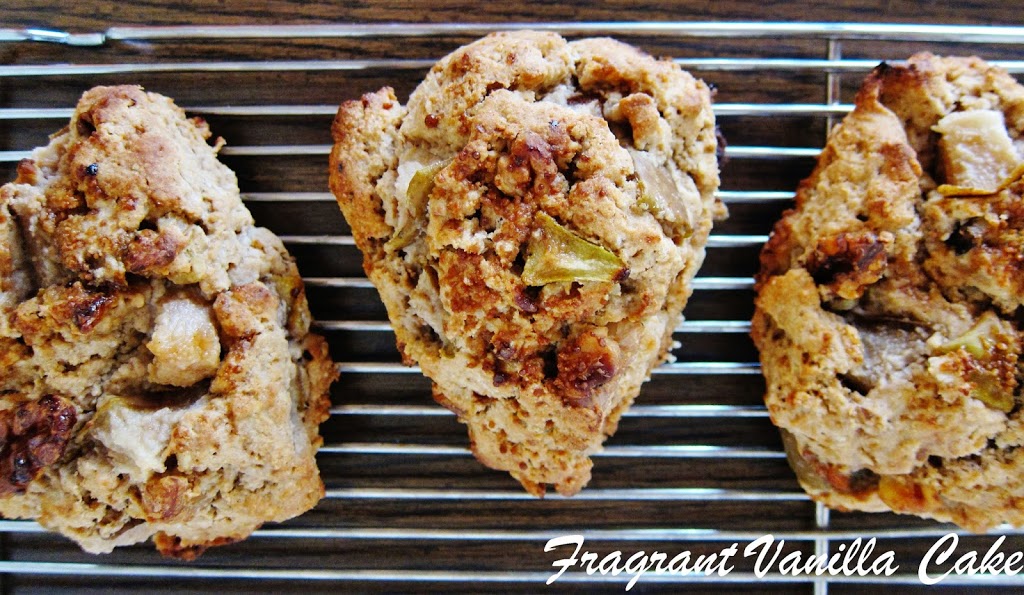 I work in a deli, and my coworker often bakes scones. They all smell amazing, and I think they are my favorite thing to have sitting next to me on the cooling rack because the heavenly aroma they give off makes me happy.  I used to make a lot of scones at home, but sadly, it has been a while since that last batch.
I haven't baked scones in years actually, and I figured it was about time I revamped my old recipe and healthified it to fit my standards. Because they were sounding so good to me! So, one night last week when I wanted something warm from the oven, scones it was!  I have been wanting to try scones made with oat flour in place of regular flour and coconut oil in place of the butter for a while, so now was my chance.  Would they behave like my other scones did in the oven? Or would the coconut oil melt too much?
Turns out they baked up beautifully!  I ended up making pear scones, since I had a lovely perfectly ripe pear sitting on my counter.  I added in oats for substance, walnuts for crunch and maple just because I love the scent of it with oats and fruit.  These smelled amazing while baking and tasted even better.  I think they may even be more delicious than my old scones!
Vegan Maple Oatmeal Walnut Pear Scones
Makes 8
2 cups plus 2 Tbsp gluten free oat flour
1 cup gluten free rolled oats
1/2 cup coconut sugar
2 1/2 tsp baking powder
1 tsp cinnamon
1/4 tsp salt
1/2 cup coconut oil, cut into chunks
1 cup cold full fat orgainc canned coconut milk (whisked until smooth if chunky)
1 Tbsp pure vanilla extract
1 tsp maple extract
2 medium sized ripe, organic pears cut into chunks
1/2 cup raw walnuts, coarsely chopped
coconut milk for topping
coconut sugar for sprinkling
(Visited 172 times, 1 visits today)