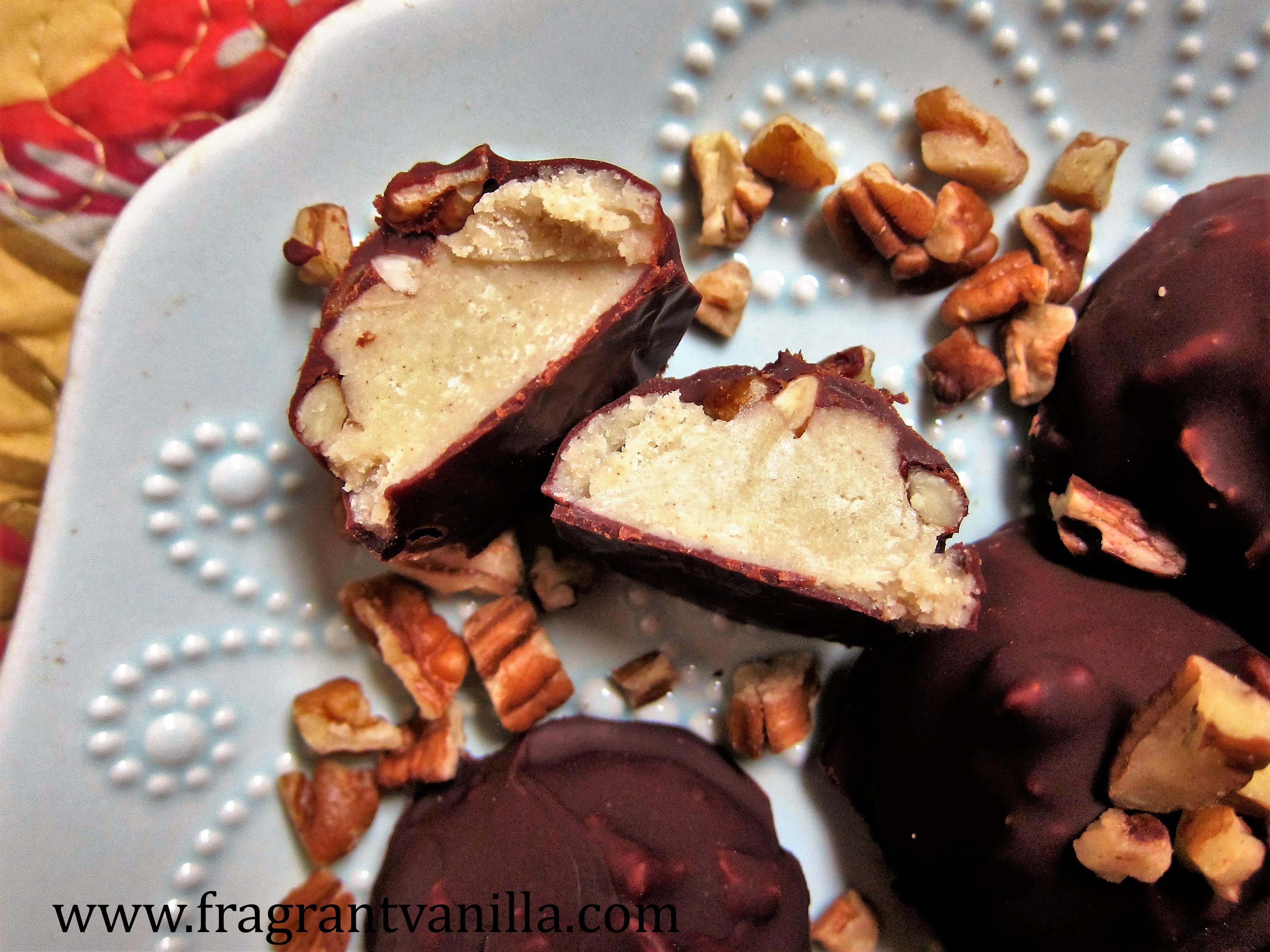 Vegan Maple Nut Cheesecake Dark Chocolates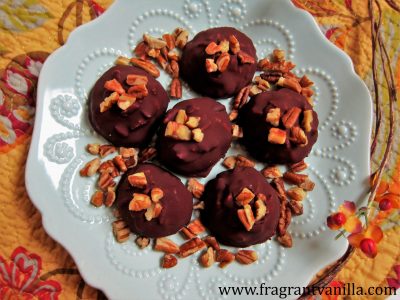 I have been in a candy making mood lately.  Most likely because Halloween is coming up, and I don't buy candy at the store, but I love making it!  When I make my own, I can control the ingredients that go into it, which are always good quality.  I have made copy cat versions of Halloween candy classics, like Snickers, Twix, and Reese's Peanut Butter Cups, but I like to create new delicious types of candy too.  Always chocolate though, I was never a fan of any Halloween candy that wasn't chocolate.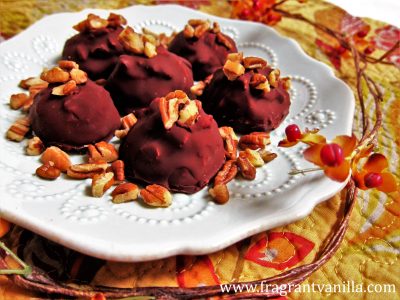 I made some Vegan Maple Nut Cheesecake Dark Chocolates last night, and they were so good I had to share the recipe with you all.  These are sort of like grown up Halloween Candy.  They were inspired by a raw cheesecake I made a while back with the same flavors.  It was simple but so good.  Also, maple and nuts make me think of fall.  Probably because of my family's love for pecan pie.  But I would take cheesecake over pecan pie most days, so pecan cheesecake is what I was craving.  These are pretty simple to make, which is always a plus for me!  I don't know about you, but I am not always in the mood for making something super complicated when I get home from work in the evening.  For the filling, I used a mixture of cashew butter, pecan butter, and coconut butter, and it was the most luscious delicious mixture!  Especially with the maple added.  Omg...I could have eaten it like that with a spoon!
I did with some...but most of it made it to the being dipped in chocolate stage after pecans were added to it.  I chose pecans for my chocolates, but I am leaving it up to you what type of nuts you would like to use.  I know pecans can be spendy, or maybe you like walnuts or almonds better so if you like those swap them in for the pecans.  It is always ok to make recipes your own!  That is what I have always done after all, and how I learned how to create and make things!  Anyways, back to the chocolates...these turned out simply heavenly!  Chocolate covered nutty cheesecake heaven!  If you could create your own Halloween candy, what would you make?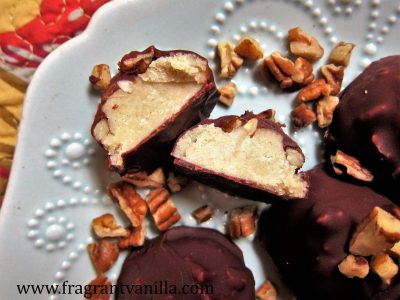 Vegan Maple Nut Cheesecake Dark Chocolates
Makes 12
Cheesecake filling:
1/3 cup raw pecan butter, walnut butter, or almond butter at room temperature
1/3 cup raw cashew butter at room temperature
¼ cup coconut butter, warmed to liquid
2 Tbsp maple syrup
Pinch sea salt
¼ tsp maple extract
¼ cup chopped pecans, walnuts, or almonds
Coating:
6 oz vegan dark chocolate, chopped
Whisk together all of the ingredients for the filling except the pecans.   Place in the freezer for about 10 minutes until the mixture is a little thicker.
Drop the mixture onto a parchment lined tray by the heaping teaspoonful, and sprinkle with pecans (pressing in lightly). Place back into the freezer until firm.
Meanwhile, melt the dark chocolate in the top of a double boiler.
Dip each ball of cheesecake into the chocolate and place back on the lined tray (I like to use a fork to set the candy on to dip it so that the excess can run off, and then I carefully use a knife to slide it off touching only the bottom, onto the tray).  One they are all dipped, place back in the freezer until the chocolate has set, about 10 minutes.
Store chocolates in the refrigerator in a sealed container.
(Visited 43 times, 1 visits today)