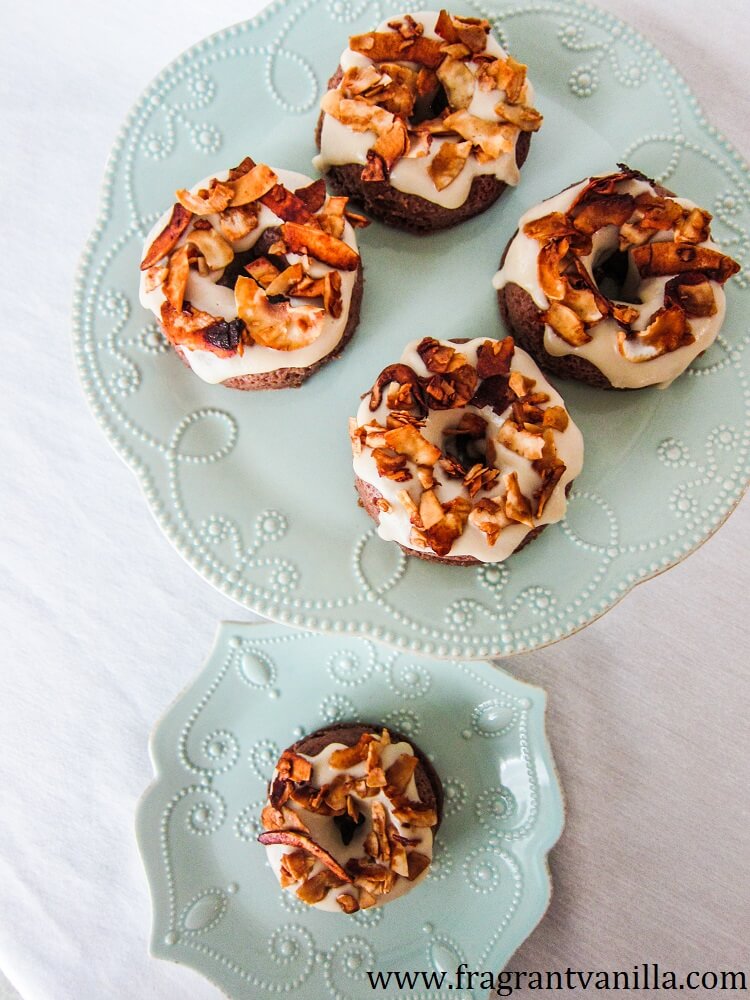 Vegan Maple Glazed Bacon Doughnuts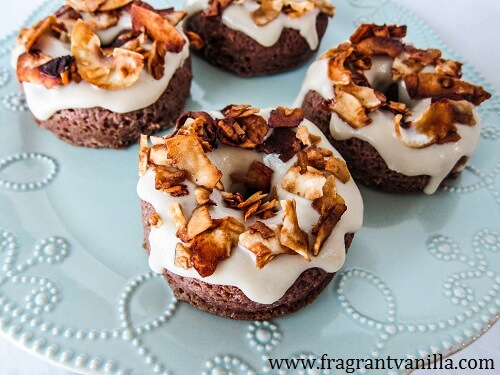 I feel like so many people are obsessed with bacon.  Well, guess what?  I used to be too before I became vegan.  Well vegetarian first so the bacon was long gone by the time I went vegan because it has been a total of about 14 years since I have eaten meat.  I have tried many bacon substitutes, and I have to be honest, I have not cared for most and they were not like bacon.  But the closest thing to bacon I have made is coconut bacon which I recently discovered (finally).  OMG it is sooo good.  Salty, crunchy and smokey just like bacon.  I used it in a caramel corn recipe and it was yummalicious, so I thought to myself, why not add it to maple doughnuts like I see other people doing with regular bacon?  Coconut bacon is after all so much more appealing on a dessert (at least to me).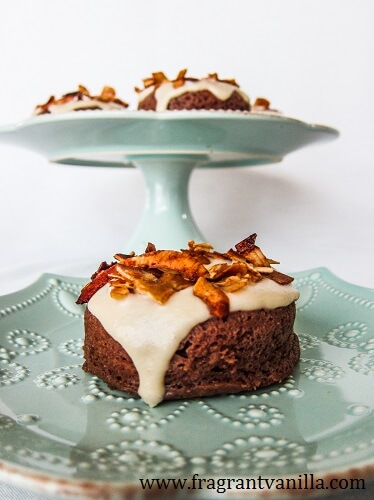 So, I baked up some maple cake doughnuts.  I have this lovely doughnut pan I picked up a few years back and I love it!  The batter for these is actually sweetened with dates, so they have sort of a caramel maple flavor that is sooo yummy!  They smelled amazing while baking too.  Sort of like pancakes with the whole maple thing going on.  I love the aroma of maple.  My coworker was baking maple scones the other day and the scent always makes me happy. It reminds me of when my Mom used to make pancakes when I was little. I had to top these off with something delicious so that the bacon would stick to them, so I topped them off with a sweet maple glaze.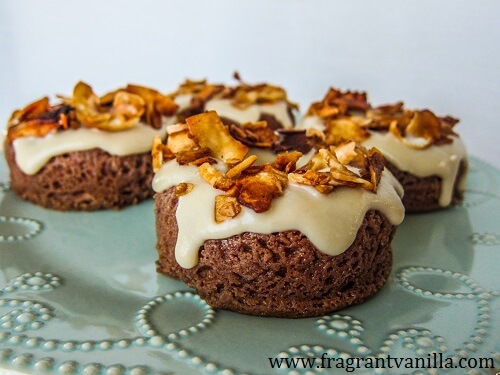 It has a coconut butter base actually and was super simple to make, but tasted so good on the doughnuts, especially once the bacon was added.  These were simply heavenly!  Thank goodness for maple bacon!  If you have never tried it, you simply must!  These would be perfect for baking on a lazy weekend morning!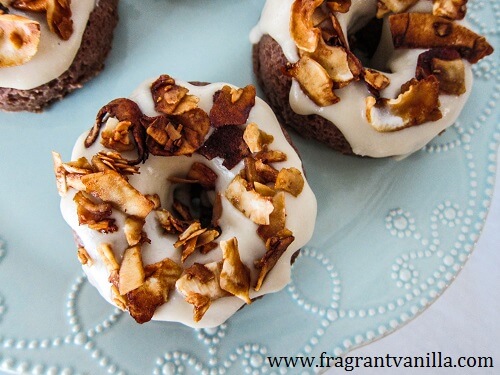 Vegan Maple Glazed Bacon Doughnuts
Makes 6
One 6 hole doughnut pan
Doughnuts:
3/4 tsp baking soda
1/2 tsp baking powder
1/4 tsp sea salt
3/4 cups packed soft medjool dates, pitted, soaked in water for 30 minutes and 3/4 cup of the water reserved
2 Tbsp raw pecan butter (or raw almond butter)
2 tsp pure vanilla extract
1 tsp maple flavor
1/2 cup filtered water
1 Tbsp apple cider vinegar
Coconut Bacon:
1 1/2 cups large flake coconut
2 Tbsp tamari
2 Tbsp liquid smoke
1 Tbsp maple syrup
Glaze:
1/3 cup coconut butter, warmed to liquid
1 ½ Tbsp maple syrup
1 ½ Tbsp filtered water or as needed
Pinch sea salt
½ tsp maple extract (optional)
Instructions:
Preheat the oven to 375F degrees and position rack in center of oven. Oil a 6 hole doughnut pan.
Whisk flour, baking powder, baking soda, sea salt in a large bowl to blend well. Place dates, reserved water, pecan butter, water, maple, and vanilla extract into a blender, and blend until smooth, then whisk this blended mixture into the flour mixture until well blended. Whisk in the cider vinegar until bubbles form.
Transfer batter to prepared pan and bake until tester inserted into center comes out clean, about 15-20 minutes until set and a toothpick inserted into the center comes out almost clean with a few moist crumbs attached.  You don't want to over-bake.
To make the coconut bacon, preheat the oven to 350F degrees, and line a sheet pan with parchment.
Toss the large flake coconut with the tamari, liquid smoke and maple syrup and spread out on the pan.  Place in the oven and bake for about 12-15 minutes (depending on your oven), keeping a close eye at the end and checking it in the final minutes because it burns fast.  Remove from oven and let cool.
To make the glaze, whisk together all ingredients until smooth (adding more water if too thick, you want it to be pour-able but not too thin).  Spoon over the doughnuts, allowing it to drip down the sides.  Sprinkle with the coconut bacon. Let set until dry (which happens faster if you put them in the refrigerator for 15 minutes).  Enjoy!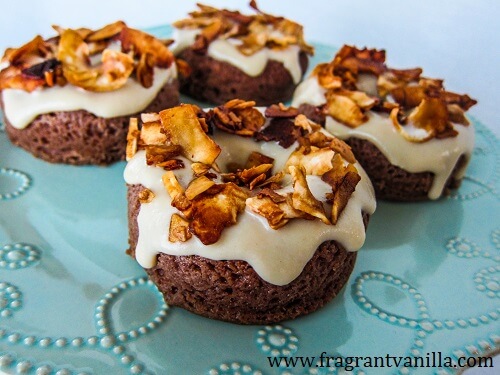 (Visited 137 times, 1 visits today)