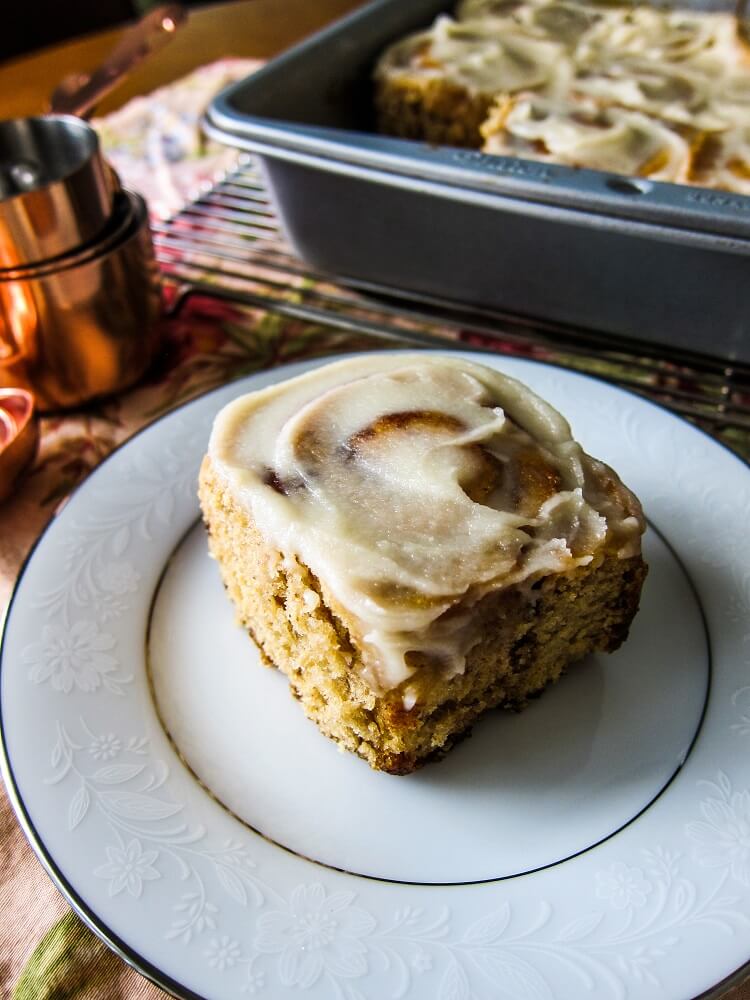 Vegan Maple Cinnamon Rolls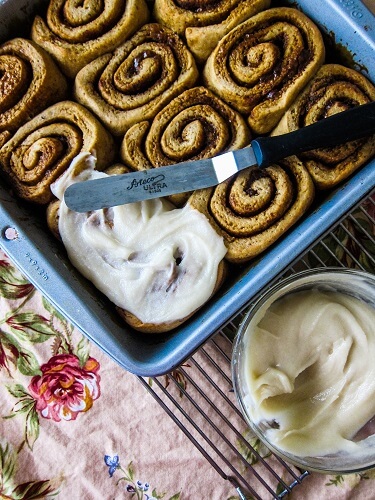 Nothing beats the aroma of freshly baked cinnamon rolls. It is such a happy smell, and one can not possibly be in a bad mood when exposed to the heavenly scent! At least I can't. I have always loved them, since I was a little kid. I used to like it when my Mom made the ones from a can with the cream cheese frosting even though they weren't home made. But what I really loved were the ones that my Grandma always bought at a local bakery. They were giant, and so fluffy, sweet and packed with cinnamon flavor, and topped off with a cream cheese icing.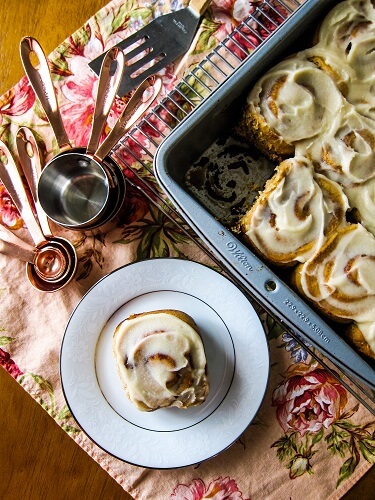 Well, it has been a while since I have had a cinnamon roll. I have made caramel rolls since I went vegan, and other types of rolls but not plain cinnamon. I don't know why because every time I see them I tell myself that I need to make some because I get hungry for them. Maybe it is partly because I get a little overwhelmed with yeasted goodies sometimes because they take longer to make than say a cake that you just whip up and bake without rising time. But I had a few free hours last Sunday and I decided that baking some cinnamon rolls was the perfect thing to do.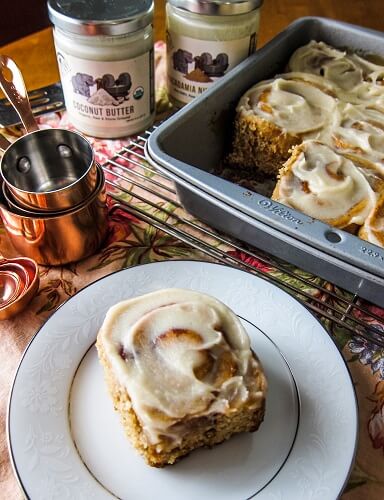 The yeast wasn't so bad. In fact, kneading bread or roll dough is kind of relaxing and the finished product is totally worth the rising time. I just went for a walk and did other things while the dough did its thing. I decided to use maple sugar in these because I love that in combination with the cinnamon and they smelled amazing while baking!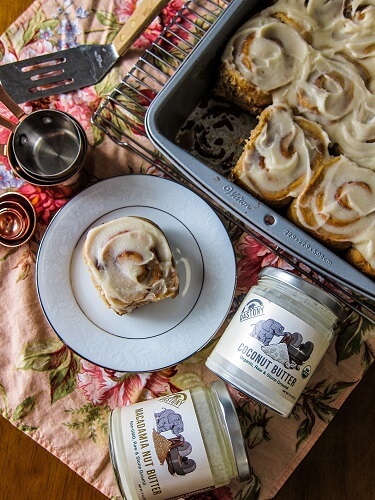 They had to be topped with some luscious cream cheese style frosting too! So, I used a combination of Dastony coconut butter and macadamia nut butter from Raw Guru with a little maple syrup and vanilla and it was heavenly! The rolls were soft and they had plenty of cinnamon and maple flavor which was perfect with the creamy rich frosting! If you are a cinnamon roll fan, give these a try, they are totally worth the extra time!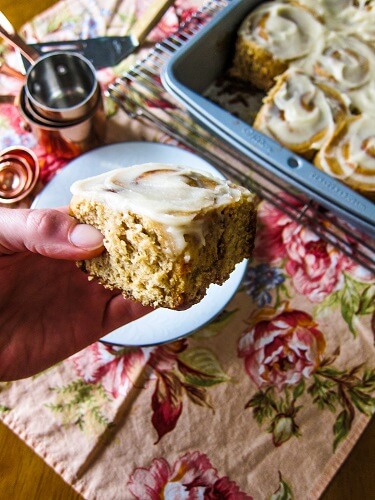 Vegan Maple Cinnamon Rolls
Makes 12
Dough:
1/4 oz active dry yeast
1/2 cup warm water ( 105-110F degrees)
1/2 cup warm coconut milk (I warmed it up on the stove)
1/4 cup maple sugar or coconut sugar
1/4 cup avocado oil
1 tsp maple extract (optional)
1 tsp sea salt
1 Tbsp ground flax seed, mixed with 3 Tbsp filtered water
3 1/2 cups whole wheat pastry flour or as needed
Filling:
1/4 cup maple syrup
1/2 cup maple sugar
1 1/2 tsp cinnamon
Glaze:
Instructions:
To make the dough, combine the yeast and the warm water plus a pinch of maple sugar and stir to dissolve. Let sit 5-10 minutes until it starts to foam.
In a large bowl, combine the coconut milk, maple sugar, maple extract, avocado oil, salt and flax mixture and mix together to combine.
Add the yeast, and 2 cups of flour and mix to combine.
Add the remaining 1 1/2 cups of flour and mix until you have a smooth dough (you may need to use your hands at the end to mix it in).
Turn out onto a lightly floured surface, and knead for 5-10 minutes until smooth and supple. If it is too sticky add a little flour but you want to add as little as possible because if you add too much the dough gets tough.
Place in an oiled bowl, and cover. Let rise for about 1 1/2 hours until doubled in size.
When it is ready, turn out onto the counter or a board and roll out into a 9x15 inch rectangle.
Brush with the maple syrup so you have a thin coating of it for the sugar to stick to. Mix the cinnamon and sugar together, then sprinkle it evenly over the dough.
Roll it up, then cut the roll into 12 pieces.
Oil an 8x8 inch square baking pan, and place them in the pan.
Cover and let rise for 45 minutes.
Meanwhile heat the oven to 350F degrees.
When the rolls have risen for 45 minutes, place them in the preheated oven and bake for about 30 minutes until starting to brown and cooked through.
Remove from the oven and let cool 15 minutes.
Whisk the glaze ingredients together, adding a little bit more coconut milk if it seems too thick.
Pour the glaze over the rolls, and enjoy!
These keep covered at room temperature for up to 3 days, or refrigerated for up to 1 week.
(Visited 937 times, 1 visits today)