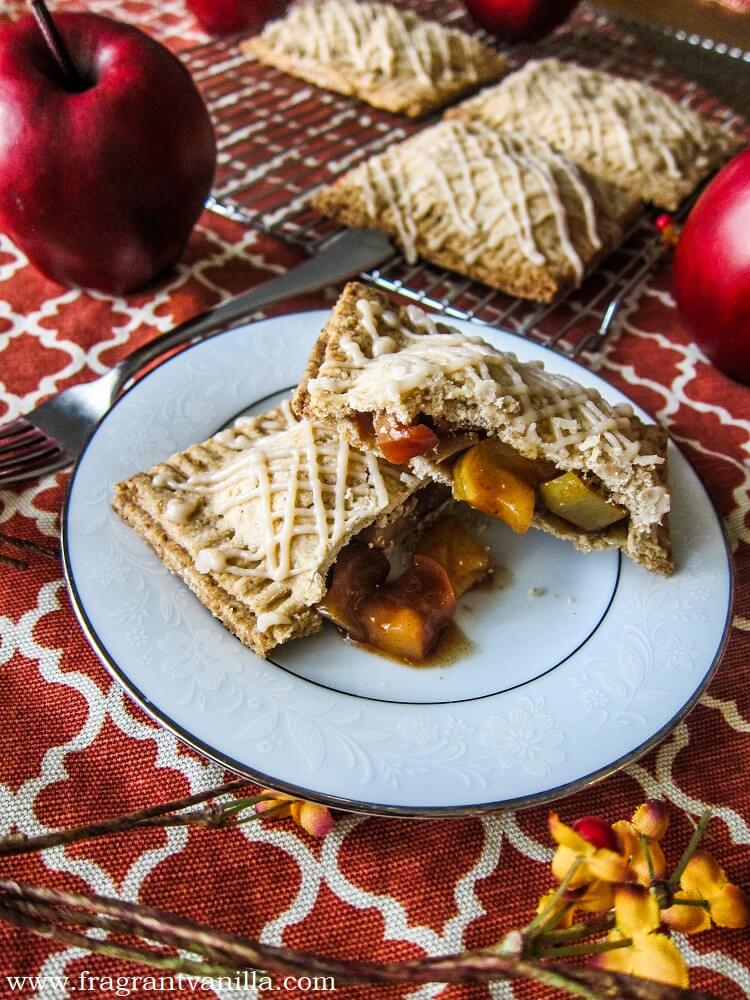 Vegan Maple Brandy Apple Hand Pies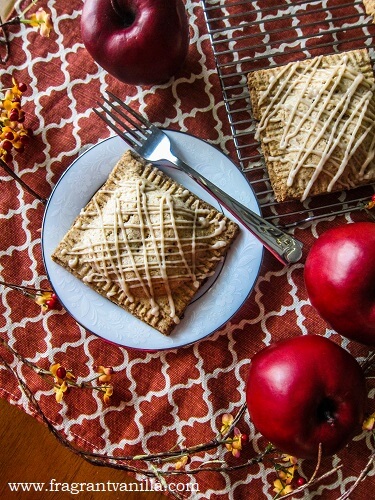 I am so ready for Fall.  It was still 90F degrees here this weekend, and it still feels like Summer, but you can tell that Fall is starting to creep in.  Some of the trees are just starting to change color or drop their leaves and it has been cooler at night.  There is nothing like waking up to a cool morning and going for a run with the crunchy leaves on the ground and aroma of Fall in the air.  I can't wait for that. Also, wearing cozy clothes like flannels and sweaters and drinking hot toddies and baking apple pies.  It is my favorite season in case you can't tell.  Just one more week and it will technically be here.  But I am getting started early with the baking.  The apples are already really amazing right now, so I decided that apple pie was in order.  I haven't made it out to the apple orchard to get my bag of Haralson apples, my favorite for baking, but I had some delicious honeycrisps on hand so that is what I went with. They are the perfect balance of tart and sweet, and hold up well, so they are perfect for using in pies.
I love a good mile high apple pie loaded up with filling, but I decided to go with cute little hand pies this time so I could easily share them.  Also, I like to switch up flavors in my desserts, so I decided to give these a little brandy and maple to make them extra good instead of just classic apple pie. I didn't think that the difference would be all that noticeable, but it totally was!  The brandy is so good with the apples, and of course you probably already know that maple is amazing with them too so it was all together a heavenly combination! I made these a little different than most people make hand pies, and cooked the filling first before stuffing it into the dough.  That way you don't have to bake them as long (it is only about 30 minutes baking time), and you know that the inside is done when the crust is browned.  I find that sometimes it gets way too dark by the time the filling is cooked so this eliminates that.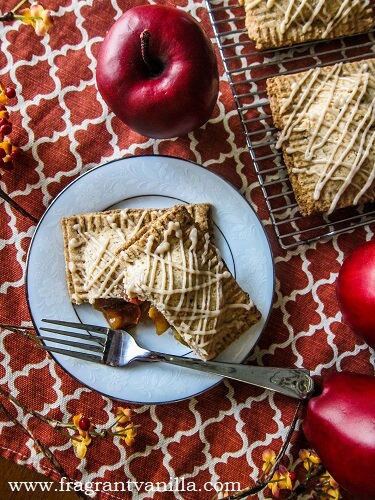 They smelled so incredibly good while baking!  I love the heavenly aroma of apple pie, it reminds me of when my Mom used to make apple pie or crisp when I was little.  She always made the best pies!  Now I share my pies with her, because I know they are one of her favorites too. These hand pies turned out so good!  The filling was gooey, sweet and that scent of brandy and maple just put it over the top!  The crusts were tender and rich, and I had drizzled a maple brandy glaze over them that made them extra good.  If you have apples on hand, give these a try!  If you don't wish to make them gluten free, just swap out the gluten free AP flour for organic whole wheat pastry flour.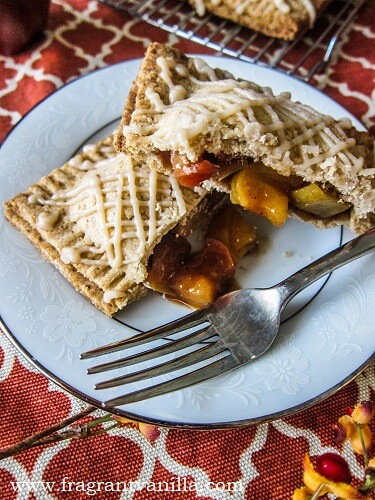 Vegan Maple Brandy Apple Hand Pies 
Makes 6
Crust:
1/4 cup coconut sugar or maple sugar
1/2 tsp sea salt
3/4 cup coconut oil in its solid state
about 6-7 Tbsp cold water (or as needed)
Filling:
4 cups organic sweet apples (such as honeycrisp) cut into small 1/2 inch cubes
3 Tbsp maple syrup
2 Tbsp brandy (make sure it is vegan on Barnivore)
1/2 tsp cinnamon
1 tsp pure vanilla extract
2 tsp cornstarch (dissolved in 1/2 Tbsp lemon juice)
Glaze:
3 Tbsp coconut butter, warmed to liquid
1 Tbsp maple syrup
1 Tbsp brandy
pinch sea salt
3-4 Tbsp filtered water or as needed
Instructions:
To make filling, heat the apples, maple syrup, brandy and cinnamon in a small saucepan over medium heat, and cook them until they are very soft, about 10 minutes.  Add the vanilla, and cornstarch and lemon juice mixture and cook until thickened.  Remove from heat, and set aside and let cool completely before using with the pastry (you don't want it too warm or it will make the crusts melt too much).
To make the crust, in a large bowl, mix together flour, sugar, sea salt, and spices. Cut in coconut oil with a pastry blender or 2 knives until it is in pea sized pieces. Mix in just enough water to create a smooth dough that holds together but isn't too sticky. Add more water if needed, and knead slightly until a smooth dough is created.
Roll out into a large rectangle and cut into 12 squares or rectangles.  Chill briefly in the refrigerator if too soft before assembling.  You want the dough a little pliable so you don't want to chill it more than a few minutes, but not so warm that it will break (temperature is key to the success of this dough). Preheat oven to 375F degrees.
To assemble, place about 3 Tbsp apple filling mixture in the middle of half of the dough rectangles (leaving a boarder so you can attach the dough at the sides). Cover with the remaining pieces of dough (I used a small spatula to carefully move them), pressing the edges and crimping with a fork or the edge of something with a flat edge, like a spatula. Bake for about 30 minutes until the crusts are starting to brown lightly. Remove from oven and let cool on a wire rack until warm.
Whisk glaze ingredients together until smooth (adding more water if too thick, you want it to be pour-able). Spoon some of the glaze over each pie, and smooth it out to cover the top. Let set before serving.
(Visited 289 times, 1 visits today)