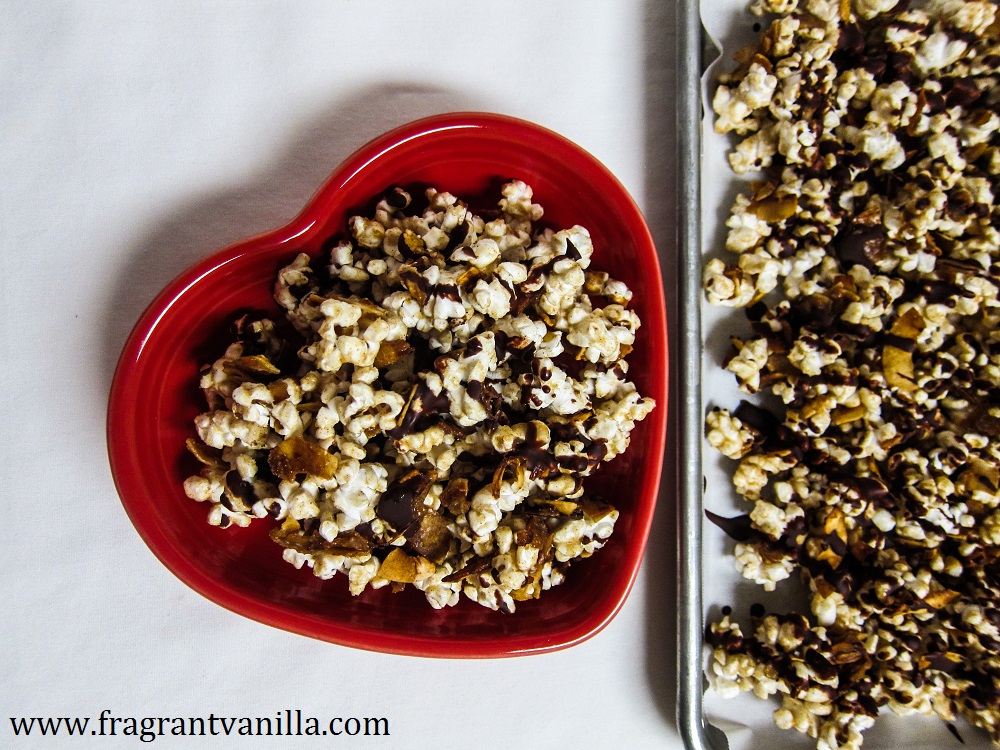 Vegan Maple Bacon Caramel Corn with Dark Chocolate Drizzle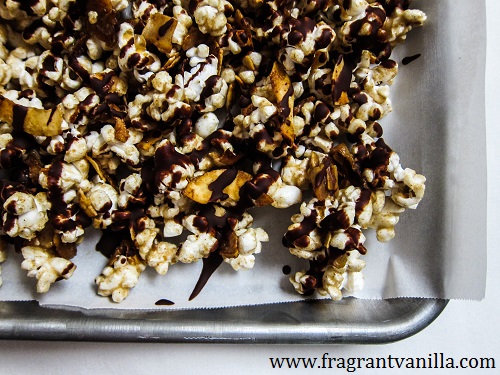 Back in the day, way before I went vegan I was a huge bacon eater.  Saturday mornings at Grandma's house always involved bacon, the aroma filling the whole house as it cooked.  I especially liked it when she made Denver sandwiches with it.  And, when I went out to eat at a local pancake restaurant with my Mom I would always order bacon alongside my short stack. As if the pancakes weren't enough.  I had to have that  crunchy salty crispy smoky goodness on the side.  I wasn't a stranger to bacon cheeseburgers either.  A Wendy's jr. bacon cheeseburger was at the top of my list when I was 16.  That all changed though when I went vegetarian in 2003 (I went full vegan in 2012), no more bacon.  It makes me really sad to think about the lives that pigs who are raised for food live, and my rule is if I wouldn't want something done to me or my family I don't do it to others.  Including animals.  Even if it is indirect, like the farm is killing the bacon and people just consume it.  You are still creating a demand for this product.  People can totally live without real bacon.  I have done so for 14 years, and I have not really missed it.  Eating animal flesh grosses me out. If there was something I missed about it, it was definitely not the fact that it was animal.  It was the flavor, texture and aroma.  All of which can be recreated in vegan form. I have made tempeh bacon, and attempted eggplant bacon.  But surprisingly not coconut bacon which I had always wanted to try.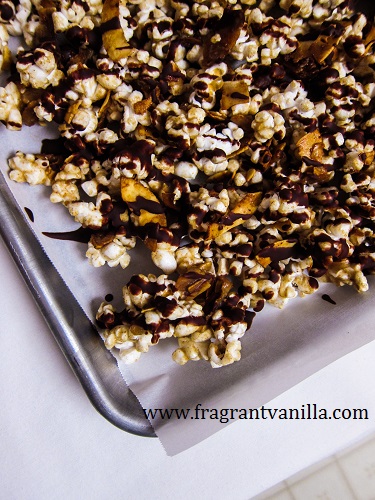 Well, I was browsing Pinterest and I saw some maple bacon caramel corn.  It was made with real bacon, and I said to myself.  That would be really good if it were vegan. I thought coconut bacon might be perfect for using in a vegan version too, so I finally threw some together.  I looked up a few recipes, then winged it with amounts of the ingredients I thought would work, and it turned out amazing!  The secret to making it taste like bacon is salty tamari, and smokey liquid smoke.  My house smelled like bacon as it was cooking.  Only 15 minutes and you can be enjoying vegan bacon deliciousness!  I made a vegan maple caramel corn with my classic caramel corn recipe and the bacon was a perfect addition.  This caramel corn doesn't really require any cooking to make the caramel, it is sort of a faux quick caramel you just have to whisk together and it is super delicious.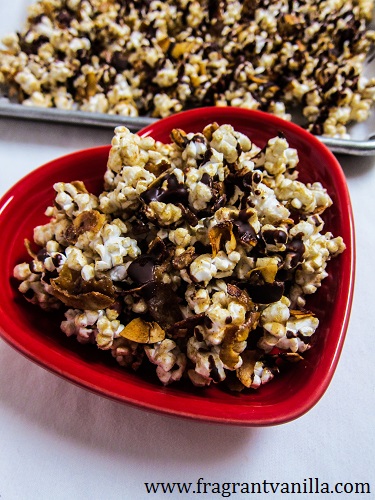 It wasn't enough to just leave it like that though, as good as it already was.  I decided to drizzle it with dark chocolate too to make it even more heavenly.  I think any vegan or non-vegan would agree that this is some pure delicious goodness!  I will just say that about 1/4 of the tray was gone before I even got to taking photos.  If you are vegan and craving the flavors of bacon, I encourage you to try this.  I think this popcorn would cure most cravings.  It has it all.  Crunchy, salty, sweet, and chocolate all in one.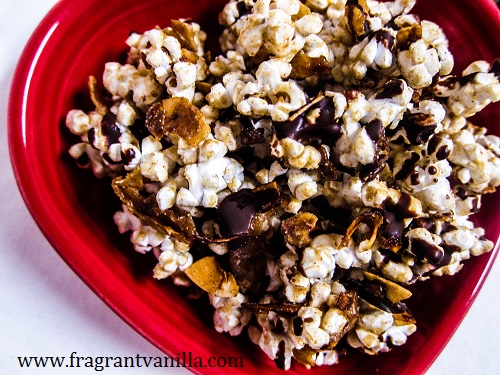 Vegan Maple Bacon Caramel Corn with Dark Chocolate Drizzle
Makes 8 cups
Coconut Bacon:
1 1/2 cups large flake coconut
2 Tbsp tamari
2 Tbsp liquid smoke
1 Tbsp maple syrup
Popcorn:
1/3 cup maple syrup
1/3 cup coconut butter, warmed to liquid
1/3 cup pecan butter (or almond butter)
1/2 tsp sea salt
1 tsp pure vanilla extract
1 tsp maple flavor (optional)
8 cups plain organic popped corn
3/4 cup vegan dark chocolate chips
Instructions:
To make the coconut bacon, preheat the oven to 350F degrees, and line a sheet pan with parchment.
Toss the large flake coconut with the tamari, liquid smoke and maple syrup and spread out on the pan.  Place in the oven and bake for about 12-15 minutes (depending on your oven), keeping a close eye at the end and checking it in the final minutes because it burns fast.  Remove from oven and let cool.
When the bacon has cooled, to make the popcorn, in a glass measuring cup (or bowl) whisk together the maple syrup, coconut butter, pecan butter, sea salt and maple, vanilla until well blended. Pour over the popcorn in a large bowl, along with coconut bacon and mix well. Spread out onto a lined sheet pan, and place in the freezer until it is hard.
Meanwhile, melt the chocolate chips in the top of a double boiler.  Once melted, drizzle over the popcorn.  Place back in the freezer until the chocolate has hardened.  Enjoy!
(Visited 73 times, 1 visits today)