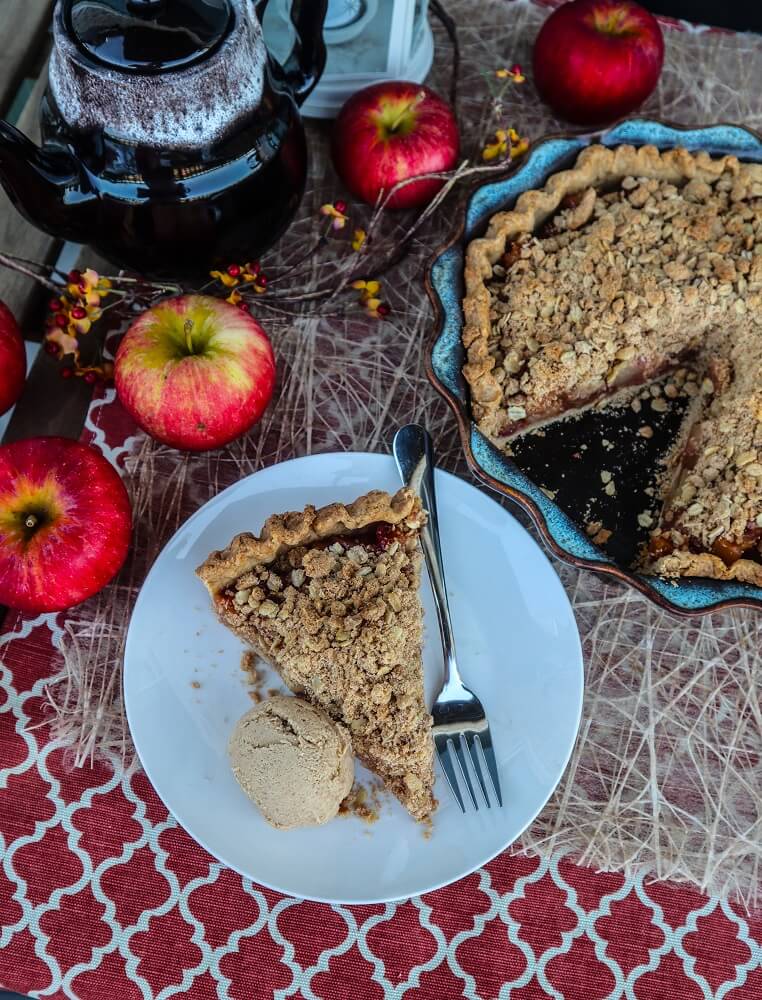 Vegan Maple Apple Streusel Pie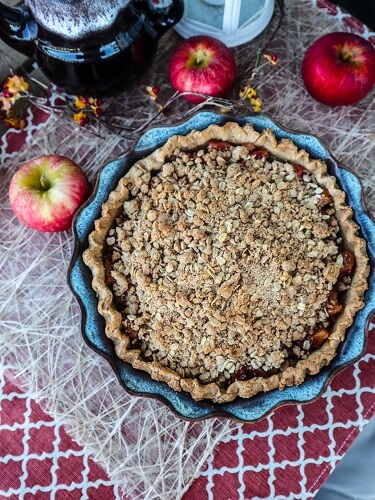 We recently went to a local apple orchard on the last warm weekend of the year and brought home loads of apples.  They were all Honeycrisp and Sweet Tango two of my favorites because I feel like they are the perfect balance of tart and sweet.  It doesn't get any fresher than picking them yourself, so these were super flavorful!   After being at the orchard I really wanted to make an apple pie.  Of course looking at all of the apple pies for sale at the orchard did have something to do with that craving for pie!  So I made a Vegan Maple Apple Streusel Pie!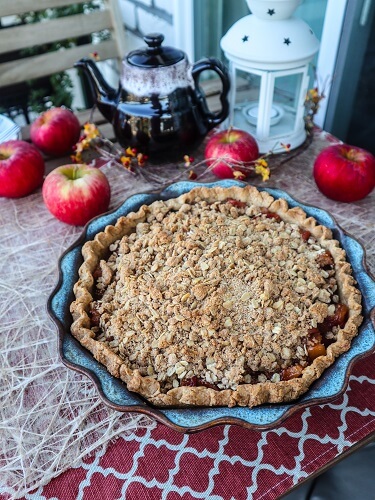 I asked Eric if he would rather have a classic crusted pie or streusel and he chose streusel.  Which also happens to be my favorite not just because it is easy but because of the crunchy texture and clumps of crispy sweet bits!  I make my streusel pies a little uncoventionally.  I don't just toss them in the oven and bake them the whole time.  I actually start with the bottom crust, make it as I normally would, but then blind bake it for 20 minutes so starts to get nicely cooked, then make the filling on the stove.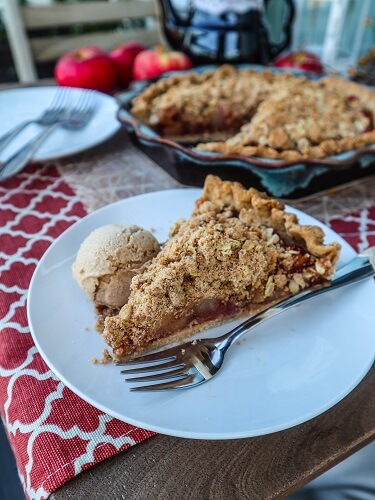 I cook the apples until they are tender then place them in the crust.  This cuts down on baking time a lot and gives you  a non-soggy crust.  For the filling this time I used apples, maple, cinnamon and vanilla plus a touch of lemon juice to cut the sweetness and it was delicious! After the apples are added to the crust I add the crunchy streusel on top then throw it back in the oven for 20 minutes or so until the streusel is crispy and lightly browned.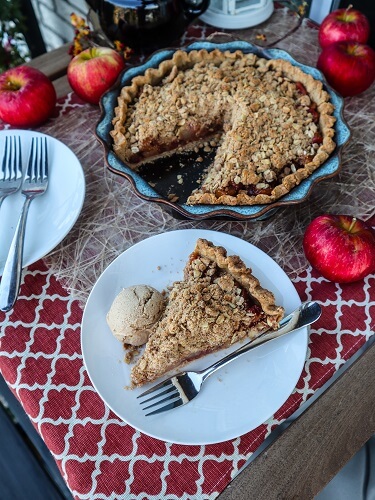 In my streusel I like to add oats in addition to the flour and sugar because I love the texture and this is how my Mom always made her pies.  For both the crust and topping I used Earth Balance for the fat, but I have also successfully made this with coconut oil if you prefer to use that, just make sure it is solid when using for the recipe. This pie baked up beautifully and it was so delicious!  Sweet, tender maple vanilla scented apples with a crunchy topping, this is so perfect served warm with some cinnamon ice cream on the side or whipped cream!  If you love apple pie, definitely give this Vegan Maple Apple Streusel Pie a try!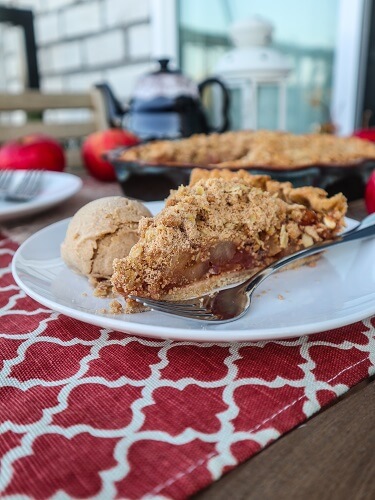 Vegan Maple Apple Streusel Pie
Makes one 9 inch pie
Crust:
1 1/2 cups organic whole wheat pastry flour
2 Tbsp or maple sugar or brown sugar
1/4 tsp sea salt
1/4 cup plus 2 Tbsp vegan butter (I used Earth Balance), chilled in its solid state cut into chunks
about 6-12 Tbsp cold water
Filling:
6 cups sweet tart apples such as honeycrisp
1/4 cup maple syrup
1 tsp cinnamon
1/4 cup cornstarch dissolved in 1 Tbsp maple syrup and 1 Tbsp lemon juice
1 tsp pure vanilla extract
1 tsp maple extract
Topping:
2/3 cup organic whole wheat pastry flour
3 Tbsp maple sugar or brown sugar
1/2 tsp cinnamon
1/3 cup vegan butter, cut into chunks (I used Earth Balance)
3/4 cup rolled oats
pinch sea salt
Instructions:
Pre-heat the oven to 375F degrees.
To make the crust, in a large bowl, mix together flour, almond sugar, and sea salt. Cut in vegan butter with a pastry blender or 2 knives until it is in pea sized pieces. Mix in  just enough water to create a smooth dough that holds together but isn't too sticky. Add more water if needed, and knead slightly until a smooth dough is created. Roll out into a 10 inch circle on a sheet of slightly floured parchment paper, then use the paper to help you transfer one to an 9 inch pie dish.  Place parchment over it and fill with pie weights or dried beans.  Place in the oven and bake for 20 minutes.  Remove from the oven.
Meanwhile, to make the filling, combine the apples, 1/4 cup maple syrup, and cinnamon in a large pan on the stove over medium heat, cover and cook for about 10 minutes, stirring every so often until the apples are tender.  Add the cornstarch mixture, maple and vanilla extracts, and stir, cooking until thickened.  Pour into the pie crust.
Meanwhile, to make the topping, mix all ingredients together with hands in a bowl until small clumps form.  Sprinkle over the filling, and place in the oven.  Bake for about 20 minutes until the topping is golden brown and crispy.
Remove from the oven to a wire rack.
Allow to cool completely before serving.
(Visited 192 times, 1 visits today)