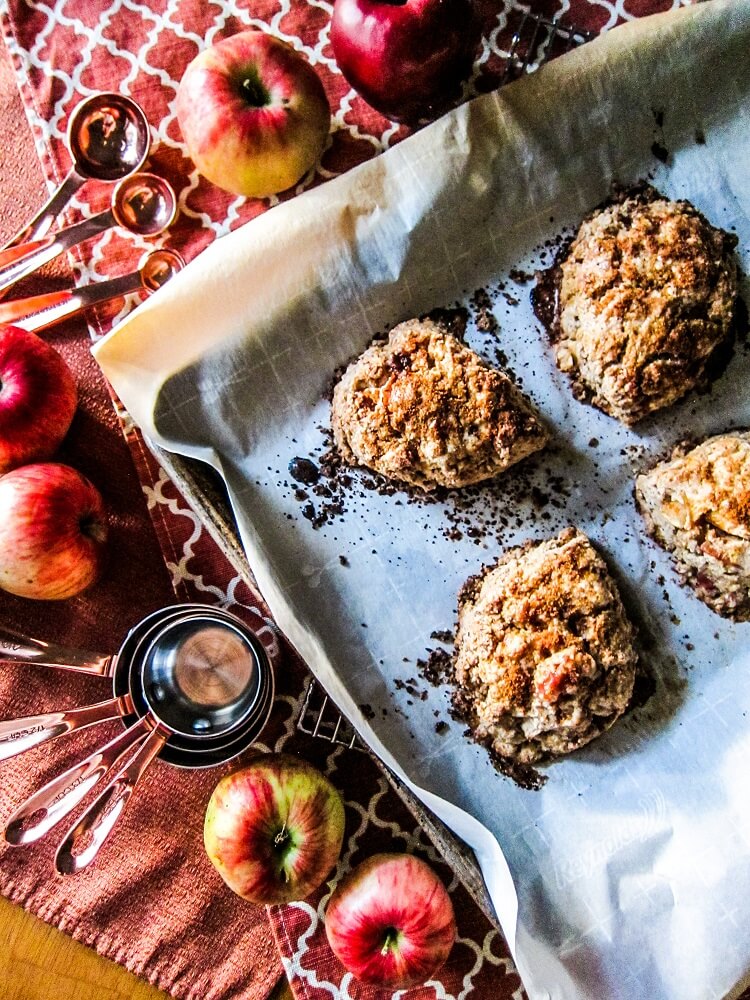 Vegan Maple Apple Scones
The deli I have worked at for over 13 years has always made scones. Everyone says that they are the best scones around, and I have to agree, because before I went vegan 7 years ago had tried them. They were tender and flakey, just the right amount of sweetness, and not dry and heavy at all. I learned how to make them from the baker, then came up with my own veganized recipe at home years later. They tasted just as good.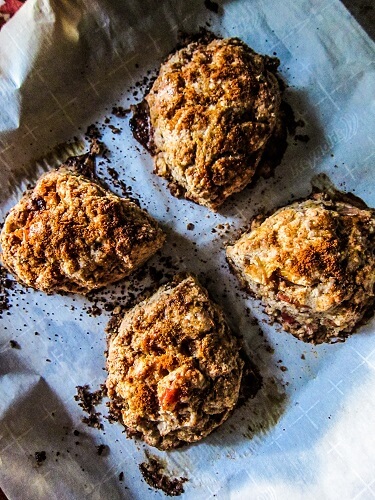 Recently, in the last few months, I got the go ahead to start making some vegan scones at work since we are having a higher demand for plant based products. I couldn't have been more thrilled! It makes me happy that more people are going vegan, and wanting more products. It is kind of fun to be able to bake at work too, since I usually just make the salads and vegan hot bar entrees. You would think I would get sick of it with blogging but I like variety and it is different there than at home.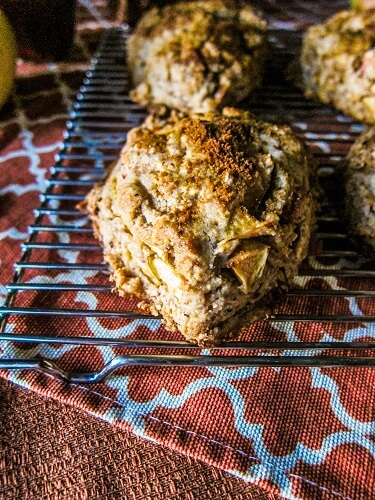 I was making them and smelling them last week (since my work station is next to the baked goods cooling rack as well), and I said to myself, I need to make some at home later. I had a bunch of apples that I had been gifted, so apple scones it was! It honestly makes me so happy that we are into apple season (almost) and on the edge of fall, my favorite time of the year!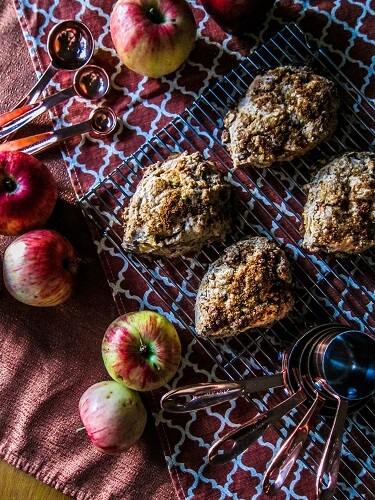 These apple scones turned out super delicious! I flavored them with a bit of maple and spice and they smelled amazing as they baked and tasted even better. They are so good served while slightly warm from the oven with a cup of tea! If you have apples on hand, give these a try!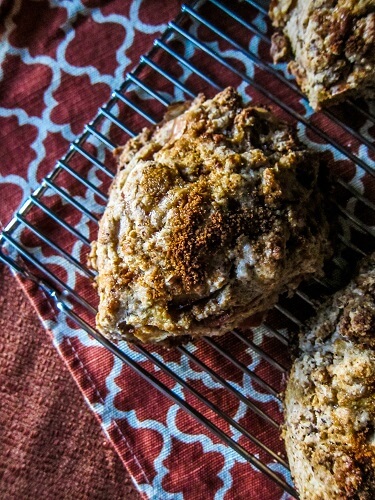 Vegan Maple Apple Scones
Makes 8
Ingredients:
2 1/2 cups organic whole wheat pastry flour*
1/2 cup pecan meal* or almond meal
1/2 cup maple sugar or coconut sugar
2 1/2 tsp baking powder
1/4 tsp salt
1/2 cup solid virgin coconut oil, cut into chunks (if your house is above 65F degrees, chill it first)
1 cup cold full fat organic canned coconut milk (whisked until smooth if chunky)
1 Tbsp pure vanilla extract
1 tsp maple extract (optional)
1 1/2 cups tart sweet apples (such as honeycrisp) cut into small chunks
coconut milk for topping (if needed)
maple sugar or coconut sugar for sprinkling
Instructions:
Preheat oven to 425F degrees with the rack set at the middle position.
Line a baking sheet with parchment.
In a large bowl, combine the flour, pecan meal, sugar, baking powder, and salt. Cut in the coconut oil with a pastry blender or 2 knives until the mixture starts to clump into pea sized pieces. In a small bowl, stir the vanilla into the coconut milk. Add the coconut milk to the dough, and stir a few times, but do not over-mix. The dough should hold together when squeezed, but still be clumpy.
Fold in apples until evenly distributed.
Place dough on a floured work surface, and shape into a 4 inch wide log. Use a bench scraper to cut into 8 triangles.
Place scones on the prepared baking sheet, reshaping slightly if necessary.
Brush the tops lightly with the coconut milk (only if they seem dry, you want the sugar to stick), and sprinkle with coconut sugar.
Place in the oven and bake for about 20 minutes or until golden brown (after about 15 minutes you may need to reshape with 2 bench scrapers if the scones are spreading, then place back in the oven).
Cool on a wire rack.
Enjoy!
*If you prefer to make these gluten free, you can swap the whole wheat pastry flour for an all purpose baking flour like Bob's Red Mill Gluten Free All Purpose Baking flour (I have tried this brand with success).
*For the pecan meal, blend about 3/4 cup pecans in a blender or food processor just until ground finely, but not too long or they will become butter. This should give you enough for the recipe.
(Visited 418 times, 1 visits today)