Vegan Mango Nectarine Pie with Almond Oat Crust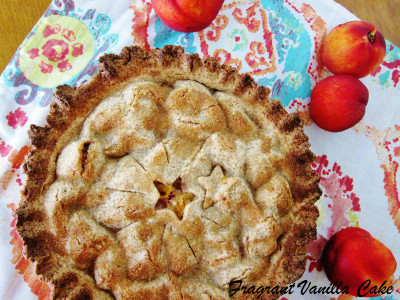 Philippians 4:6
"Don't worry about anything; instead, pray about everything. Tell God what you need, and thank him for all he has done."
This is the verse I so often forget and yet need to hear.  It is when things don't go so smoothly in life, and it feels like things are falling apart that I realize it is not up to me, and I need to ask for help instead of worrying about how I am going to do it on my own.  And, when things do go well, I need to not forget who gave me those good times.  Just a thought...I thought maybe someone else might need to hear it as well.  I have been feeling blessed lately and I am thankful for that.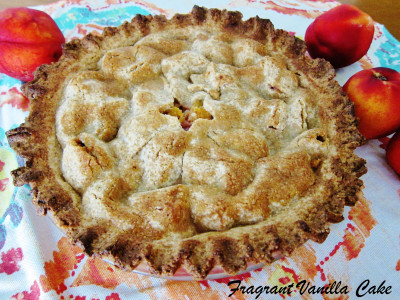 I was very thankful last week when I was given mangoes and peaches.  I wanted nothing more at that point, then to make a beautiful pie with them.  I was craving pie after all.  Warm pie, with vanilla coconut cream. Now mind you, I have not actually made a baked double crusted pie for quite a while.  Not since I started using alternative flours. So, this was in a way an experiment.  I wanted to make an almond oat crust, because I recently used hazelnut meal in a crust and it was amazing.  I ended up with a dough with a bit of flax eggs in it, the almond meal, oat flour, coconut sugar, and coconut oil to make it rich. It tasted good...like a less sweet cookie before I shaped it into the pan.
The filling needed very little sweetening since the mangoes and nectarines were amazing. Once it was starting to get all jammy and delicious in the oven, it smelled amazing.  I could not wait to try it.  I shared some with my Mom, who is one of my best food critics and she loved it.  I did too, and I had a piece unadorned the first day because I was too lazy at that point to make cream, and I did not have coconut milk chilled.  But the second day I made some and let me tell you it was heavenly. Eric loved the pie as well, so three thumbs up! The best way to describe this pie, is it tastes like summer!  I imagine it is wonderful with cool vanilla ice cream as well...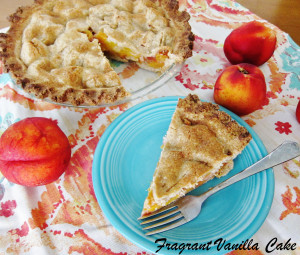 Vegan Mango Nectarine Pie with Almond Oat Crust
Makes one 8 inch pie
Crust:
2 Tbsp ground flax seed
6 Tbsp filtered water
2 cups gluten-free oat flour
1 cup almond meal
1/3 cup coconut sugar
1 teaspoon coarse salt
3/4 cup coconut oil in solid form, cut into small pieces
ice water as needed
Filling:
2 cups diced mango
2 cups diced nectarines
2 Tbsp lemon juice
1/3 cup coconut sugar (or more depending on how sweet the fruit is)
pinch sea salt
1 tsp pure vanilla extract
1/4 cup gluten free oat flour
For topping:
coconut milk
coconut sugar
Mix the flax seed and water together in a small bowl, and set aside in the refrigerator for 15 minutes.
To make the dough for the crust, in a food processor, pulse flour, meal, sugar and salt until combined. Add coconut oil and pulse until mixture resembles fine meal, with no large pieces of butter remaining. Add flax mixture, then pulse until well combined and dough holds together when squeezed, 1 minute. If necessary, add ice water, 1 tablespoon at a time. Form into 2 balls of dough, and roll each out into a 14 inch round on sheets of parchment paper with a floured rolling pin (if the dough has gotten too warm to work with refrigerate it for a little while first).  Fit one of the crusts into the pie pan (I do this by placing the pie pan upside down on the round of dough, then flipping it over with the parchment and all, then carefully fitting it into the pan (if it rips jut patch it up, no worries) making sure all air pockets are out. Set aside in the refrigerator, along with the other piece of dough.
Pre heat the oven to 375F degrees. Mix all of the filling ingredients in a bowl, then pour into the prepared bottom crust.  Place the top crust over that, using the parchment to assist, and then crimp or flute the edges to seal them together.  Cut a few vents in the top of the pie with a knife, then brush the top of the pie with a little coconut milk.  Sprinkle with coconut sugar.
Bake the pie for about an hour and a half on the middle rack of the oven. Check it after about 30-45 minutes and if it is getting too brown, cover loosely with foil.  Bake until juices are bubbling out the vents and it is golden brown on top.  Place on a rack and allow to cool before serving.
(Visited 210 times, 1 visits today)