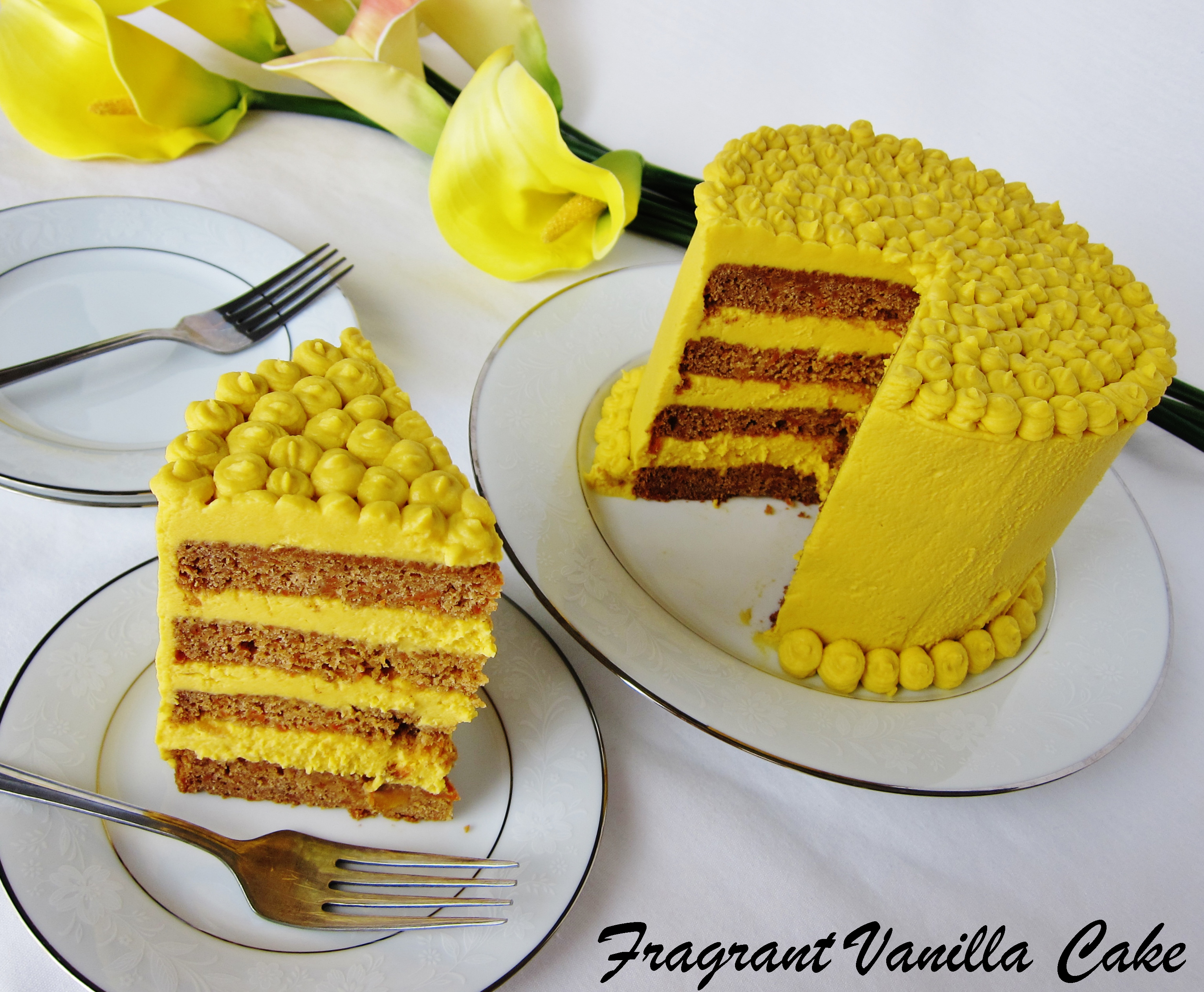 Vegan Mango Carrot Cake

You know what makes me happy?  Spending the day with someone I love doing simple things.  I am not one of those types of people who needs to spend lots of money in order to be happy.  A day spent outdoors exploring, walking and enjoying the fresh air with one special person is enough to please me.  What makes that even better is if it is springtime and the flowers are starting to pop up out of the ground.  The happy tulips, crocus and daffodils are so beautiful and such a contrast to the dead leaves and brown grass everywhere else.  They announce spring is finally here.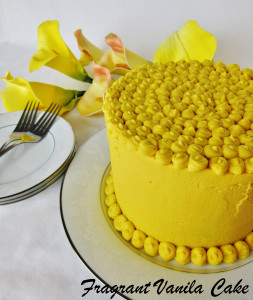 To top off that perfect Spring walk, coming home to a delicious carrot cake would be nice.  To me, carrot cake is the essence of Spring.  Probably because it is always a staple around Easter time here. I made one last weekend, and it was delightful.  I wanted to make something a little different than the usual carrot cake, maybe add in some fruit. My Mom always put pineapple in her carrot cake, so I thought, why not mango?  Mangoes were on sale, and they were so sweet I knew they would be wonderful in the carrot cake.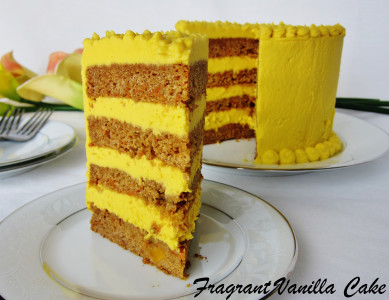 I added them in the form of puree to keep the cake moist and sweeten it as well as some diced in the batter for little pockets of mango goodness within the sweet carrot cake.  For the frosting, I did something that I have been doing a lot lately, adding in vegetables or fruits (carrots in this case) along with the rich coconut milk for volume as well as color.  You could not taste them, but they made the frosting this lovely bright yellow hue the color of daffodils. How appropriate for Spring!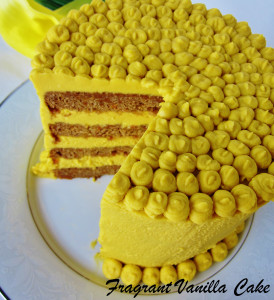 The cake tasted wonderful!  Nice and sweet thanks to the mangoes and carrots and the creamy carrot coconut frosting was perfect to top it off and fill it.  This was one happy cake, not just because it was cheery, but because it tasted amazing.  I shared some with my loved ones and I know it made them happy too.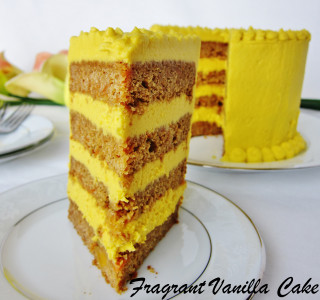 Vegan Mango Carrot Cake (gluten free)
Makes 1 6 inch 4 layer cake
2 6 inch cake pans
Cake:
1 1/2 cups All Purpose Gluten Free Flour (or GF oat flour works here as well)
1 cup coconut sugar
1 1/2 tsp baking soda
1 tsp baking powder
1/2 tsp sea salt
1 tsp ground cinnamon
1 cup pureed fresh mango
1/4 cup virgin coconut oil
1 Tbsp pure vanilla extract
1/4 cup + 2 Tbsp fresh orange juice at room temperature
2 Tbsp apple cider vinegar
1/2 cup diced mango
1 1/4 cups shredded carrots
Frosting:
2 cans organic full fat coconut milk, chilled
2 cups chopped carrots
3/4 cup raw coconut nectar, maple syrup or agave nectar
1/2  tsp sea salt
2 tsp pure vanilla extract
Preheat the oven to 375 degrees and position rack in center of oven. Line two six-inch-diameter cake pans with 2-inch-high sides with parchment paper. Coat parchment paper and pan sides lightly with coconut oil so that the cake doesn't stick and line the bottom of the pan with a piece of parchment fit to the pan. Whisk flour, baking powder, baking soda, sea salt, cinnamon and sugar in a large bowl to blend well. Whisk mango puree, oil, orange juice, and vanilla extract together in small bowl to blend well, then whisk into the flour mixture until well blended. Whisk in the cider vinegar until bubbles form. Mix in the diced mango and carrots.    Transfer cake batter to prepared pans and bake cakes until tester inserted into center comes out clean, about 30 minutes. Cool cakes completely in pan on rack, about 1 hour. Cut around sides of pan to loosen. Turn cakes out onto platter; peel off parchment paper. Let cool completely, then place in the fridge to chill until very cold to make slicing easier. When chilled, slice cakes horizontally in half so that you have 4 layers.
Meanwhile, to make the frosting, combine all ingredients but the coconut butter in a high speed blender or food processor and blend until smooth.  With the motor running, add the coconut butter and process a minute more.  Pour the frosting into a bowl and let sit in the freezer until the consistency of whipped cream (this may take anywhere from 1/2 hour to an hour depending on how warm it has gotten).  When ready to frost, place one cake layer on a plate. spread frosting about 1/2 inch thick over the first layer, then top with the second.  Repeat the frosting, then another cake layer, then more frosting then the last cake layer. Spread frosting over the top and down the sides of the cake.
(Visited 552 times, 1 visits today)