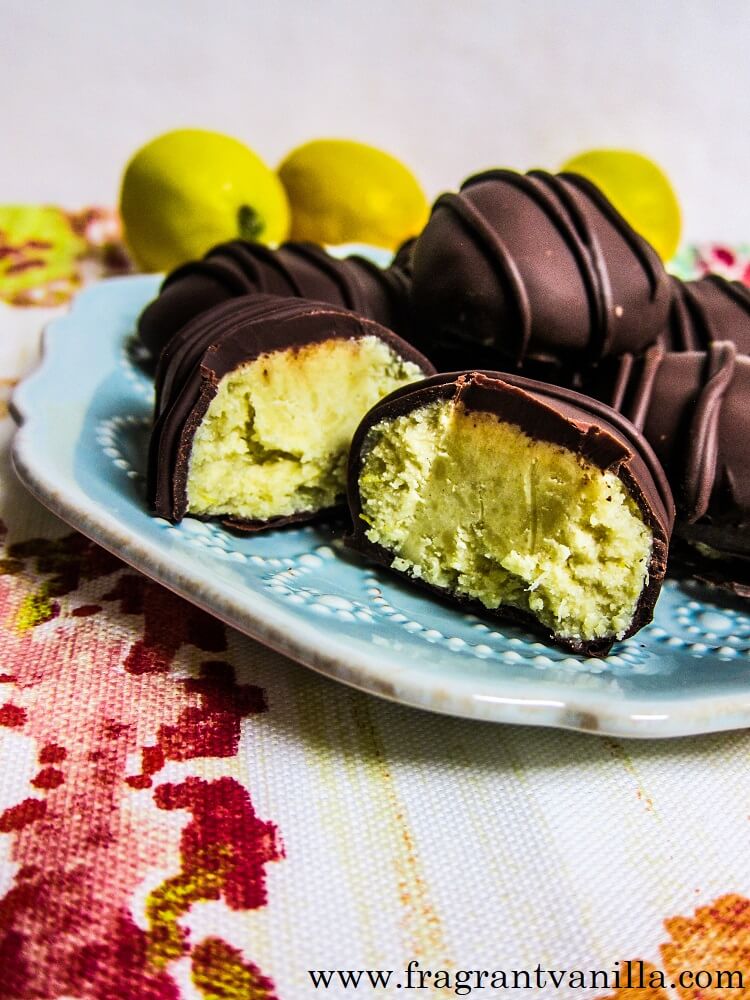 Vegan Lemon White Chocolate Truffle Eggs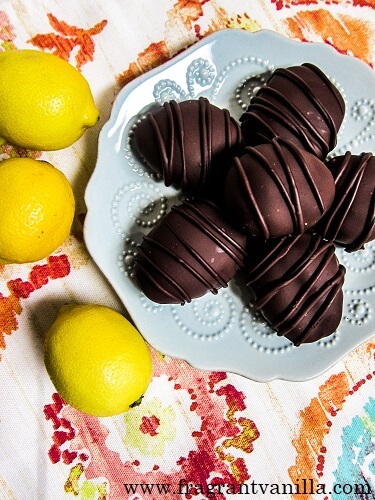 When I was little, whenever I would go shopping with my Mom at the mall, we would always stop by the candy counter in one of the stores and buy a couple of truffles to enjoy.  There were so many delicious options, but the ones that we found ourselves drawn to time and time again were the key lime, and lemon cream. One time the woman at the counter said to us, "You know those are really tart!  I can't handle them!" But we loved that about them!  I guess it runs in our family because my Mom and Grandma both loved tart lemon and lime desserts and passed that onto me.  I mean, what is a key lime pie, or lemon meringue pie without the tart and too much sweet?!  That is why now when I make those things or anything with lemon or lime for that matter, it has to be a bit tart to balance out the sweet.  So, last weekend I decided to make some lemon white chocolate truffle eggs and I wanted them to be packed with delicious lemon flavor!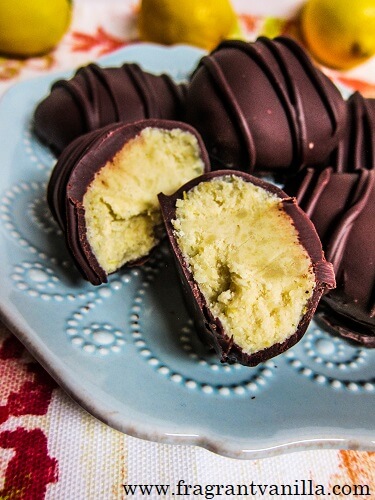 I have made berry cream eggs, mint cream eggs, hazelnut truffle eggs, peanut butter eggs, and vegan Butterfinger eggs, but never any lemon or lime ones.  And, it was about time.  It just sounded really good to me, because I had citrus on hand and I was thinking about those truffles I enjoyed as a child.  I wanted the filling to be luscious, so I combined cacao butter, cashew butter and coconut butter for a heavenly white chocolate base. Trust me, it makes the most creamy dreamy concoction once it has firmed up to the proper consistency.  I mixed in plenty of lemon in both the form of lemon juice and zest, and a touch of vanilla and it was so good! I formed it into little egg shapes once it had cooled and it was ready for its coating.  I thought about dipping it in more white chocolate but decided on dark chocolate instead for more of a contrast, and because dark chocolate is amazing with lemon.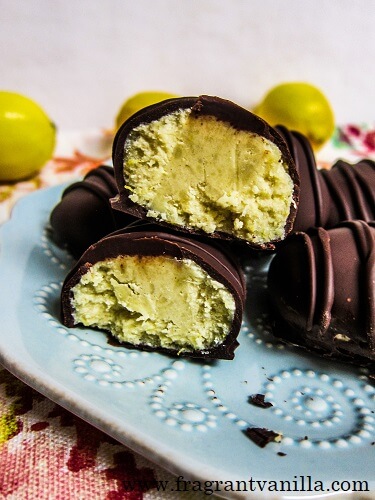 They turned out so cute!  Filled chocolate eggs are my all time favorite Easter candy treat (well obviously judging by the ones I mentioned earlier in this post)!  These are heavenly!  Sweet tart lemon white chocolate cream and decadent dark chocolate!  I would be so happy if I got these in my Easter basket! If you are a lemon fan too, give these a try!  What is your favorite Easter candy treat?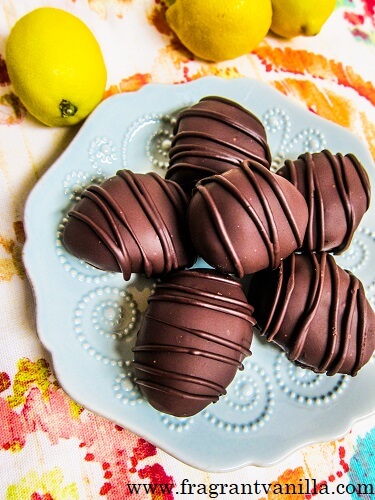 Vegan Lemon White Chocolate Truffle Eggs 
Makes 6-8 large eggs
Ingredients:
White Chocolate:
1/4 cup raw cacao butter (2 oz) or coconut oil if unavailable
1/2 cup raw cashew butter
1/3 cup raw coconut butter
1 tsp pure vanilla extract
2 Tbsp maple syrup
2 Tbsp organic lemon zest
1/4 cup lemon juice
1/8 tsp turmeric (for color)
Dark Chocolate:
Directions:
Combine all of the white chocolate ingredients but the lemon zest and juice over a double boiler, and whisk until smooth.
Whisk the lemon zest, juice, and turmeric into the white chocolate until well combined. Place in the freezer for about 20-30 minutes until it is firm enough to scoop. Scoop into 8 balls, rolling them with your hands and shaping them into eggs.   Place on a parchment lined tray, and place back into the freezer until firm, about 30 minutes.
Meanwhile, to make the dark chocolate, combine all ingredients in a double boiler, and whisk until combined and melted.
Once the filling has firmed up, dip each chocolate into the dark chocolate, being sure to let the excess drain off, and place back onto the tray (I like to set mine on a fork to allow it to drain better). Once they are all dipped, set them in the freezer until hardened.
Store any leftover truffles in the refrigerator.
(Visited 326 times, 1 visits today)