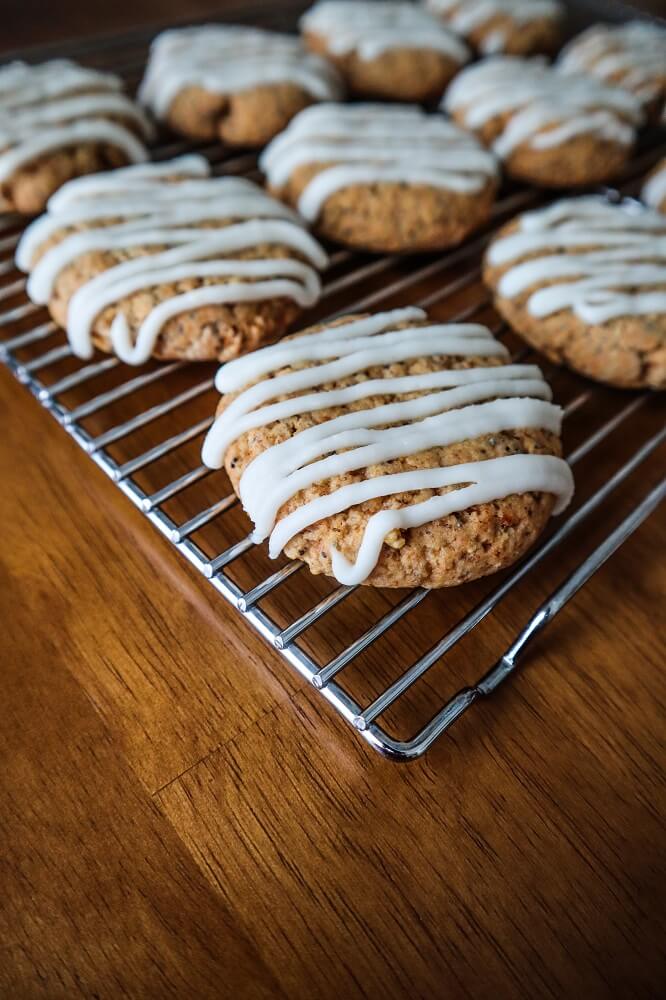 Vegan Lemon Poppy Seed Cookies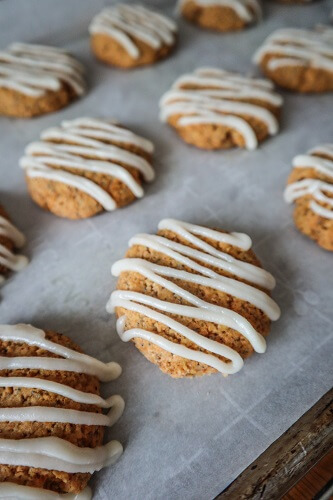 We went through a brief snowy cold week in Minnesota, and I didn't know whether it was winter or spring for a minute.  So I have been wanting to make some desserts and spend a bit of time in the kitchen in my free time instead of just being outside and I also haven't been quite sure what to make because of the being in between seasons.  I feel like lemon goes for both winter and spring so that is what I have been drawn to flavor wise.  And I have been in a lemon dessert mood lately.  I made a lemon cream pie for Easter, and I decided to make some lemon poppy seed cookies this week. I was always a big fan of lemon poppy seed muffins growing up, or cakes so why not cookies?  I love that tart sweet lemon flavor combined with the nice crunch of the poppy seeds.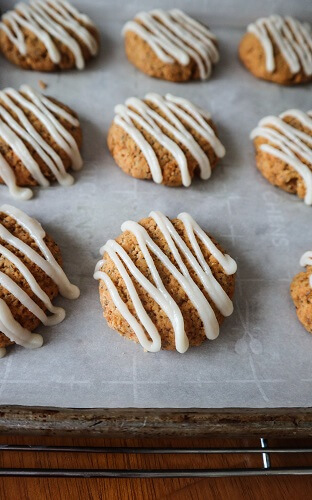 So I thought it would be perfect in some buttery  cookies! For the dough, I used my sugar cookie recipe and tweaked it a bit to add some fragrant lemon flavor in both zest and juice form.  Adding lemon zest to a lemon recipe makes all the difference, trust me.  So much aroma.  Just be sure to use organic lemons that aren't sprayed.  The dough for these smelled heavenly and tasted even better.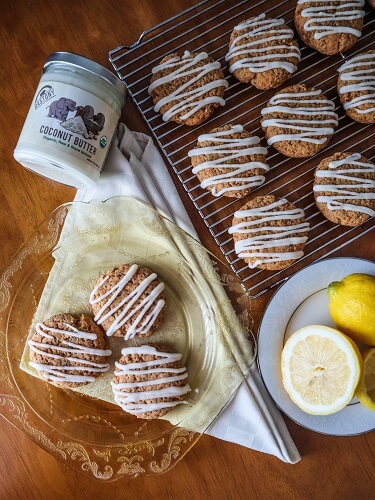 Eating cookie dough is one of my favorite parts of making cookies.  I have always been this way ever since I was a little kid "helping" my Grandma bake cookies and sneaking dough when she turned her back.  If she caught me she would tell me that I would get a tummy ache if I ate too much, but I never did.  At least there aren't raw eggs my cookies now because they are vegan!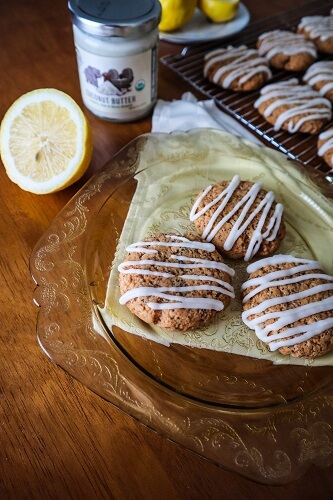 They baked up beautifully!  They smelled amazing and I could not wait to try them!  But first I wanted to add a glaze to make them pretty and even more delicious.  I took some Dastony coconut butter from Raw Guru and mixed it with a little lemon juice and maple syrup and it was the perfect easy glaze. The cookies were sooo good!  Rich and buttery tasting with plenty of lemon flavor, those crunchy poppy seeds and sweet glaze.  It is the perfect time to get some baking in!
Vegan Lemon Poppy Seed Cookies
Makes 24 cookies
Ingredients:
Cookies:
2 Tbsp ground golden flax seed
1/4 cup plus 1 Tbsp filtered water
1 Tbsp lemon juice
2 Tbsp lemon zest
1 cup virgin coconut oil, warmed to liquid
1 1/2 cups maple sugar* (or coconut sugar, if you want these more yellow and less brown, you could also use granulated sugar)
1 teaspoon vanilla extract
1 teaspoon baking soda
1/2 teaspoon sea salt
1/8 tsp turmeric powder (optional for color)
3 1/2 cups all purpose gluten free flour
1/4 cup poppy seeds
Glaze:
1/4 cup plus 2 Tbsp coconut butter, warmed to liquid
3 Tbsp lemon juice
1 Tbsp maple syrup
Instructions:
In a small bowl, whisk together the flax seed, filtered water and lemon juice and zest.  Set aside in the refrigerator for 15 minutes.
In a large bowl, mix coconut oil with sugar and mix until well combined.
Mix in the vanilla extract and flax mixture until well combined.
Add the baking soda, salt, turmeric then the flour, a cup at a time, mixing between each addition, until well combined.  Mix in the poppy seeds until evenly distributed.
To bake, Preheat your oven to 350 degrees. Line 2 large baking sheets with parchment paper. Roll balls into about 1 1/2 inch balls, and place on prepared cookie sheets a couple inches apart.
Place in the oven, and bake for about 15-18 minutes, until puffed and just starting to brown slightly.  Remove from the oven and let cool on the pan a few minutes, then remove to a wire rack to cool.  Repeat with remaining cookies and let cool completely.
To make the glaze, whisk all of the ingredients together (if it seems too thick to drizzle, add a little more lemon juice to it).
Drizzle the glaze over the cookies.
Place the cookies in the freezer until the glaze is set.
Enjoy!
(Visited 523 times, 1 visits today)