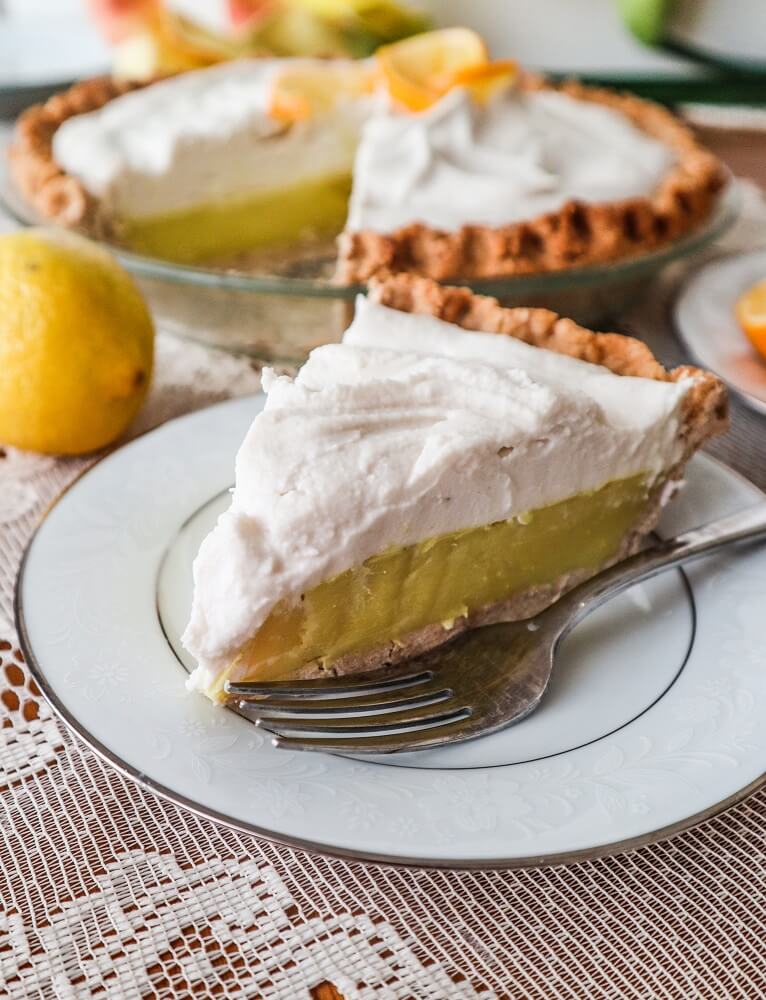 Vegan Lemon Cream Pie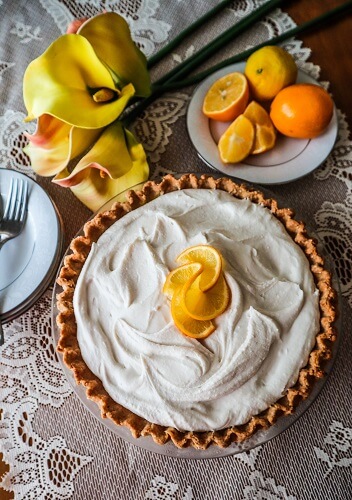 I hope you all had a wonderful Easter weekend!  Saturday we had beautiful warm weather here, but for Easter Sunday it was snowing and just pretty slushy and cold which was a bit weird, but it didn't stop me from getting outside for a walk with Eric in the afternoon. It was a bit weird watching the Easter Sunday church service on TV but still nice to spend time with those closest to me.  We made a simple Easter dinner with maple dijon glazed smoked tempeh, vegan cheesy potato casserole, a green salad with blackberries and pine nuts, a lemon carrot salad, and my banana caramel rolls and it was all really good! I haven't had an Easter meal at home with my family in years, so I enjoyed it very much!  For dessert (which we had later because we were all pretty full), I made this vegan lemon cream pie!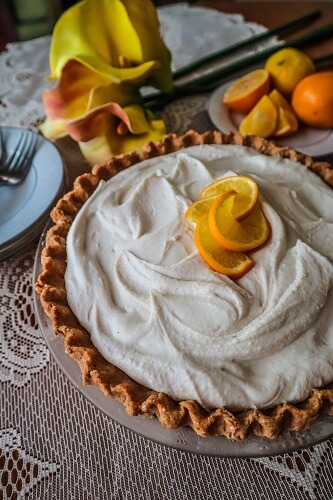 I just love lemon desserts in the spring and so I figured it would be perfect for Easter this year.  I have always liked lemon meringue pie, but I prefer a cream on top of my pie to meringue so I made a coconut cream topping instead.  Also I did this because I feel like the cream keeps nicer for a few days and I made this in advance.  For the crust, I made my classic pie crust with coconut oil because it always turns out well. You have to blind bake it with weights so it gets nice and crispy since the filling doesn't bake in there long, but it is worth that extra effort.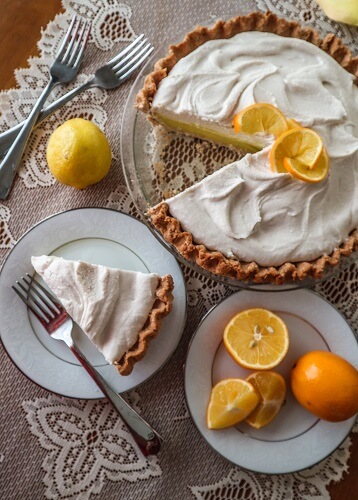 The filling is pretty easy to make, you make it on the stove, then pour it into the crust and bake it for a short time.  It has plenty of tart lemon flavor which is super important to me when it comes to lemon desserts. I don't like it when they are too sweet, I want to be able to taste that tart lemon but still have it be balanced.  I feel like I achieved the perfect balance this time!  Once it was all cooled, it was time for the cream!
Coconut cream is my topping of choice for most of my pies, because it is simple and easy to make and so rich and delicious!  The sweet creamy topping is the perfect pairing for the tart lemon filling and buttery crust!  My family and I loved this pie, and I hope you do too!  Why not give it a try this spring if you have lemons on hand!  I hope you all have a wonderful week!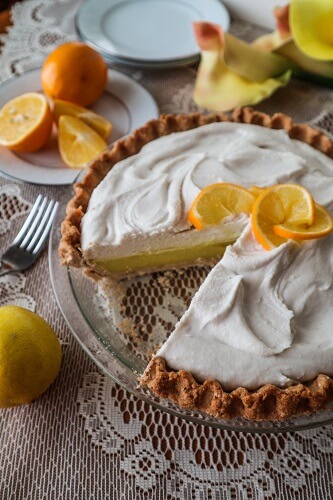 Vegan Lemon Cream Pie
makes one 8 inch pie
Crust:
1 1/4 cups organic whole wheat pastry flour*
3 Tbsp maple sugar or coconut sugar
1/4 tsp sea salt
1/4 cup plus 2 Tbsp coconut oil in its solid state
about 3-6 Tbsp cold water
  Filling:
3/4 cup lemon juice
2 Tbsp lemon zest
1/4 cup plus 2 Tbsp cup cornstarch
1 3/4 cup (one 15 oz can) full fat organic coconut milk* or canned unsweetened coconut cream
1/4 cup plus 2 Tbsp maple syrup
1/4 tsp ground turmeric (for color, optional)
1/4 tsp sea salt
1 tsp pure vanilla extract
Cream Topping:
  Instructions:
To make the crust, in a large bowl, mix together flour, sugar, sea salt, and spices. Cut in coconut oil with a pastry blender or 2 knives until it is in pea sized pieces. Mix in  just enough water to create a smooth dough that holds together but isn't too sticky. Add more water if needed, and knead slightly until a smooth dough is created. Roll out into a 10 inch circle on a sheet of parchment paper, then use the paper to help you transfer it to an 8 inch pie dish.  Flute the edges, and set aside in the refrigerator until solid.
Pre-heat the oven to 350F degrees. Place foil inside the pie crust, and weight down with pie weights or dried beans.  Place the pie in the oven and bake for 30 minutes, then remove from the oven.
Meanwhile, for the filling, combine all ingredients in a saucepan, and bring to a boil.  Lower to a simmer and cook until thickened. Remove from heat, and pour into the prepared pie crust. Place in the oven and bake for 15 minutes.  Remove from the oven and let cool completely, then refrigerate until chilled.
To make the cream topping, combine all ingredients in a blender and blend until completely smooth. Pour into a bowl and place in the freezer until it is thick like whipped cream (whisking every so often), about 20-30 minutes.
Once the cream is ready, spread over the top of the pie, and refrigerate for a few hours before serving.
Pie keeps up to 1 week in the refrigerator, covered or in a container.
*If you wanted to make the crust gluten free, you could swap Bob's Red Mill gluten free all purpose baking flour for the whole wheat pastry. I have tried this brand and know it will turn out well.
*For the coconut milk, you want the kind that is 3/4 full of cream in the can, or it will not work and turn out runny, I used Thai Kitchen full fat milk, but their unsweetened canned coconut cream would work as well.
(Visited 4,037 times, 1 visits today)