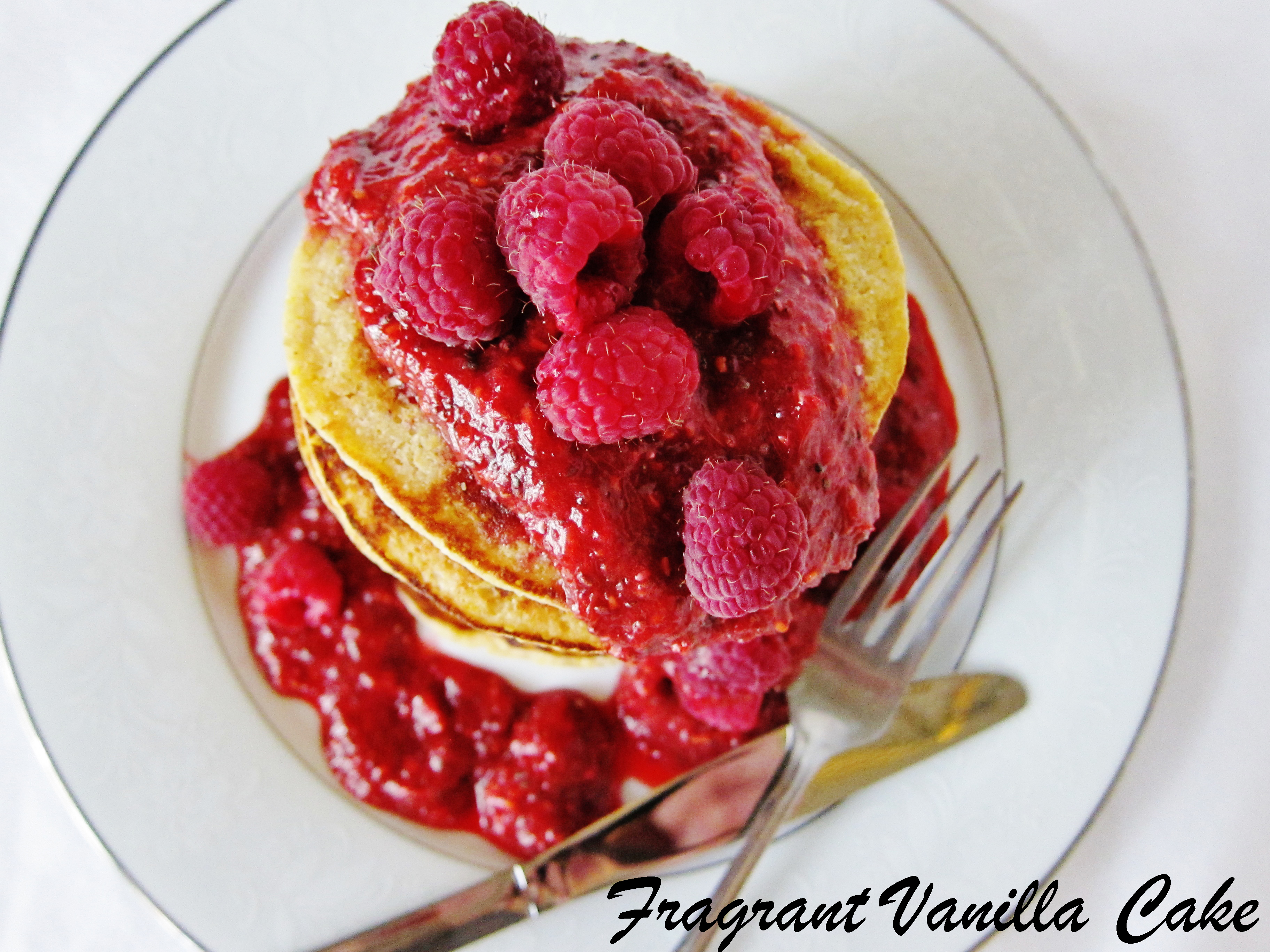 Vegan Lemon Corncakes (gluten free) with Raspberry Rhubarb Sauce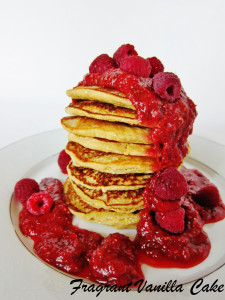 Last week, I had some beautiful raspberries and rhubarb just begging to be used in some sort of delicious dish.  Although just dessert would have been wonderful, I thought something a little more substantial and meal oriented might be a good idea.  It was after work, I was hungry and I was talking to Eric about what I could possibly make.  I had pancakes on my mind, but I hadn't mentioned it to him yet when he said pancakes.  With a delicious sauce.  Yes!  I thought.  It was perfect, we were both thinking the same thing so I had to make it.  This seems to happen a lot. Great minds think alike I guess.  I was just going to make regular old gluten free pancakes but since when do I make regular old anything.  My recipes are always ev0lving. So I kicked it up a notch a bit.  Cornmeal goes so wonderful with berries and adds delicious texture to pancakes, so I made corncakes.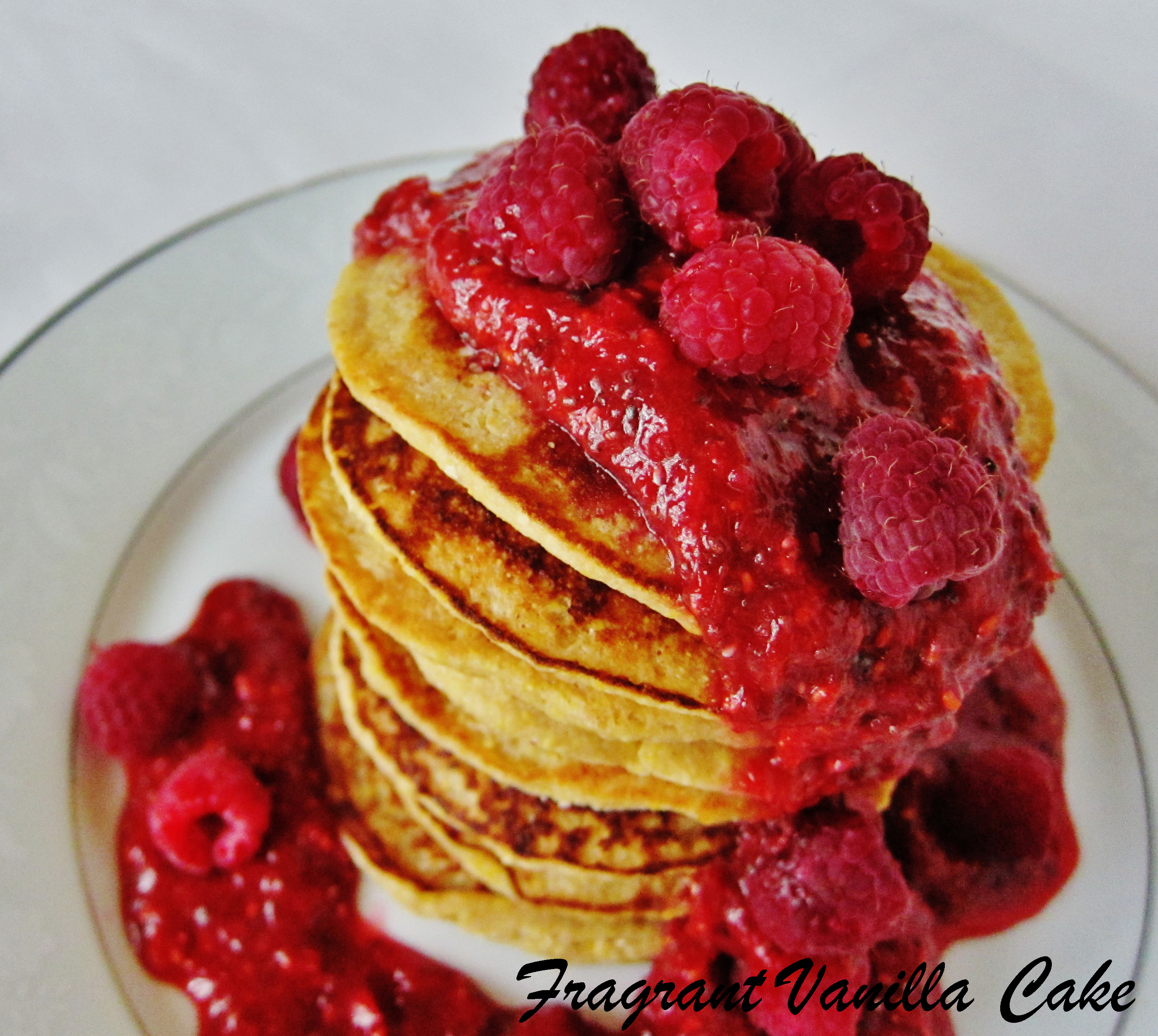 I also added in some
Sprout Living Epic Vanilla Lucuma Protein Powder
 for an extra boost since I was extra hungry.  The pancakes tasted amazing, but the sauce made them even better.  It was super simple to make, no cooking required.  It tasted like the most delicious jam, and I added in some chia seeds to give it a little something extra.  I am one of those people that likes chunky jam.  None of that smooth seedless jelly stuff for me.  These tasted like dessert, and I suppose they sort of were but there is nothing like having breakfast AND dessert for dinner.  Eric was a happy man as well. He is a big pancake fan.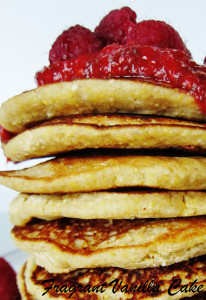 Vegan Lemon Corncakes (gluten free) with Raspberry Rhubarb Sauce
Serves 2
Ingredients:
Sauce:
 1 cup organic rhubarb
2 Tbsp maple syrup
1 cup organic raspberries
1 Tbsp chia seeds
Pancakes:
2 Tbsp ground flax seed
1/2 cup cornmeal
1 tsp aluminum-free baking powder
1/4 tsp sea salt
1/2 cup applesauce
1 cup filtered water
1/4 cup lemon juice
2 Tbsp lemon zest
2 tsp pure vanilla extract
2-3 Tbsp maple syrup (depending on how sweet you like them)
To make the sauce, combine the rhubarb and maple syrup in a food processor and process until smooth.  Add the raspberries and chia seeds and pulse until blended but still a little chunky.
Whisk together the flaxseed, flour, cornmeal, protein powder, baking powder and sea salt in a large bowl.
Whisk in all the remaining wet ingredients until smooth.
To cook pancakes, preheat oven to 200 degrees. Heat a large non-stick pan over medium heat and add a little coconut oil to coat the bottom. Once hot, add the batter in 1/4 cup amounts (I did 4 at a time, but it depends on your pan), and let cook for about 2-3 minutes on the first side until set and starting to brown, then flip with a spatula and cook another 2-3 minutes on the other side. When cooked, place on a plate and keep warm in the oven while you repeat the process with the remaining pancakes.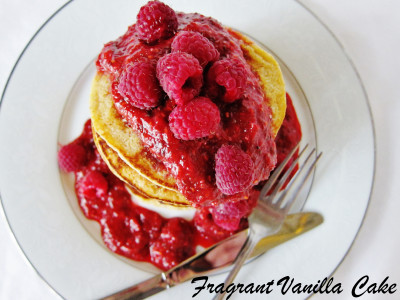 (Visited 52 times, 1 visits today)