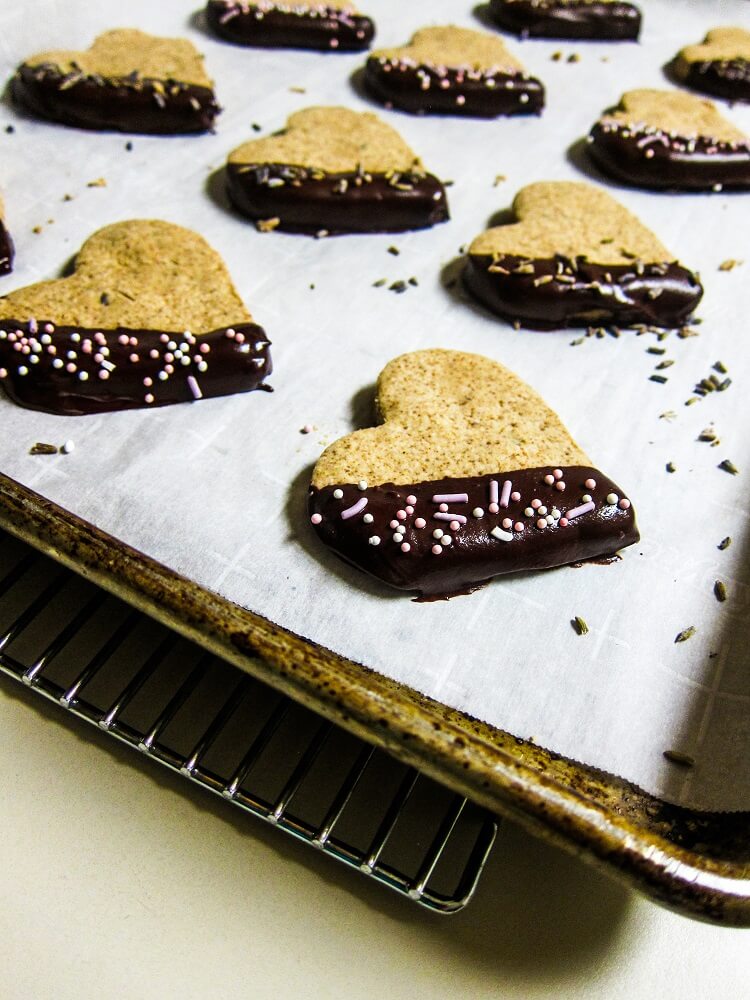 Vegan Lavender Vanilla Shortbread Cookies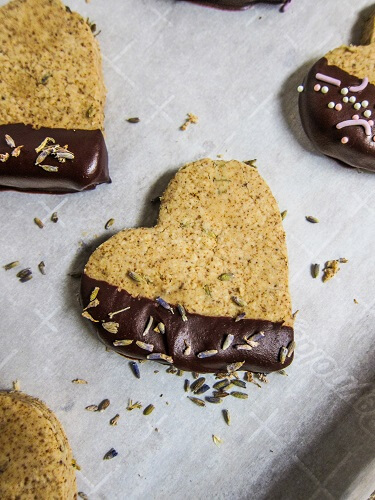 Lavender is one of my favorite scents.  Next to vanilla, it is something that I enjoy using the essential oil of fairly often for scenting my personal products (like lotions, deodorants, and shampoo), as well as putting in the diffuser in my home or car to keep me calm and relaxed.  Besides just enjoying the aroma of lavender though, I like to use the dried flowers in my desserts once and a while. It is heavenly when paired with citrus, chocolate or vanilla.  I used to make shortbread quite a lot before I went vegan, and one of the ones I made was a  lavender vanilla shortbread that was really delicious.  So I decided last weekend that I needed to recreate it. I hadn't made any sort of shortbread in years as of last weekend and I don't know why because shortbread is damn delicious.  It may be simple with few ingredients but I love the buttery texture.  So it was about time I got on making it again!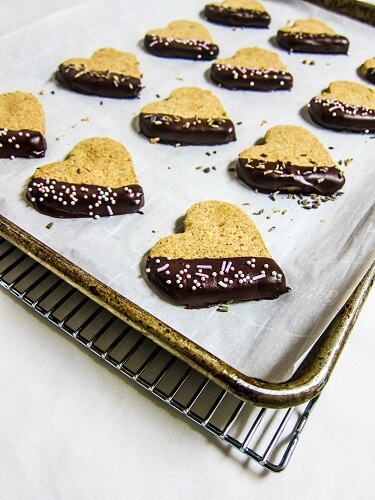 I had all of the ingredients I wanted to use on hand so it was perfect!  For the dough, I used a combination of organic whole wheat pastry flour and tapoica flour.  Why tapoica flour?  Well it works similarly to cornstarch to lighten up the dough and make it more tender and I happened to have some on hand. But if you don't have any on hand you could substitute cornstarch.  For the fat in the recipe, I used a combination of coconut oil and avocado oil.  They are both pretty neutral oils, and when combined they have a buttery flavor and give a rich texture to baked goods.  A little maple sugar, a dash of sea salt, some lavender and vanilla and the dough was delicious. Yes, I always have to eat some of my cookie dough before baking it!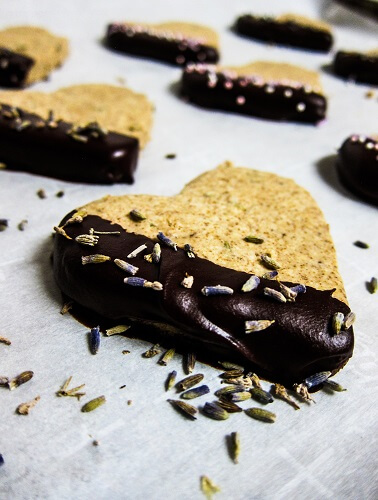 I could have just baked the shortbread in one big square in a pan and scored it, but I decided that it would be cuter and more fun to cut it out into little hearts instead. So I made little hearts, popped them in the oven at a low temperature (sine shortbread is delicate and you don't want it too brown). They smelled heavenly while baking!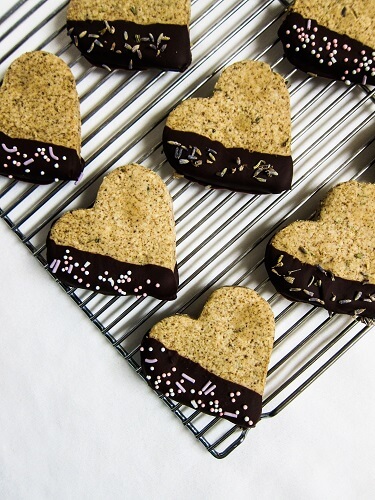 They were lovely as they were, but since I like to dress up cookies, I dipped them in dark chocolate and sprinkled some with lavender and some with sprinkles. They turned out lovely, but more importantly they turned out delicious.  Melt in your mouth, rich and buttery with a hint of lavender and vanilla, the smooth dark chocolate the perfect partner for it all. These are the perfect thing to bake on a chilly Winter day when you don't feel like going outside!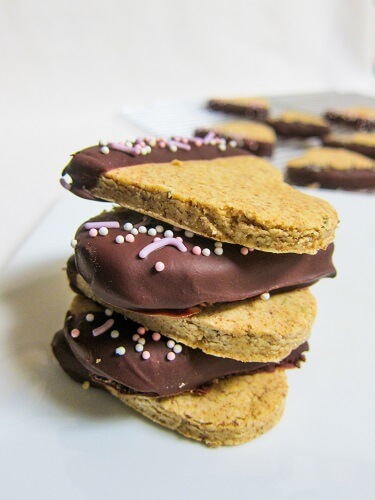 Vegan Lavender Vanilla Shortbread Cookies 
Makes about 16
Ingredients:
1 3/4 cups organic whole wheat pastry flour*
1/4 cup tapioca flour**
1/4 cup plus 2 Tbsp maple sugar
1/4 tsp sea salt
1/4 cup melted coconut oil
1/4 cup plus 2 Tbsp avocado oil (or other neutral oil liquid at cool temperatures)
1 Tbsp filtered water
1 tsp pure vanilla extract
1 Tbsp organic dried lavender flowers
Decoration:
1 cup vegan dark chocolate chips or vegan dark chocolate chunks
vegan sprinkles or dried lavender flowers
Instructions:
Preheat the oven to 300F degrees, and line a baking sheet with parchment.
To make the dough, mix all ingredients together in a bowl until combined and smooth (it may be slightly crumbly, and that is ok, just squeeze it back together), then place on a piece of parchment paper and roll out 1/4 inch thick.  Cut into shapes with a medium sized cookie cutter (I used a heart shape) and place them onto the prepared pan. Re-roll any scraps squeezing them back together and rolling them out, and cutting into more shapes until all of the dough is used.  Place the cut shapes on the pan into the freezer to chill for 10 minutes before baking.
Place the pan in the oven and bake for 20-25 minutes or until set and just barely beginning to brown at the edge.
Remove the pan from the oven and let cool completely on a rack.
Melt the dark chocolate in the top of a double boiler.
Dip each cookie into the dark chocolate partially then set on a parchment lined tray.
Sprinkle the dipped part of the cookies with dried lavender flowers or sprinkles.
Let the chocolate set (or pop into the freezer for about 10 minutes until it sets).
Enjoy!  Store any leftover cookies in an airtight container in the refrigerator or freezer.
*If you wanted to make these gluten free, you could use Bob's Red Mill gluten free all purpose baking flour instead of the pastry flour.
**If you do not have tapioca flour you can substitute cornstarch.
(Visited 206 times, 1 visits today)