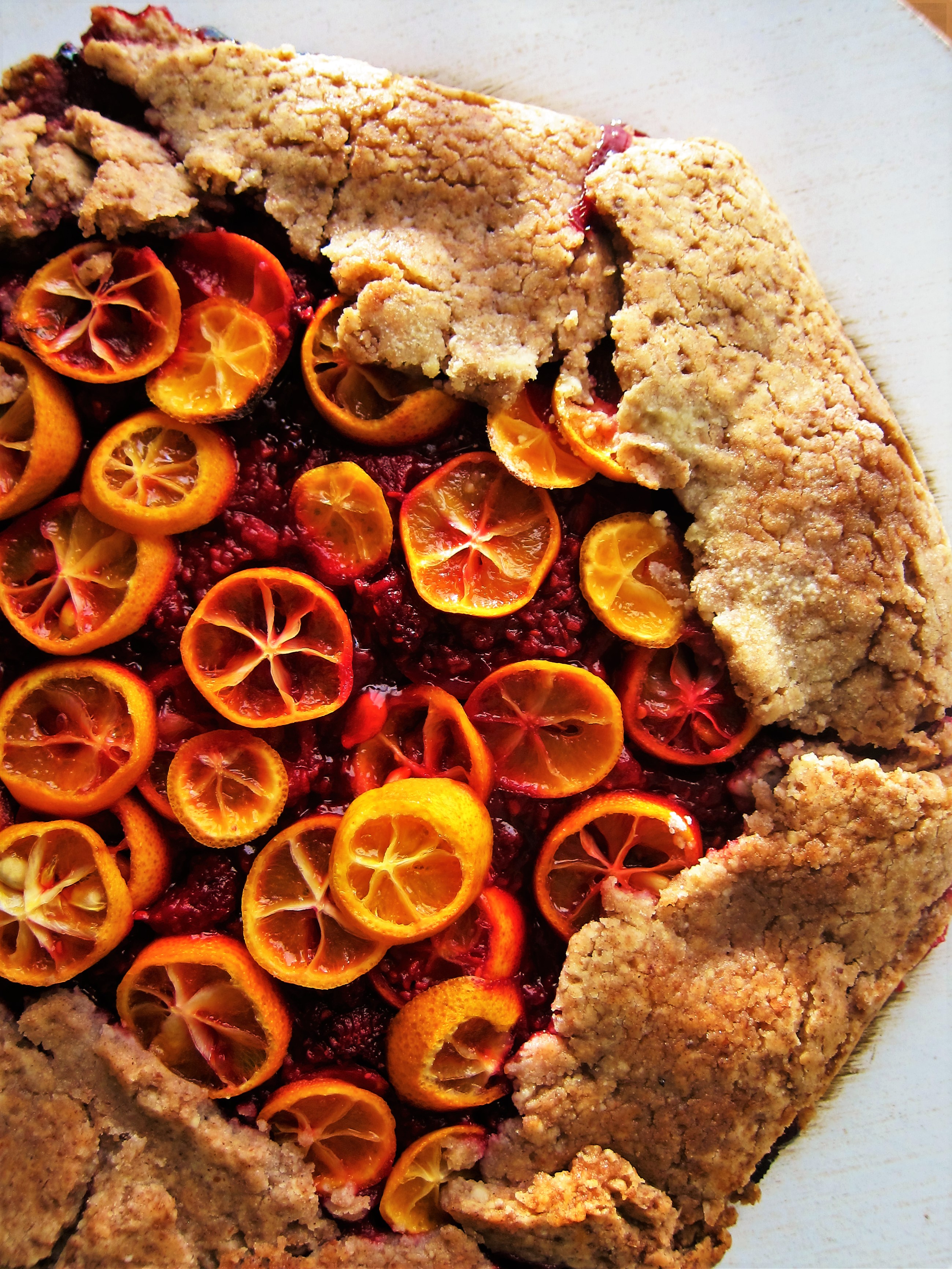 Vegan Kumquat Raspberry Galette with Pecan Crust
 Kumquats are like nature's little sweet tarts.  They are so delicious, especially to me because I love anything that makes my lips pucker a little bit. I remember when I first bought some years ago in college.  I am always buying any sort of new and unusual fruits or veggies that I have not tried before simply because I am curious.  And with the kumquats, I wasn't sure at first how to eat them.  Since other citrus you don't generally eat the skin.  But once I tried one, bam!  I was hit with the delicious flavor and I loved it.  So now, every year I have to buy some when I first see them in the store.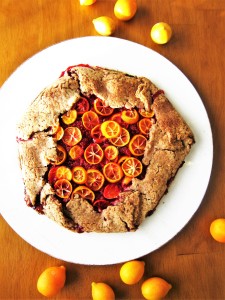 I bought some the other day, and I wanted to try using them in a way I hadn't before. I often use them thinly sliced in salads, or just eat them as a snack, or as a garnish on top of cakes, but I had not tried them in many cooked applications. My Mom got me a pie book for Christmas, and all of the pies, tarts, and galettes looked so good to me I decided to make a galette.  Because I have been hard core craving one all week.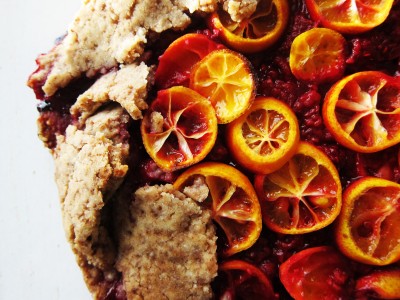 Kumquats in a galette might sound a little unusual, but I am all for things that are not common in desserts.  I mixed them with sweet raspberries, and it ended up being sooo good!  I know raspberries are not in season, but I am missing that part of summer and I bought some frozen ones.  I made a pecan crust for the galette and it turned out wonderfully flaky and nutty.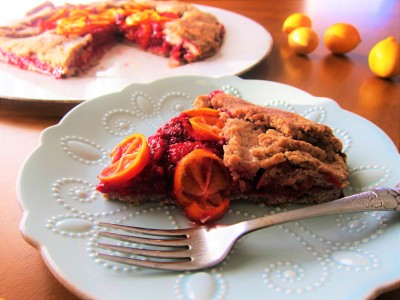 Just sayin' maybe your resolution for the year should be to bake more vegan desserts.  You will definitely have a lot of fun in the process!  I know I do, and it keeps me happy!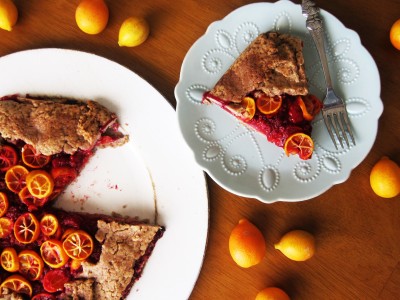 Vegan Kumquat Raspberry Galette with Pecan Crust
1 galette
Crust:
1 1/2 cups all purpose gluten free flour
1/2 cup pecan meal
2 Tbsp cup coconut sugar
1/2 tsp sea salt
1/4 cup coconut oil, in its solid form
2 Tbsp pecan butter
filtered water as needed
Filling:
2 cups fresh raspberries (if using frozen, thaw out first, and drain off liquid)
2 cups kumquats, sliced
1/3 cup coconut sugar
a pinch of sea salt
1 1/2 Tbsp arrowroot starch
coconut milk, for brushing
coconut sugar, for topping
To make the crust, in a large bowl, mix together flour, meal, sugar, and sea salt.  Cut in pecan butter and coconut oil with a pastry blender or 2 knives until it is in pea sized pieces.  Mix in just enough water to create a smooth dough that holds together but isn't too sticky.  Add a touch of water if needed, and knead slightly until a smooth dough is created.  Shape into a round (if it is too soft, refrigerate for about 15 minutes to firm it up slightly.  You want it pliable, but not super soft or it will be hard to shape).
Roll out into a 14 inch round using parchment underneath and floured rolling pin.  If it tears, no worries, just press it back together and patch it up.
Preheat oven to 400F degrees.  To make filling, mix together all ingredients in a large bowl.  Pour filling into middle of dough rounds (leaving a 1 1/2 inch boarder), then carefully fold up edges to cover the edge of the fruit. Brush edges with a little coconut milk, and sprinkle with sugar.  Place in the oven.  Bake for 45 minutes (checking after 20 and if it is very brown, if it is, tent with foil) until bubbling and fruit is tender.  Remove from oven and let cool on a wire rack for at least an hour.
(Visited 204 times, 1 visits today)