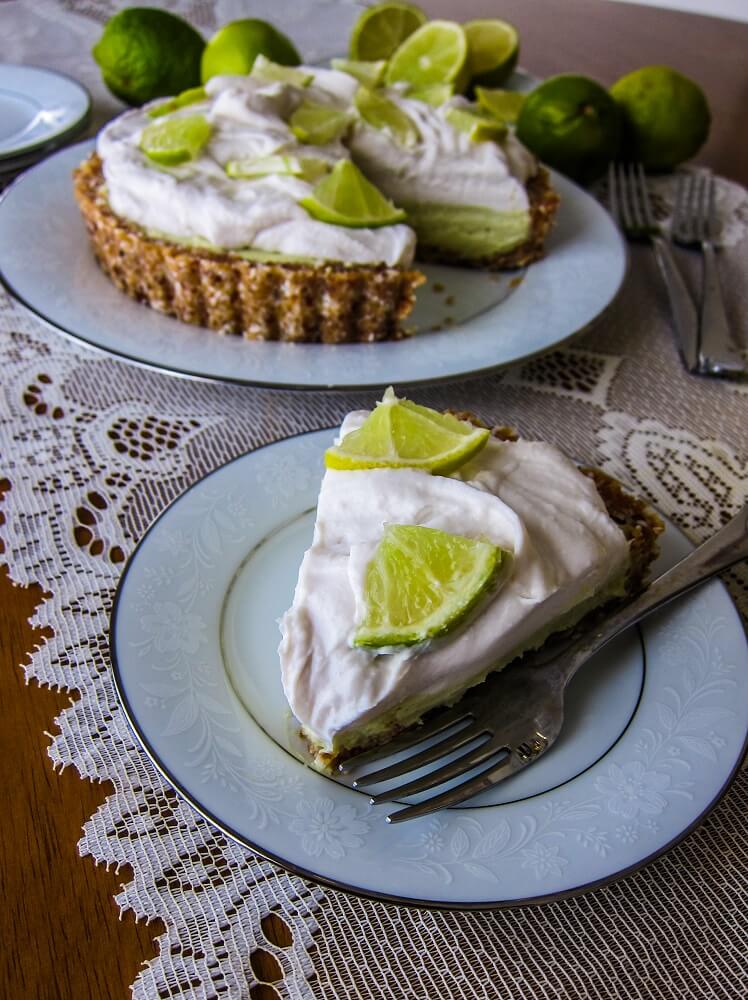 Vegan Key Lime White Chocolate Mousse Tart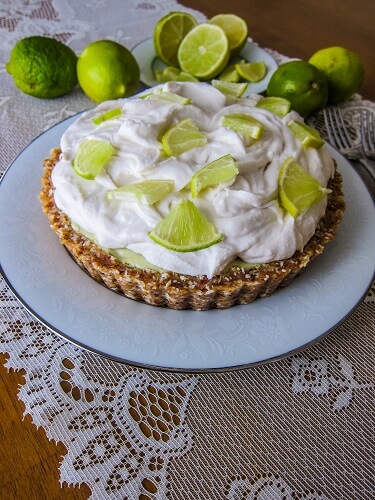 I was given a big bag of organic limes and so I thought it was the perfect time to make some key lime pie! Me not being one to make things just the same traditional way as everyone else though, decided to make a key lime white chocolate mousse tart instead. It would be like the pie, in that it would have plenty of tart lime flavor, but I also wanted the filling to have the mellow flavors of white chocolate and vanilla and a light fluffy texture. Also, I chose the tart instead of a pie because I like the fact that tarts always come out of my pans nicely because I have pans with removable bottoms. If you do a lot of baking definitely invest in some.
This tart was going to be fabulous, and just the thing to make for Mother's Day weekend. My Mom and I have always been big fans of key lime pie. We used to make it a lot when I was younger, and we both like the same balance of tart and sweet when it comes to key lime pie. It can't be just sweet it has to have loads of tart lime flavor.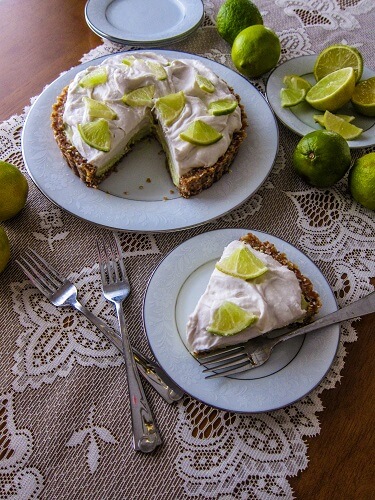 For the crust on this pie, I decided to make it gluten free and combine almond flour and shredded coconut with some dates and a touch of sea salt to make a rich, super delicious tasting crust. Also, a very simple crust that doesn't require any baking which means, less time spent making this which I am all for. For the filling I used a mixture of avocado and coconut cream and it was silky smooth deliciousness! I used coconut butter as well as cacao butter to thicken it for that white chocolate flavor. It was so good I could have poured it into a bowl and eaten it like mousse but I knew it would be even better once it was combined with the crust and whipped coconut cream topping!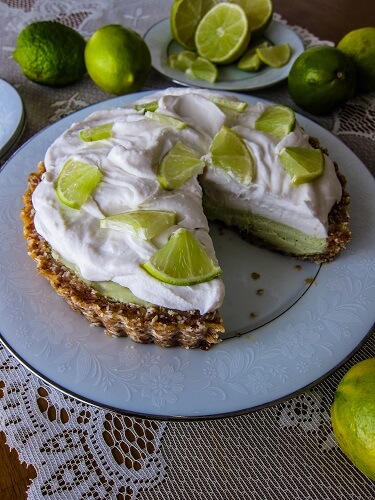 Once it was set up I topped it with the whipped cream and it was lovely. So delicious too! Better than many key lime pies and tarts I have tried in my lifetime with those heavenly notes of white chocolate and vanilla plus the tart lime flavor and fluffy whipped cream on top! If you are a key lime pie fan definitely give this tart a try!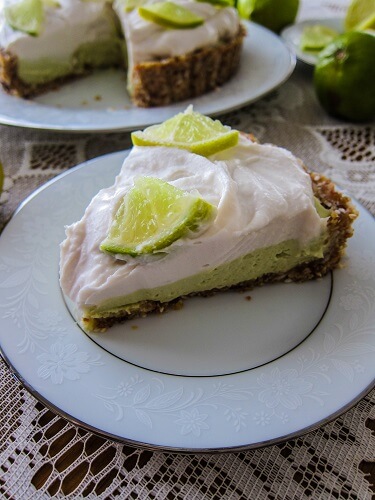 Vegan Key Lime White Chocolate Mousse Tart
Makes one 8 inch tart
Crust:
1 1/2 cups almond meal
1 cup finely shredded dried unsweetened coconut
1/2 cup pitted medjool dates (if not soft, soak them in filtered water first)
1/4 tsp sea salt
Filling:
1 cup Thai Kitchen organic full fat coconut milk (the thick cream part at the top of the can)
2 smaller avocados (about 3/4 cup mashed)
1 Tbsp organic lime zest
1/3 cup lime juice
1/3 cup maple syrup
1/8 tsp sea salt
1/2 cup raw coconut butter (NOT OIL), warmed to liquid
1/4 cup raw cacao butter
Topping:
1 1/2 cups Thai Kitchen full fat coconut milk (I use this brand because 2/3 of the can at least is cream, you need this or the recipe will not work)
1/4 cup maple syrup
1 tsp pure vanilla extract
1/4 tsp sea salt
1/2 cup plus 2 Tbsp coconut butter, warmed to liquid
Instructions:
Oil an 8 inch spring form tart pan, and line the bottom with parchment paper.
To make the crust, place all ingredients in a food processor, and process until crumbs and starting to hold together. Press into the bottom and up the sides of the prepared pan.
Meanwhile, to make the filling, combine all ingredients in a high speed blender or food processor and blend until smooth. Pour the filling over the prepared crust, and place in the freezer to set for about 4-5 hours (or overnight in the refrigerator if you are not in a hurry).
Meanwhile to make the cream, combine all ingredients in a high speed blender or food processor, and blend until smooth, then place in the freezer to chill (whisking occasionally) until it becomes the thickness of whipped cream which usually takes about 45 minutes to an hour depending on how warm the ingredients are. Once it has chilled, place it in the refrigerator until you are ready to top the tart with it.
Remove the tart from the freezer, and spread the cream over it. Remove the outer ring of the tart pan, place on a plate and serve!
Store any leftover tart in the refrigerator, covered or in a container with a dome.
(Visited 1,051 times, 1 visits today)