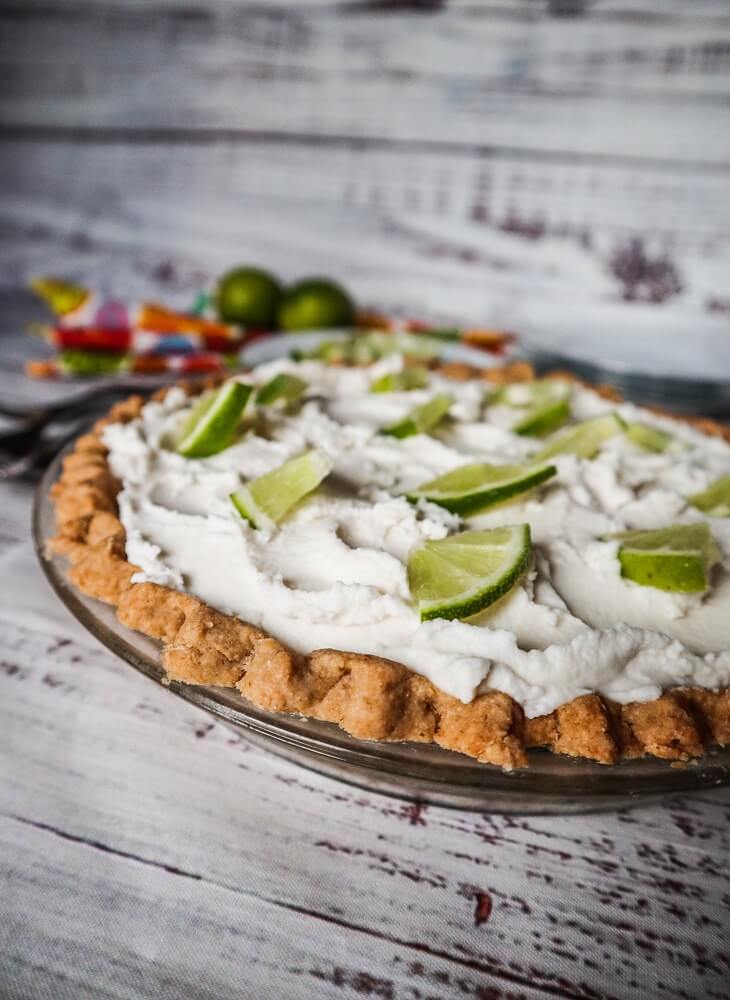 Vegan Key Lime Pie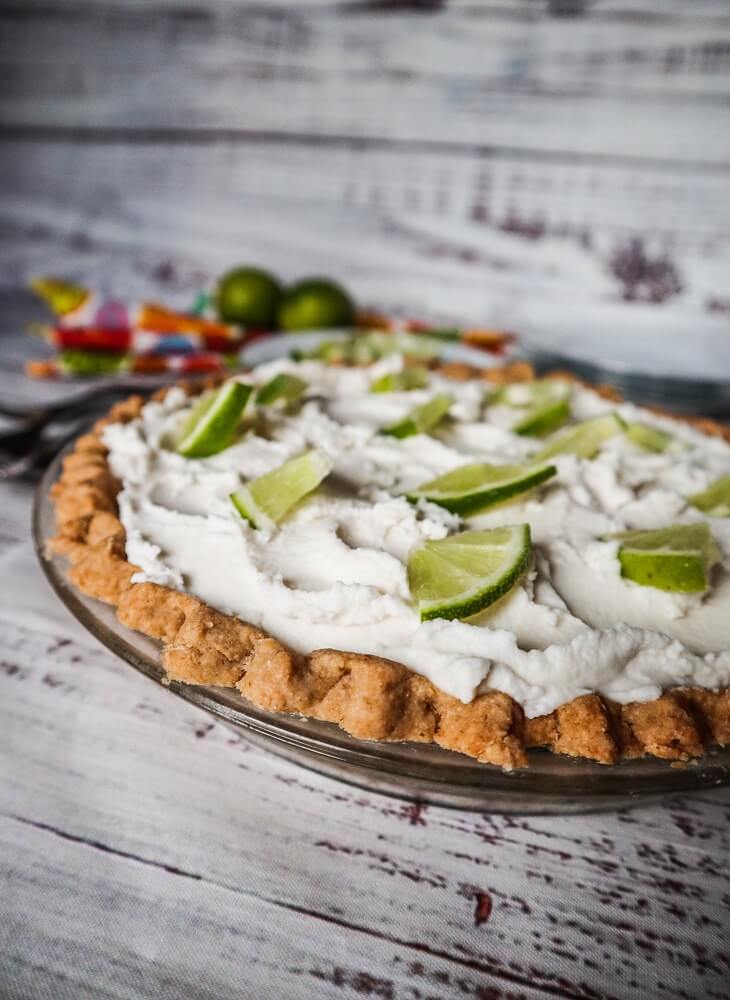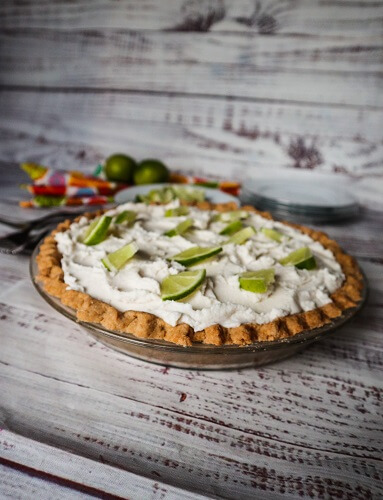 I have always loved key lime pie.  When I was little my Mom and I would order it at restaurants when we saw it on the menu or occasionally make our own.  It had to be the perfect balance of tart and sweet though, maybe a little more on the tart side and have plenty of real lime flavor.  We always put plenty of lime juice and zest into ours so it was fragrant and delicious!  I realized I hadn't made any in forever last week so I decided to whip one up.  I actually haven't made aa cooked one (I have made some raw lime pies since before I went vegan so I tried one out this time, basing it off of one of my lemon pie recipes.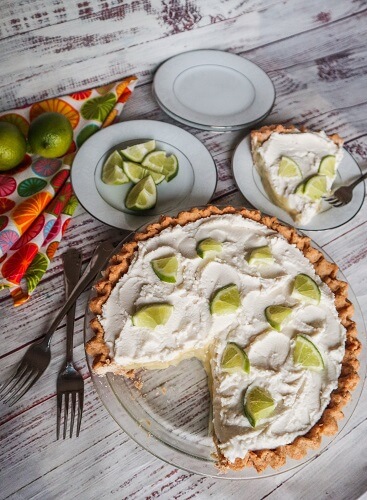 I know graham cracker crusts are classic on a key lime pie, but I went for a regular buttery tasting pie crust this time (since I didn't have graham crackers and did not feel like making them from scratch).  But I always have pie crust ingredients!  So I made a coconut oil pie crust.  It requires being partially baked before filling, but by the time the filling is done it is ready to go!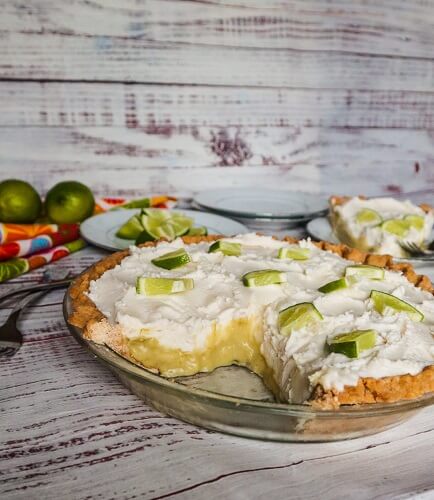 For the filling I use a good amount of lime juice with coconut milk, maple syrup to sweeten and a bit of cornstarch to thicken.  It works out well, and you end up with something that it like a lemon meringue pie filling, but with lime and creamier (which fits key lime pie).  I could not wait to try it!  But first, it had to cool completely.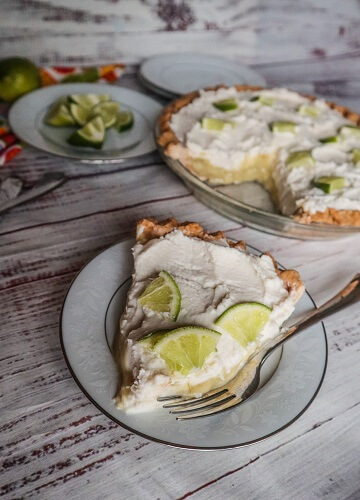 I topped it off with a good amount of coconut cream to balance out the tart lime filling and it was perfect!  This pie was heavenly!  The lime scented tart sweet smooth filling was so good with the creamy vanilla coconut cream and buttery tasting pie crust!  If you are a citrus fan, definitely give this a try!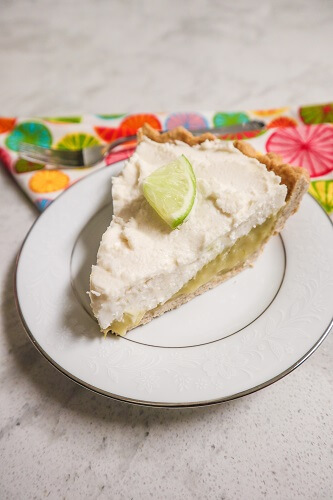 Vegan Key Lime Pie
makes one 8 inch pie
Crust:
1 1/4 cups organic whole wheat pastry flour*
3 Tbsp maple sugar or coconut sugar
1/4 tsp sea salt
1/4 cup plus 2 Tbsp coconut oil in its solid state
about 3-6 Tbsp cold water
  Filling:
3/4 cup lime juice
2 Tbsp lime zest
1/4 cup plus 2 Tbsp cup cornstarch
1 3/4 cup (one 15 oz can) full fat organic coconut milk* or canned unsweetened coconut cream
1/4 cup plus 2 Tbsp maple syrup
1/4 tsp spinach powder (for color, optional)
1/4 tsp sea salt
1 tsp pure vanilla extract
  Cream Topping:
  Instructions:
To make the crust, in a large bowl, mix together flour, sugar, sea salt, and spices. Cut in coconut oil with a pastry blender or 2 knives until it is in pea sized pieces. Mix in  just enough water to create a smooth dough that holds together but isn't too sticky. Add more water if needed, and knead slightly until a smooth dough is created. Roll out into a 10 inch circle on a sheet of parchment paper, then use the paper to help you transfer it to an 8 inch pie dish.  Flute the edges, and set aside in the refrigerator until solid.
Pre-heat the oven to 350F degrees. Place foil inside the pie crust, and weight down with pie weights or dried beans.  Place the pie in the oven and bake for 30 minutes, then remove from the oven.
Meanwhile, for the filling, combine all ingredients in a saucepan, and bring to a boil.  Lower to a simmer and cook until thickened. Remove from heat, and pour into the prepared pie crust. Place in the oven and bake for 15 minutes.  Remove from the oven and let cool completely, then refrigerate until chilled.
To make the cream topping, combine all ingredients in a blender and blend until completely smooth. Pour into a bowl and place in the freezer until it is thick like whipped cream (whisking every so often), about 20-30 minutes.
Once the cream is ready, spread over the top of the pie, and refrigerate for a few hours before serving.
  Pie keeps up to 1 week in the refrigerator, covered or in a container. *If you wanted to make the crust gluten free, you could swap Bob's Red Mill gluten free all purpose baking flour for the whole wheat pastry. I have tried this brand and know it will turn out well. *For the coconut milk, you want the kind that is 3/4 full of cream in the can, or it will not work and turn out runny, I used Thai Kitchen full fat milk, but their unsweetened canned coconut cream would work as well.
(Visited 780 times, 1 visits today)