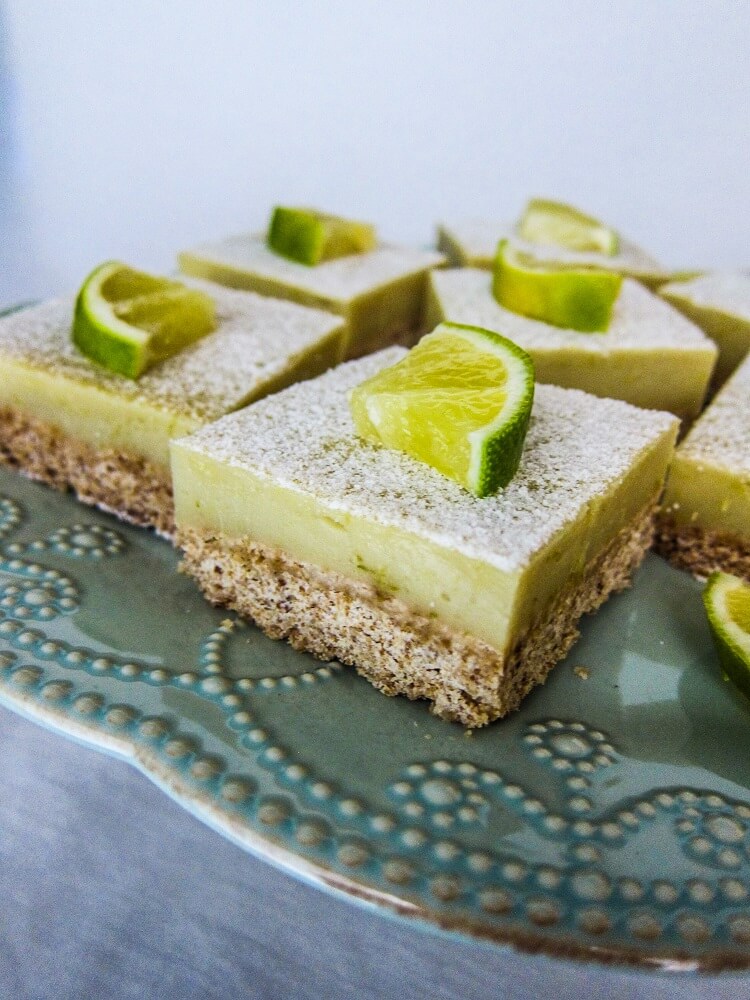 Vegan Key Lime Curd Bars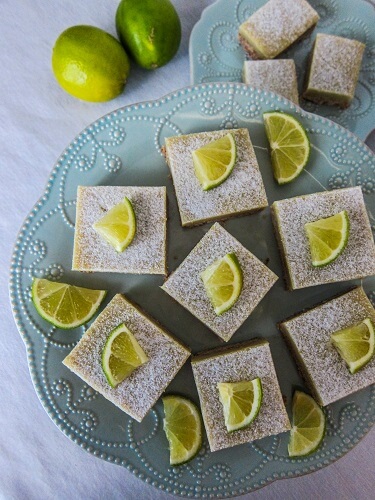 Key lime pie and all things tart citrus have always been favorites in my family. When I was little, my Mom and I would often buy truffles at a counter in a department store in the Mall, and it was usually the key lime flavored ones. One time the clerk said that she didn't know why we liked them so much, because she thought they were too tart, but on the contrary we thought they were perfect! Often times I feel like citrus desserts have way too much sweet to counteract the tart but what I like is a balance of the two. When I make my key lime pies I often times use a little less sweetener for that reason. I love tart lime!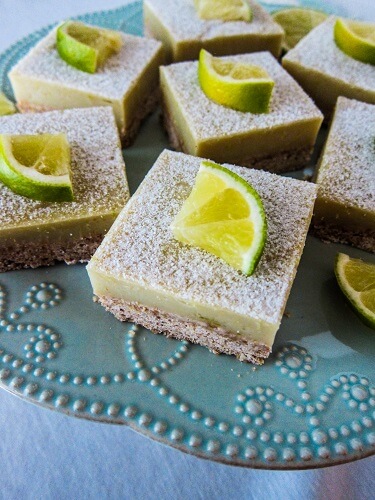 So last week when I had a bag of limes on hand and was trying to decide what to make, lime curd bars came to mind. I have also always had a love for those lemon curd bars, so I figured why not make them in the fashion? I have never made lime curd bars before, so it was more exciting too. For the crust I made a shortbread cookie dough, and pre-baked it before adding the filling on top of it so it would be nice and crispy to contrast the filling. I used whole wheat pastry flour mixed with a little tapioca starch to lighten it but if you wanted to make these gluten free, you could swap it out for gluten free all purpose baking flour (I recommend Bob's Red Mill).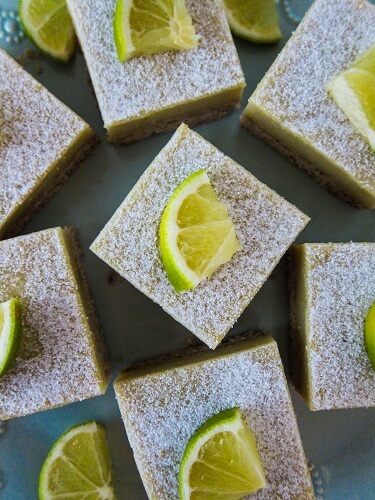 For the filling, I used plenty of lime juice and zest, with coconut cream to make it nice and rich since there would be no dairy or eggs in this, and combined it with a little maple syrup and vanilla to sweeten it. I thickened it with corn starch which worked out slick and you just pour the filling into the crust and let it before enjoying.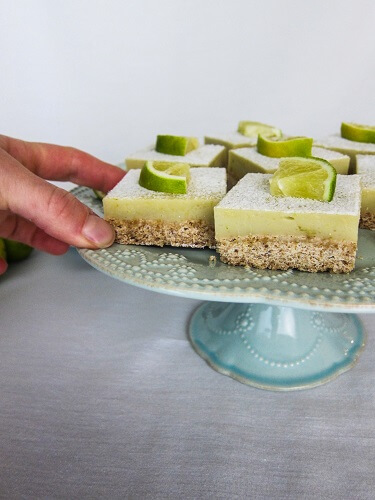 Lastly since traditional citrus bars are topped off with a powdered sugar topping I wanted these to look just as pretty so I made a coconut "powdered sugar" dust. It isn't super sweet like actual powdered sugar but it is pretty and goes well with the lime. If you area fan of citrus curd bars, definitely give these a try!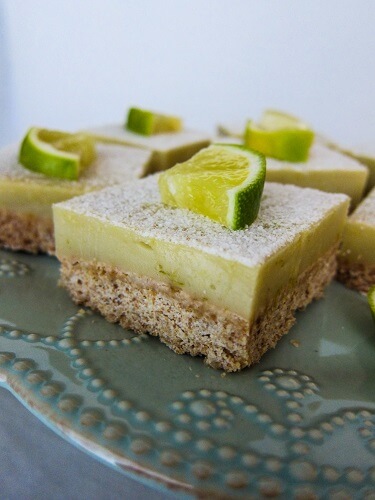 Vegan Key Lime Curd Bars
Makes 16
Crust:
1 1/2 cups organic whole wheat pastry flour*
1/2 cup tapioca flour (or cornstarch would work as well)
1/2 cup maple sugar
1/4 tsp sea salt
1/4 cup melted coconut oil
1/4 cup plus 2 Tbsp avocado oil (or other neutral oil liquid at cool temperatures)
Filling:
3/4 cup lime juice
2 Tbsp lime zest
1/2 cup cornstarch
1 3/4 cups canned coconut cream
1/4 cup plus 2 Tbsp maple syrup
1/4 tsp spinach powder (for color, optional)
1/4 tsp sea salt
1 tsp pure vanilla extract
For Topping:
1/4 cup finely shredded, dried unsweetened coconut
Instructions:
Preheat the oven to 350F degrees, and line an 8x8 inch square pan with parchment paper (so that it goes up the sides too).
To make the crust, mix all ingredients together in a bowl until combined, then press into the bottom of the prepared pan.
Place the pan in the oven and bake for 20 minutes or until set and lightly browned. Remove from oven.
To make the filling, combine all ingredients in a sauce pan, except the vanilla extract, and whisk to dissolve the cornstarch. Place on the stove over medium heat, whisking constantly until it is starting to thicken. When it starts to thicken cook for a minute or two, until it is thickened to the consistency of pudding, then whisk in the vanilla extract.
Pour the filling over the prepared crust, and let cool completely, then refrigerate for a few hours until completely chilled.
Buzz the coconut in a blender until it is fine like flour, then dust the tops of the bars with it by putting it in a fine meshed strainer and tapping it over them.
Cut into 16 bars.
Store any extra bars in the refrigerator in an airtight container.
*If you wanted to make these gluten free, you could use Bob's Red Mill gluten free all purpose baking flour instead of the pastry flour.
(Visited 1,806 times, 1 visits today)