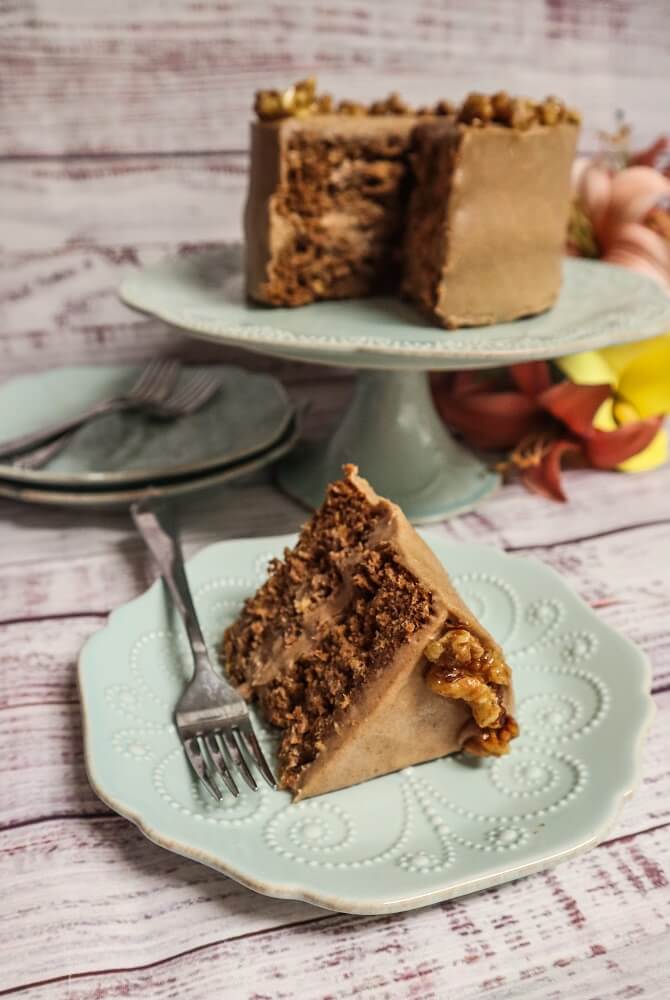 Vegan Irish Oatmeal Layer Cake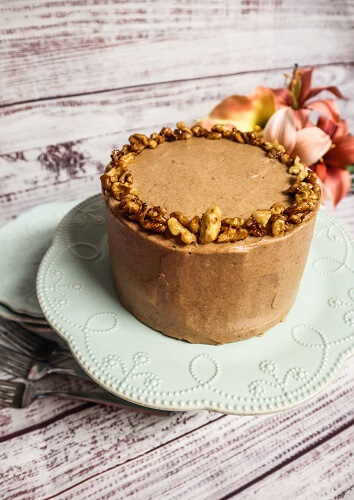 The first time I ever attempted to bake a layer cake, it was an Irish oatmeal cake.  It was for my Mom's Birthday.  I had just graduated high school, and I was just getting into baking.  It seemed simple enough after I read the directions.  But...simple it was not for me at least.  It seemed to bake up well, but then I tried to unmold it...while it was still a little warm and plop.  One big pile of cake.  Not shaped like cake anymore. Just a pile. I started crying because I wanted my Mom's Birthday cake to be perfect.  I had forgotten to oil the cake pan.  And I now know from this valuable lesson that a piece of parchment at the bottom of the pan is important too.  My Mom just gave me a hug and said we could still eat the delicious crumbs.  So we just poured the frosting over them.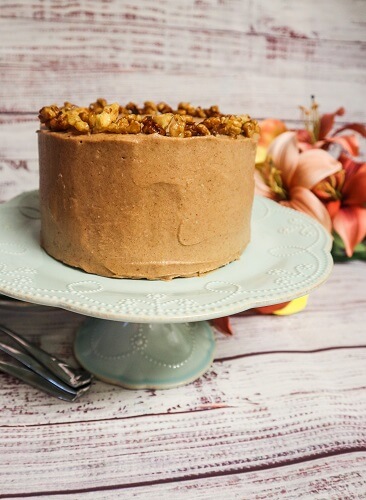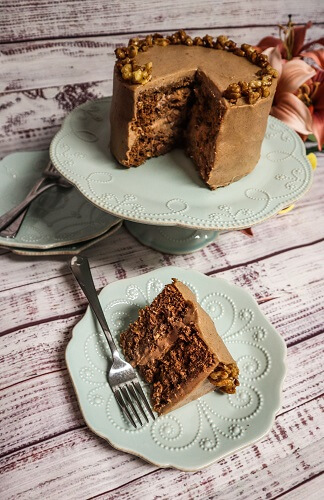 For years  I did not attempt to make an Irish oatmeal cake. But then one St. Patrick's Day a few years back I made one and it turned out awesome. No pile of crumbs, just a beautiful delicious cake.  I sweeten the cake with dates and a bit of cinnamon and it tastes almost caramel like.  The nutty oats pair well with it, and give it a lovely texture.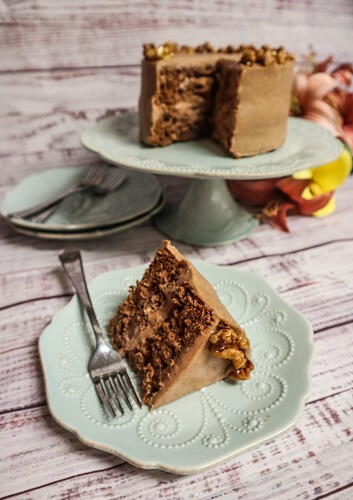 I frost it with a date caramel frosting, like the cake I had tried to make when I was younger.  It is sooo good.  No more being scared of oatmeal cakes.  It is a shame I waited so many years to make one.  But I have been making it the past few years now.  This cake is delicious!  I am a big oatmeal lover, and it was nice to enjoy it in another way besides just my morning oatmeal.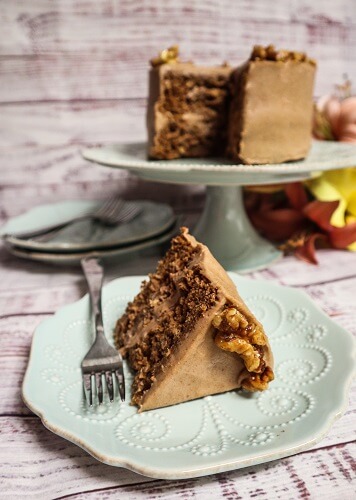 Vegan Irish Oatmeal Layer Cake 
Makes 1 6 inch 2 layer cake
2 6 inch cake pans
Cake:
3/4 cup organic gluten free rolled oats
1 cup hot filtered water
1 1/2 cups organic oat flour
1 1/2 tsp baking soda
1 tsp baking powder
1/2 tsp cinnamon
1/2 tsp sea salt
1 cup packed soft medjool dates, pitted, soaked in water for 30 minutes and 1/2 cup of the water reserved
1/4 cup pecan butter
1 Tbsp pure vanilla extract
1 cup filtered water
2 Tbsp apple cider vinegar
Frosting:
1 1/4 cups pitted medjool dates, soaked in water for 30 minutes and 1/2 cup of the water reserved
3/4 cup raw pecan butter or raw almond butter
2 Tbsp coconut butter, warmed to liquid
1 tsp pure vanilla extract
1/8 tsp sea salt
Instructions:
Place the oats in a bowl, and pour 1 cup of hot filtered water over them. Let them sit for 30 minutes.
Preheat the oven to 350F degrees and position rack in center of oven. Line two six-inch-diameter cake pans with 2-inch-high sides with parchment paper.
Coat parchment paper and pan sides lightly with oil so that the cake doesn't stick and line the bottom of the pan with a piece of parchment fit to the pan. Whisk flour, baking powder, baking soda, cinnamon and sea salt in a large bowl to blend well.
Place dates, reserved water, pecan butter, additional water, and vanilla extract into a blender, and blend until smooth, then whisk this blended mixture as well as the soaked oats into the flour mixture until well blended. Whisk in the cider vinegar until bubbles form.
Transfer cake batter to prepared pans and bake cakes until tester inserted into center comes out clean, about 30 minutes.
Cool cakes completely in pan on rack, about 1 hour. Cut around sides of pan to loosen. Turn cakes out onto platter; peel off parchment paper.
Meanwhile, to make the frosting, combine all ingredients In a high speed blender, and blend until smooth.
To assemble, place one cake layer on a plate, and spread a layer frosting over it.  Then top with another cake layer.  Spread the remaining frosting on the top and down the sides of the cake.
***if you would like a 2 layer 9 inch cake, double this entire recipe and bake in two 9 inch cake pans. The baking time will be longer, more like 45-50 minutes.
(Visited 4,961 times, 1 visits today)