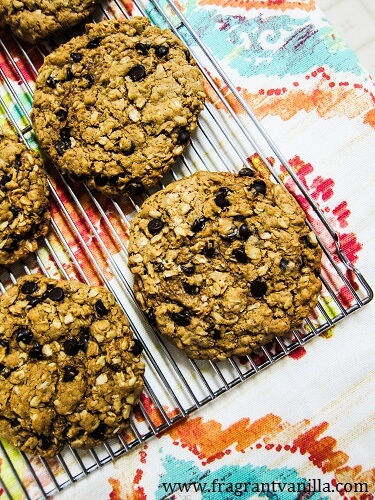 Vegan Irish Oatmeal Cookies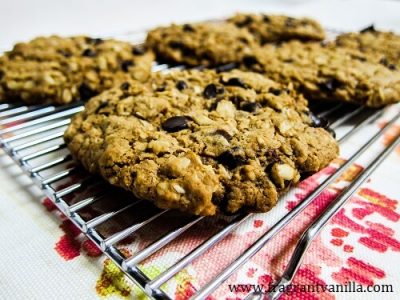 I love my oatmeal.  I have had a bowl of oatmeal almost every day for the past 10 years, because it is my favorite breakfast.  My Mom always told me that oatmeal cookies were the healthiest too, because the oats supposedly canceled out the sugar.  Wishful thinking I guess, but it is good to have a little fiber with your dessert!  She asked me last week if I would make her some Irish oatmeal cookies.  I don't know how actually Irish they ended up being, but I used oats and whisky and that was good enough for my Mom!  She loves to have oatmeal cookies with her coffee, and these would be the perfect companion for coffee!  You could even make some Irish coffee if you wanted to go all out.  Think of these kind of like Irish oatmeal in cookie form, instead of in a bowl for breakfast.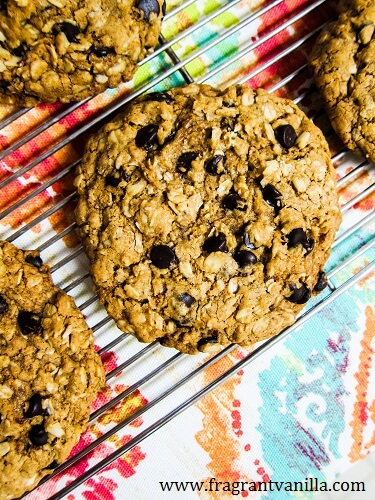 I used my classic oatmeal cookie recipe, but added in some whisky in place of some of the water I use to soak the flax seeds in.  These cookies are not boozy, but they do have the lovely faint scent of whisky.  A touch of cinnamon, and a little vanilla, and the dough tasted wonderful.  Good tasting dough is just as important to me as good cookies.  Because I like eating the dough even more than the baked cookies.  I feel like it is sort of the baker's treat to be able to enjoy the dough while you are going through the work of making them.  I thought about soaking raisins in whisky and adding them to the cookies as well, but I decided on chocolate chips and walnuts instead.  We have a chocolate chip walnut oatmeal cookie in the deli where I work and it is always a favorite.  So I figured why not have that combo here.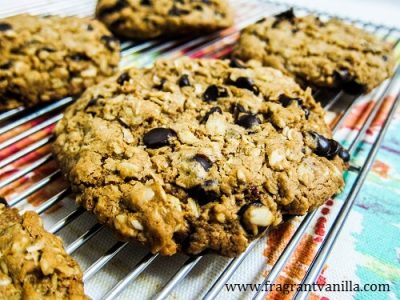 They smelled amazing while baking.  When they came out of the oven with the chocolate chips all gooey and delicious and smelling of sweet cinnamon I could not wait to try them.  They were super delicious.  Soft in the center, and crisp at the edges as an oatmeal cookie should be, the faint scent of whisky and rich dark chocolate chips and crunchy walnuts...sooo good!  My Mom loved them as well, and told me that they went perfect with her coffee!  Next time you need to make a cookie, give these a whirl!  Maybe make them for St. Patrick's Day, if you want something with oats that is easy to make!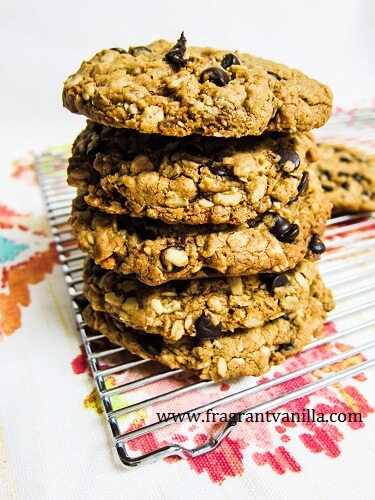 Vegan Irish Oatmeal Cookies
Makes 1 dozen large cookies
Ingredients:
2 Tbsp ground flax seed
1/4 cup Irish Whisky
2 Tbsp filtered water
3/4 cup virgin coconut oil, warmed to liquid
1 1/2 cups coconut sugar
1 Tbsp pure vanilla extract
1 1/2 cups gluten free oat flour
1 tsp baking soda
3/4 tsp sea salt
1/4 tsp cinnamon
3 cups gluten free old fashioned rolled oats
1 cup chopped walnuts
1 cup vegan dark chocolate chips or chunks
Directions:
Whisk together the flax, whisky and water, and let sit for 15 minutes.
Meanwhile, In a large mixing bowl, mix together the coconut oil, and sugar until well blended. Add flax mixture, vanilla, and beat until well combined (the mixture will become very thick).
Mix in the flour, soda, and sea salt until well blended. Mix in the oats until well combined, then add walnuts and chocolate chips and mix until evenly distributed throughout the dough.
Heat the oven to 350 degrees with the rack set at the middle position. Line 2 baking sheets with parchment paper.
Roll the dough into 12 large balls, and spread them out on the 2 cookie sheets with plenty of room in between. Bake for 13-15 minutes or until golden, but not over baked. Let cool on sheet a few minutes, then remove to a wire rack lined with parchment to cool.
(Visited 130 times, 1 visits today)