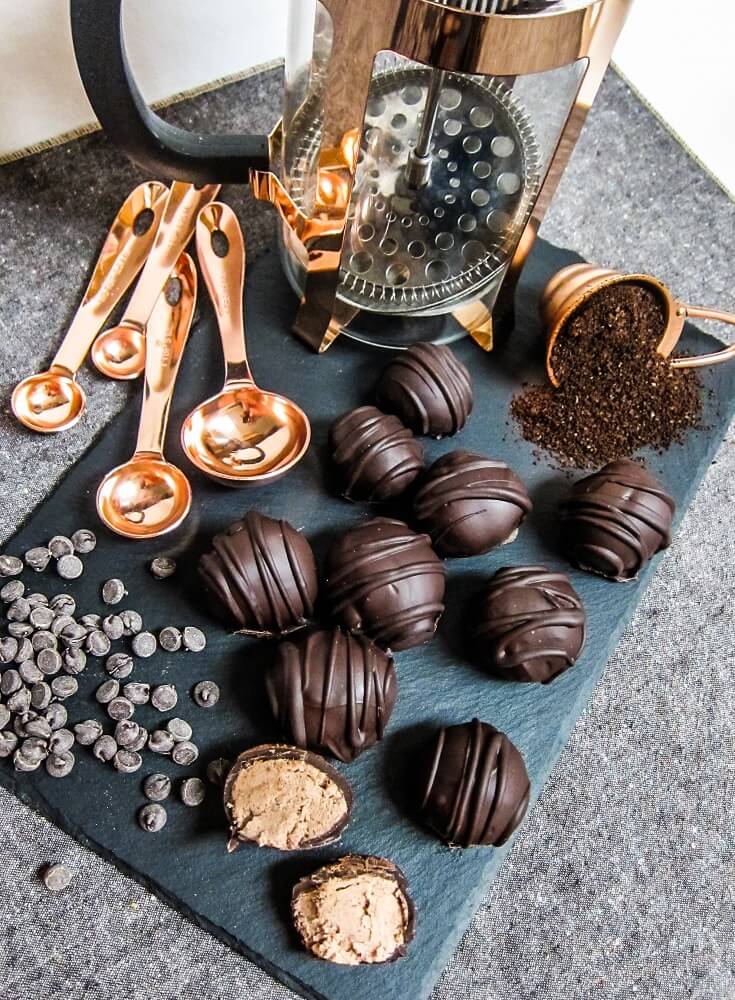 Vegan Irish Coffee Truffles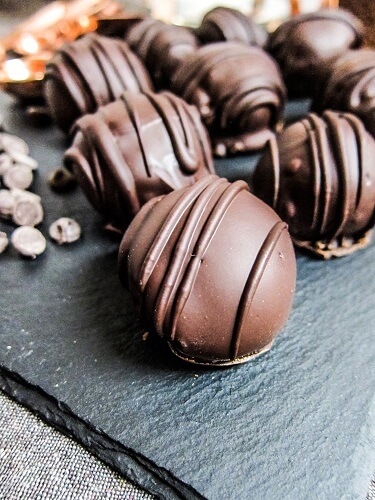 Since I made home made Bailey's Irish Cream last week, I couldn't stop thinking about how good similar flavors would be in a dessert. So I decided to whip up a batch of Irish Coffee Truffles. My Mom used to call truffles with any kind of alcohol in them liquor bombs. We went to Europe many years ago when I was younger and we had these really amazing Belgian chocolates with liqueur in them. Since I remembered those being really good I thought some Bailey's coffee truffles sounded good.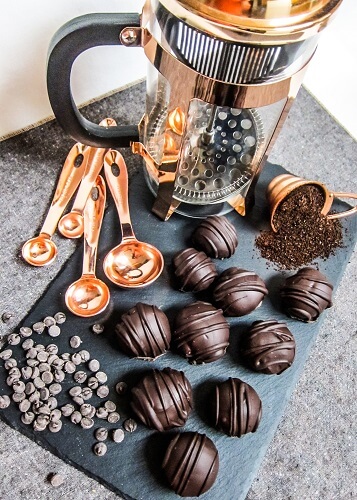 I thought about simply making the ganache type of truffles with a melted dark chocolate base, but instead I settled on a white chocolate creamy base that was more like Bailey's. I started off with a cacao butter, coconut butter and cashew butter base which comes out tasting like white chocolate before you add anything to it, and then added a little strong espresso, cacao powder, whisky and of course cacao powder. It tasted amazing! I could not stop sampling it with a spoon.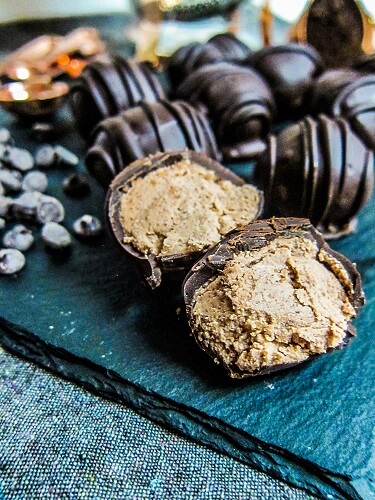 Once I let it chill it made the most delicious truffle filling! I shaped it into balls, and dipped it into some melted vegan dark chocolate. I could not wait to try the finished product! They were so good, rich and creamy filling that had a hint of cacao, coffee, and the boozy kick of whisky! These are heavenly and they would be perfect with, coffee of course!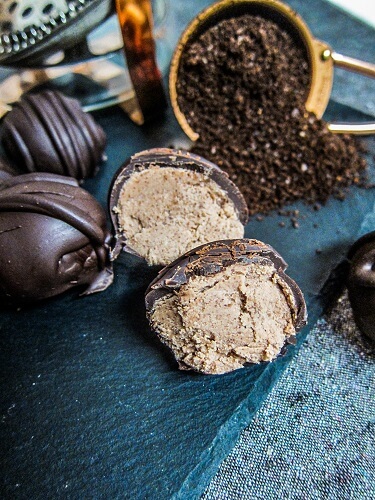 If you have ever loved Bailey's give these truffles a try! I hope you are all staying warm where you live, it seems that we are in never ending Winter here with 10 inches of snow expected here tomorrow. I don't know about you, but plan on staying in and creating more deliciousness in my kitchen!
Vegan Irish Coffee Truffles
Makes 16
Ingredients:
Filling:
1/2 cup Raw Guru cacao butter, warmed to liquid
1/4 cup plus 2 Tbsp raw cashew butter at room temperature
3/4 cup Dastony coconut butter, warmed to liquid
1 tsp pure vanilla extract
1/4 cup maple syrup
2 Tbsp strong brewed espresso
2 Tbsp Irish whisky (make sure it is vegan on Barnivore)
2 Tbsp filtered water
2 tsp cacao powder
Dark Chocolate:
2 cups chopped vegan dark chocolate or vegan dark chocolate chips
Directions:
Combine all of the filling ingredients in a bowl, and whisk until smooth.
Place in the freezer for about 15-20 minutes until it is firm enough to scoop. Scoop into 14 balls, rolling them with your hands. Place on a parchment lined tray, and place back into the freezer until firm, about 30 minutes.
Meanwhile, melt the dark chocolate in a double boiler until smooth.
Once the filling has firmed up, dip each chocolate into the dark chocolate, being sure to let the excess drain off, and place back onto the tray (I like to set mine on a fork to allow it to drain better). Once they are all dipped, set them in the freezer until hardened.
Store any leftover truffles in the refrigerator.
(Visited 593 times, 1 visits today)