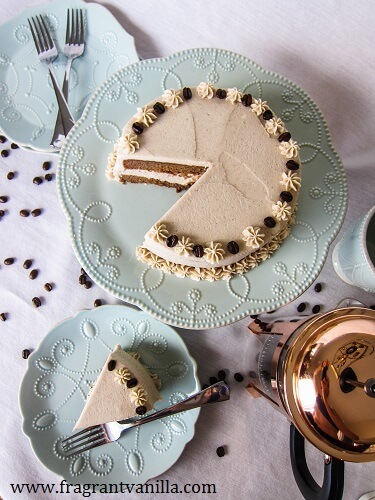 Vegan Irish Coffee Layer Cake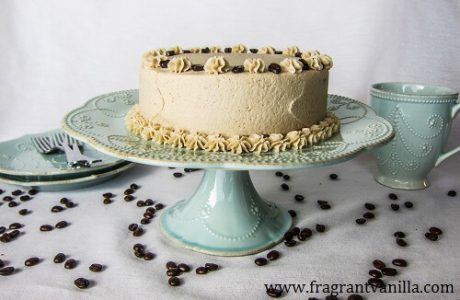 Since St. Patrick's Day is coming up, I decided to make a decadent cake fit for a celebration!  Although I had a few different ideas, my Mom gave me the winning one.  "You haven't ever made an Irish coffee cake before, you should make one!" She said.  It sounded like a winner to me, so I went for it!  I thought about making cupcakes, but I always gravitate towards cake.  There is just something about it that I love, probably the more generous amount of frosting, and cake to frosting ratio that is larger than cupcakes (at leas with mine).  I imagined a cake that had the aroma and flavor of coffee plus a little bit of booziness since it was Irish coffee cake after all.  I admit, I have never actually had Irish coffee, but I used to be a huge fan of Bailey's Irish Cream when I was younger.  Just straight up usually though.  I now find it a little too sweet for my tastes.  I don't know why I haven't made a vegan verison that suits my tastes yet (putting it on the list in my head of things to make now).  Anyways, where I am going with this Bailey's tangent is that I wanted the frosting to sort of taste like it plus coffee.  I think I accomplished that pretty well!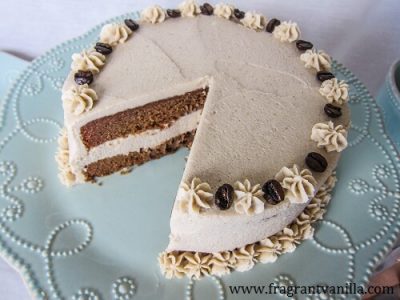 For the cake portion, I used my classic date sweetened layer cake with some strong freshly brewed organic coffee and a little whisky to make it a little boozy.  My Mom was kind enough to save me some of her coffee, since I am not a coffee drinker, I just like coffee desserts.  The batter tasted delicious and I knew this was going to bake up well.  It smelled amazing while baking too, filling my kitchen with a heavenly aroma.  For the frosting I used a coconut base with a little cashew butter to make it dreamy and delicious sort of like a vegan buttercream.  I added some coffee to that as well, along with vanilla and of course the whisky and it tasted amazing. Sort of like Bailey's but better.  It was like a delicious mousse and it could have been eaten with a spoon just like that but of course it needed to be saved for the cake.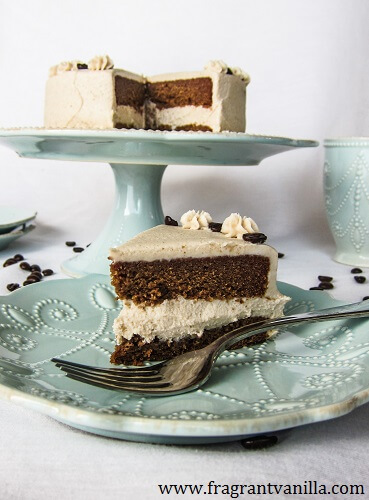 Once assembled it was lovely!  But how did it taste all together?  Super delicious!  Everyone I shared it with finished their pieces quickly and told me how much they enjoyed it.  The cake layers were nice and moist, with a light coffee flavor and a hit of whisky, and the frosting creamy, dreamy and simply heavenly!  All together it was perfect!  If you are an Irish coffee fan, this cake is for you.  Ps: It goes well with morning coffee as well, if you are a cake in the morning type of person according to my Mom.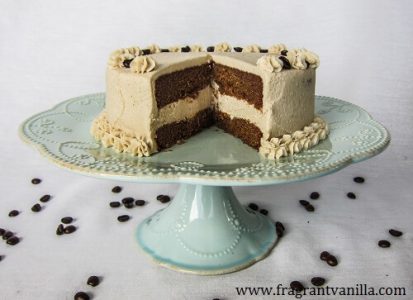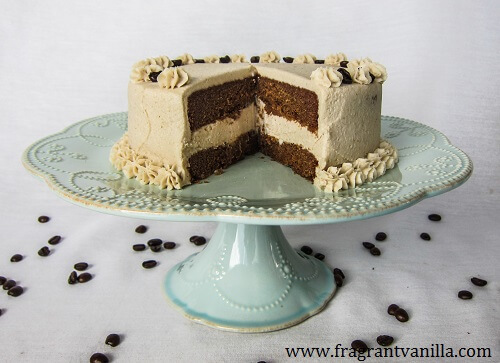 Vegan Irish Coffee Layer Cake
Makes one 2 layer 6 inch cake
Ingredients:
2 6 inch cake pans
Cake:
1 1/2 cups Bob's Red Mill Gluten Free All Purpose Flour
1 1/2 tsp baking soda
1 tsp baking powder
1/2 tsp sea salt
1 1/4 cups packed soft medjool dates, pitted, soaked in water for 30 minutes and 1/2 cup of the water reserved
1/4 cup organic almond butter
2 tsp pure vanilla extract
1 cup strong brewed coffee
1/2 cup whisky (check Barnivore to make sure it is vegan)
2 Tbsp apple cider vinegar
Vegan Coffee Cream Frosting:
1 15 oz can full fat organic coconut milk, chilled (you MUST use a brand that has at least 3/4 of the can thick cream, such as Thai Kitchen brand or it will not thicken up and will stay runny)
1/2 cup organic cashew butter
1/4 cup maple syrup
1 tsp pure vanilla extract
1/4 tsp sea salt
1 Tbsp espresso powder
2 Tbsp whisky (check Barnivore to make sure it is vegan)
1/2 cup plus 2 Tbsp melted coconut butter (NOT OIL) warmed to liquid
Directions:
Preheat the oven to 375F degrees and position rack in center of oven.
Oil 2 6 inch round cake pans with coconut oil and line the bottom with parchment.
Whisk flour, baking powder, baking soda, sea salt in a large bowl to blend well.
Place dates, reserved water, coffee, whisky, almond butter, water, and vanilla extract into a blender, and blend until smooth, then whisk this blended mixture into the flour mixture until well blended. Whisk in the cider vinegar until bubbles form.
Pour the cake batter into prepared pans, and place in the oven.
Bake cakes until set and a toothpick inserted into the center comes out almost clean, about 25-30 minutes.  Remove from oven, let cool completely, then unmold onto plates.
To make the frosting, combine all ingredients in a high speed blender or food processor and blend until completely smooth (if it clumps up at all, keep blending, the ingredients may separate if they are different temperatures, but they will come together if blended long enough).  Pour into a bowl and place in the freezer until the consistency of stiffly whipped cream (about 30-45 minutes depending on how warm it has gotten).  Once it is ready place in the refrigerator until ready to assemble.
To assemble, place one cake layer on a plate.  Spread 3/4 cup frosting over the cake layer.  Place the other cake layer over that, and spread the remaining frosting over the top and down the sides of the cake.
(Visited 1,690 times, 1 visits today)