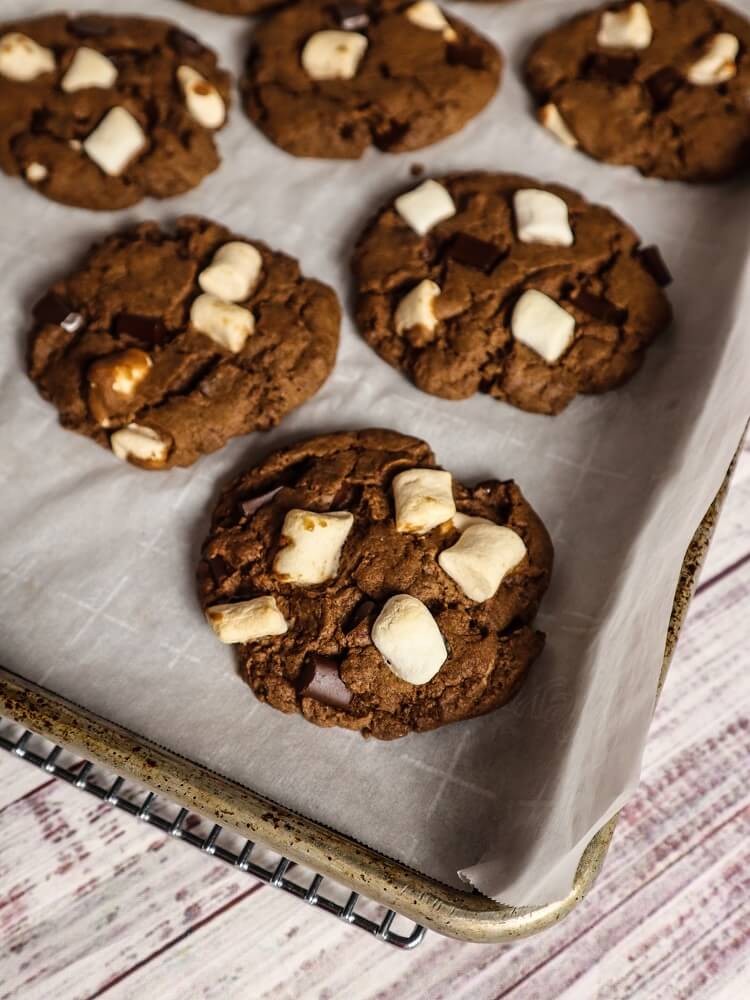 Vegan Hot Cocoa Cookies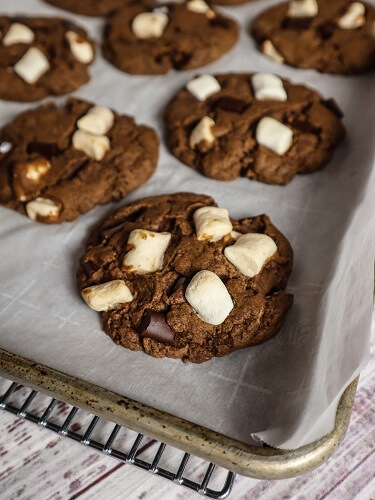 A snow day is the perfect time to do some baking! And, we definitely just got a lot of snow dumped on us here in Minnesota.  It was about time though, nobody wants a brown Christmas! I made some Holiday cookies at work last week, they were double chocolate mint, and we all loved them so much that one of my coworkers suggested I make hot cocoa cookies too.  I can't make any more varieties of cookies right now at work though, since I already have enough things to make and not enough time, so I decided to give making some a go at home instead.  Why not?  They did sound really good after all.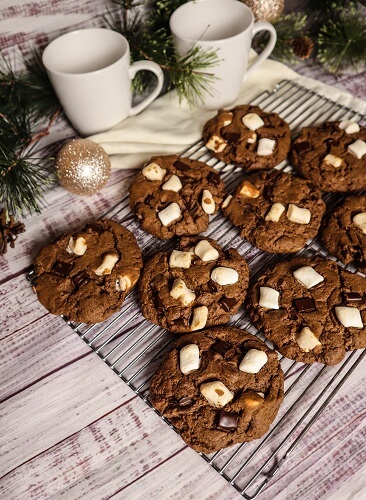 For the cookies, I actually used the same cookie base as the one I use at work, just with slightly more whole ingredients, like whole wheat pastry flour instead of regular AP, and maple sugar instead of granulated.  But they come out the same either way if you do need to use the more standard ingredients.  Another note about the flour used, if you wanted to make this gluten free, you could use a gluten free baking flour blend as well.  I like the Bob's Red Mill gluten free all purpose baking flour, I have used it and swapped 1:1 with success.  This cookie base is delicious!  It tastes kind of like brownie batter, only with a cookie dough consistency (which is my favorite).  I added in a touch of vanilla and mint and it tastes like cocoa!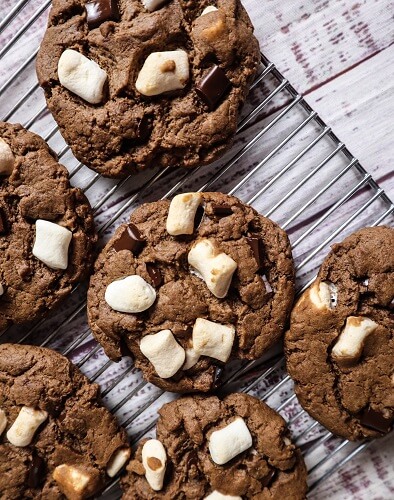 It needed a few add ins though, even though the dough was delicious by itself I added mini marshmallows and chocolate chunks!  Dandies has some vegan mini marshmallows that are seriously the most delicious marshmallows I have tasted, even better than the ones that were not vegan that I ate as a kid.  These ones have a vanilla flavor and just the right amount of sweetness!  I used to always have marshmallows in my hot chocolate as a kid, so I had to add them to these cookies.  I added in the chocolate chunks because I wanted there to be gooey chocolate in them while I enjoyed them warm (the best way after eating the dough as far as I am concerned).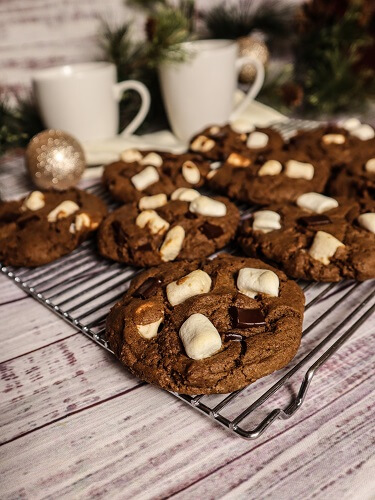 They baked up beautifully and smelled amazing! I could not wait to try one!  They were soft and chewy, with a flavor just like peppermint hot cocoa, and the soft marshmallows, and gooey chocolate made them heavenly!  Eric loved them as well, and I brought some to work to share and they got good reviews, so I am not the only one that thought they were yummy.  These would be amazing with a hot cup of coffee or of course hot chocolate if you have a big sweet tooth!
Vegan Hot Cocoa Cookies
Makes 2 dozen large cookies
Ingredients:
1 1/2 cups coconut oil, warmed to melted
3 cups maple sugar or granulated sugar
1 cup applesauce
1 tsp pure vanilla extract
1 tsp peppermint extract
1 tsp sea salt
2 tsp baking soda
1 tsp baking powder
1/2 cup cocoa powder
4 1/2 cups whole wheat pastry flour
1 cup chocolate chunks
1 cup vegan marshmallows
Instructions:
Preheat the oven to 350F degrees, and line 3 large sheet pans with parchment.
In a large bowl, combine the coconut oil, sugar, applesauce, vanilla and peppermint and mix until completely incorporated (the oil too, it should be completely mixed in).
Mix in the sea salt, soda, and baking powder.
Mix in the cocoa powder, then flour 1 cup at a time until completely mixed in.
Mix in the marshmallows and chocolate chunks.
Scoop the cookies out and roll them into 2 inch balls.  Place them on baking sheets, a couple inches apart, and press down slightly.
Place in the oven and bake the trays of cookies for about 12-15 minutes (turning the pans half way through), until lightly browned and cooked through (but not overbaked).  Remove trays from the oven , and let cool 15 minutes before enjoying.
(Visited 524 times, 1 visits today)