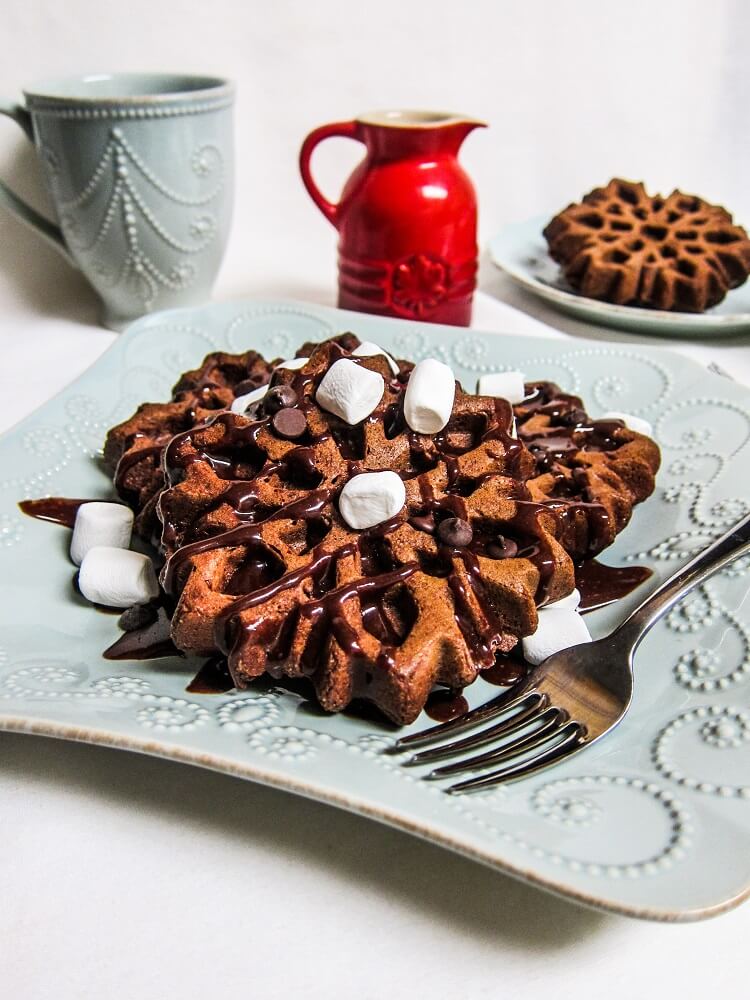 Vegan Hot Chocolate Waffles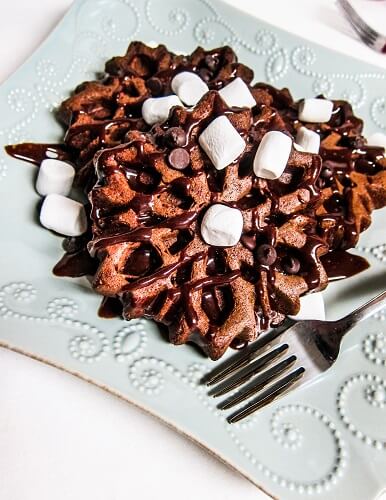 I loved hot cocoa or hot chocolate growing up.  We always had a box of those little packets ready to just add water to.  You know, the ones with the mini marshmallows in them?  My 8 year old self loved that stuff!  Now, I prefer to make my own instead of using a mix.  I usually melt actual real dark chocolate into coconut milk and add peppermint or vanilla and it is heavenly dessert!  Definitely much richer than the stuff I had as a kid but when I want dessert I want dessert that tastes really good, not something that is just ok. Add whipped cream on top and I am good, it is as tasty as a slice of chocolate pie, but warm and perfect for Winter.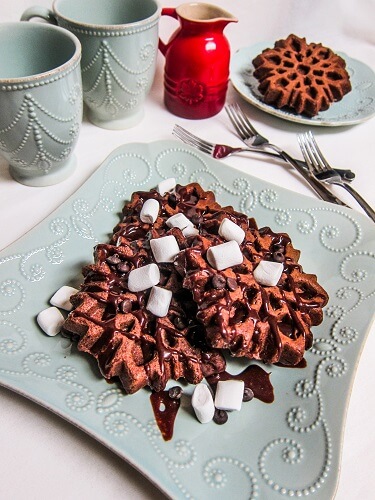 I recently saw a hot chocolate waffle mix at the store, and I said to myself I need to make some of those!  I am not a boxed mix type of person though, I prefer everything to be home made.  I figured it would be easy enough to make my own, I have made different flavored waffles before. I have a super cute Disney "Frozen" waffle maker shaped like a snowflake so they were festive looking as well!  It is Christmas time here as far as I am concerned because there is snow on the ground, Thanksgiving is over and I am listening to Christmas music!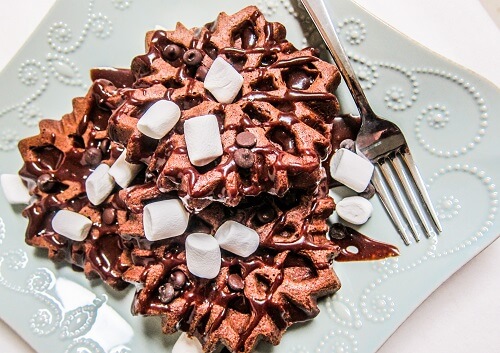 I used my classic gluten free waffle base, but added in good quality cacao powder and some warming spices, cinnamon and cayenne.  So sort of like a Mexican hot chocolate flavor, which is another way I like to embellish my hot chocolate.  They turned out perfect in the waffle maker!  I like to top my waffles with delicious things too, so I made a gooey chocolate fudge, and sprinkled them with some mini vegan marshmallows I found on sale at the store.  They were super tasty!  They would be the perfect weekend brunch treat, but of course I wouldn't say no to having them for dinner.  I made them after work one night.  If you are a fan of all things chocolate, definitely give these a try!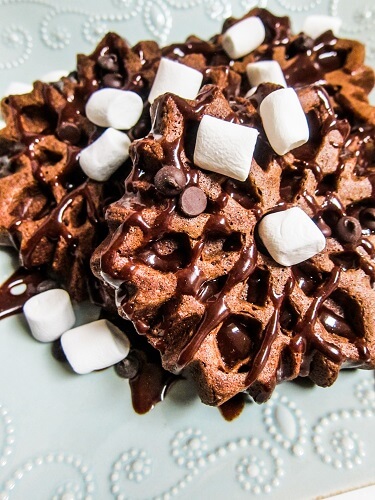 Vegan Hot Chocolate Waffles
makes 8 regular sized waffles
Ingredients:
Batter:
2 cups gluten free all purpose flour
1/4 cup maple sugar or coconut sugar
1/2 tsp baking soda
1 tsp baking powder
1/2 tsp sea salt
1/8 tsp cayenne (optional)
1/2 tsp cinnamon
1/4 cup unsweetened cocoa powder
3 Tbsp ground flax seed, whisked together with 1/2 cup plus 1 Tbsp filtered water
2 Tbsp melted avocado oil or coconut oil
2 cups full fat coconut milk
Fudge:
1/4 cup almond butter
1/4 cup maple syrup
2 Tbsp cacao powder
pinch sea salt
filtered water as needed
Other Possible Toppings (pick your favorites):
coconut whipped cream
ice cream
vegan mini marshmallows*
chocolate chips
crushed candy canes
maple syrup
Instructions:
Whisk together the flour, sugar, baking soda, baking powder, cayenne and cacao powder and sea salt in a large bowl.
Then whisk the flax mixture, coconut oil, and coconut milk until smooth.
Oil, and pre-heat waffle iron. Once it is heated, pour about 1/3 cup batter onto the waffle iron or until the iron is just covered (but not so much that it will ooze out) and close it.  Cook according to waffle iron package directions.  Remove from the waffle maker and keep warm in an oven at low heat (150F degrees).
To make the fudge, whisk together all ingredients until smooth (adding a little filtered water if too thick.  You want it to be pour-able).
Serve with topped the fudge and with whatever else suits you (see ideas above)!  I used mini marshmallows and chocolate chips.  Feel free to be creative!
*You can find vegan marshmallows at most health food stores (Dandies brand is what I used here), or Trader Joe's has them as well.
(Visited 217 times, 1 visits today)