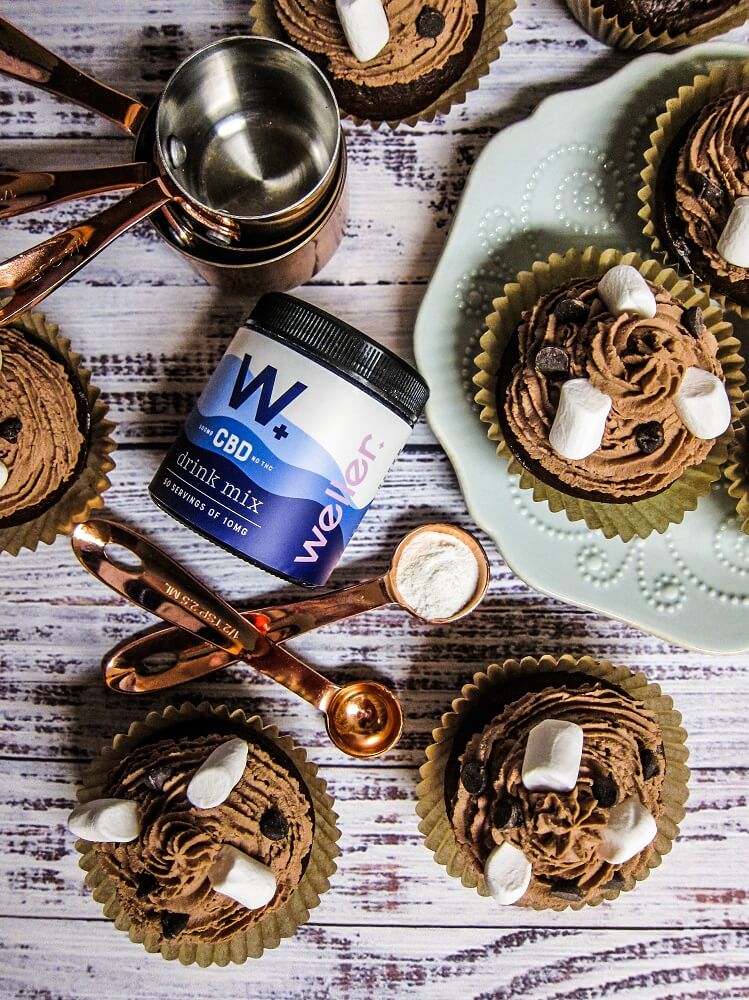 Vegan Hot Chocolate CBD Cupcakes 
This post is sponsored by Weller CBD but the content and opinions expressed here are my own.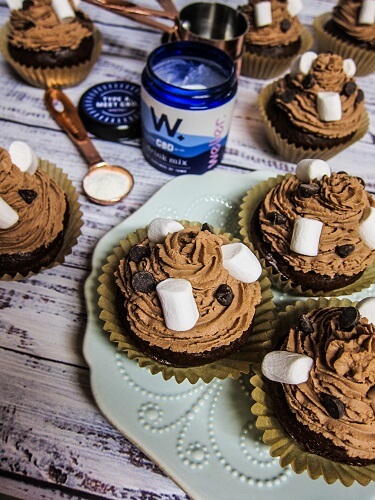 Tis' the season for baking holiday treats, and although I love cookies, I thought some cupcakes were in order last weekend. We had just survived a snowstorm that lasted almost 3 days, and the sun was finally back out again so it was something to celebrate!  Not only that, this is my favorite time of year for baking, why not come in from outside and warm up the kitchen with something delicious baking in the oven.  Weller CBD recently sent me some of their CBD powdered drink mix to try and I loved it so I thought why not incorporate it into a baked good?!  I decided on some peppermint hot chocolate CBD cupcakes but more on those in a bit.  I love that Weller's CBD Drink Mix can be added to any of your favorite drinks or recipes.  I had never heard of any CBD product like that.  Sometimes other brand's oils and such have a strong flavor but this one doesn't which is awesome for using in things like these cupcakes, or even just something like freshly squeezed orange juice!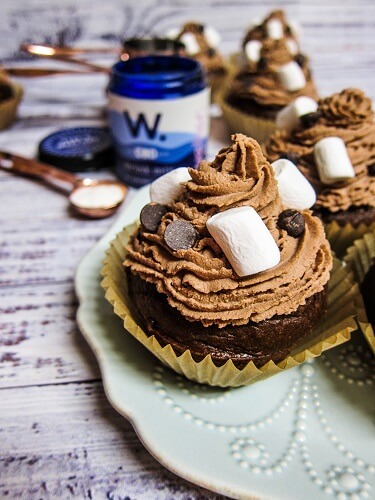 Not only do they carry CBD Powder, they also carry Sparkling Water and Coconut Bites as other fun ways to get in your daily dose of CBD.  The Sparkling water has 25mg of CBD per serving and the coconut bites have 5mg so whatever your dosage they have something for everyone!  All of their products are US grown, vegan and gluten free which is important to me as well, and why I love supporting companies like this one.  I use CBD daily in the morning and at night, usually in the form of oil so I was super excited about the Weller CBD Drink Mix as a new way to get my daily dose.   Each 1/4 tsp scoop has 10mg of CBD, so if you have a couple a day it is perfect!  I like to enjoy CBD daily for a sense of calm and overall well being.  It is an easy way to do something good for myself.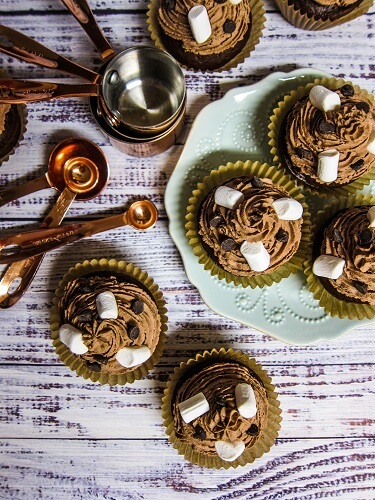 Back to those cupcakes.  To start off I made a chocolate cake base that is really easy.  You just whisk it all together in a bowl, add a little apple cider vinegar to help it rise and pour it into the cupcake pans.  I added enough CBD powder so that each cupcake would have a 10mg serving of CBD. Also, I added a touch of peppermint for a seasonal twist, and because peppermint is so amazing with hot chocolate and just chocolate in general.  The batter tasted amazing even before I baked them.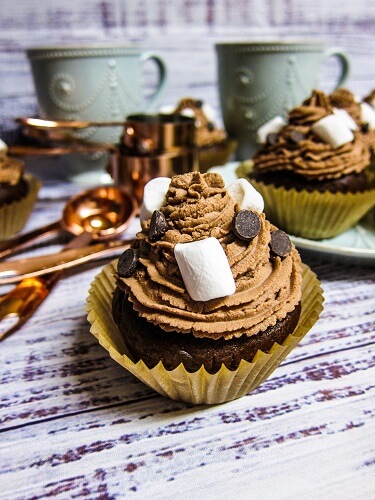 Once they were out of the oven, and my kitchen smelled so good I could not wait to try them.  But of course I had to let them cool first and add a delicious frosting.  Good frosting is essential to cupcakes after all, and I love mine piled high.  I made a rich and creamy frosting with coconut milk and cashew butter with a bit of cacao powder to make it chocolate plus some mint and it was sooo good!  But it was even better on the cupcakes.  They were heavenly!  Moist, soft chocolate cake with a luscious creamy chocolate frosting and a hint of mint, it is hard to eat just one.  Plus you get your daily dose of CBD in too!  Definitely give these a try and if you are interested in checking out the Weller CBD Products, you can do so on their website!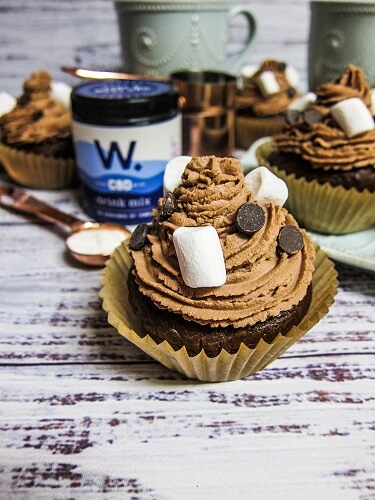 Vegan Hot Chocolate CBD Cupcakes 
Makes 16 cupcakes
Ingredients:
16 hole muffin pan, 16 silicone muffin tins, or foil muffin tins
Cake batter:
1 3/4 cups whole wheat pastry flour*
1 Tbsp plus 1 tsp Weller CBD drink mix 
1 1/2 baking soda
1 tsp baking powder
1/2 tsp sea salt
1 cup coconut sugar
2 cups full fat coconut milk (the thick kind, I prefer Thai Kitchen brand) at room temperature
1 tsp peppermint extract
2 Tbsp unsweetened cocoa powder
2 Tbsp cider vinegar
Frosting:
1 1 15 oz can full fat organic coconut milk, at room temperature*
1/2 cup raw cashew butter (or additional coconut cream from the top of the can for a nut free version)
1/4 cup cacao powder or unsweetened cocoa powder
1/4 cup maple syrup
pinch sea salt
1/2 tsp peppermint extract
1/2 cup plus 2 Tbsp coconut butter or melted cacao butter (NOT coconut OIL), warmed to liquid
For Decorating:
Vegan Marshmallows
Vegan Chocolate Chips
Instructions:
Preheat the oven to 350F degrees and position rack in center of oven.
Set out 16 muffin tins.
Whisk flour, baking soda, sea salt, and sugar in a large bowl to blend well.
Whisk coconut milk and peppermint extract together, then pour into the flour mixture and whisk until well blended.  Whisk in the cider vinegar until bubbles form
Transfer cake batter to prepared tins and bake cakes until tester inserted into center comes out clean, about 15-20 minutes.  Remove from the oven and let cool completely.
For the frosting, combine all ingredients in a blender and blend until completely smooth. Pour into a bowl and place in the freezer until it is thick like whipped cream (whisking every so often), about 45 minutes to one hour.
Spread the frosting on top of the cupcakes, top with marshmallows and chocolate chips and serve!
*If you want to make these gluten free, swap the whole wheat pastry flour 1:1 with Bob's Red Mill All Purpose Baking Flour.  I have tried this brand and know it works well (I can not say the same for all other brands as I have not tried them).
*For the coconut milk, you want a brand of coconut oil that is at least 2/3 to 3/4 of the can coconut cream or a can of unsweetened coconut cream or it will not work for the recipe.
(Visited 410 times, 1 visits today)