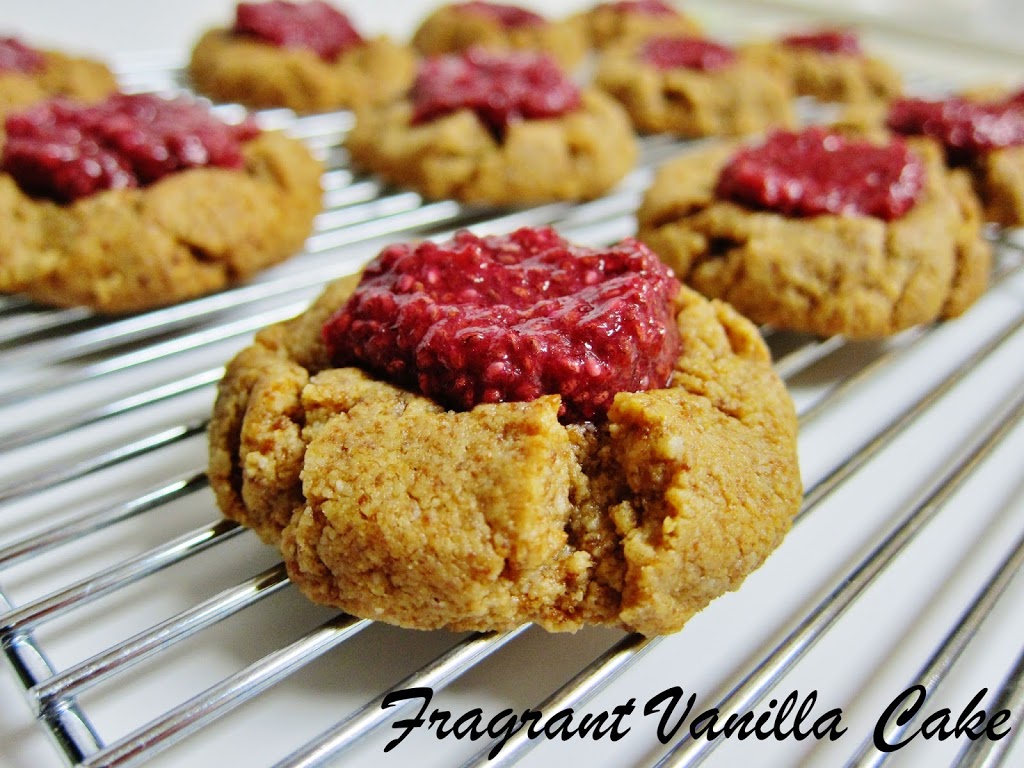 Vegan Holiday Treats Review and Giveaway and Peanut Butter and Jelly Thumbprints Recipe
Kelly Roenicke of The Pretty Bee was kind enough to send me a copy of her Vegan Holiday Treats e-book to review and I was pretty excited about that! I can not resist a book filled with delicious desserts and this book was just that. If you have never visited Kelly's blog, you definitely should. Most of her recipes are gluten free and dairy free as well as kid friendly since the reason she started to prepare food this way was because of her two sons with food allergies. If you head over to her website and look around, trust me, you will be there for a while because there are a lot of wonderful recipes to browse. Also, you can find The Pretty Bee on Facebook if you want recipe updates.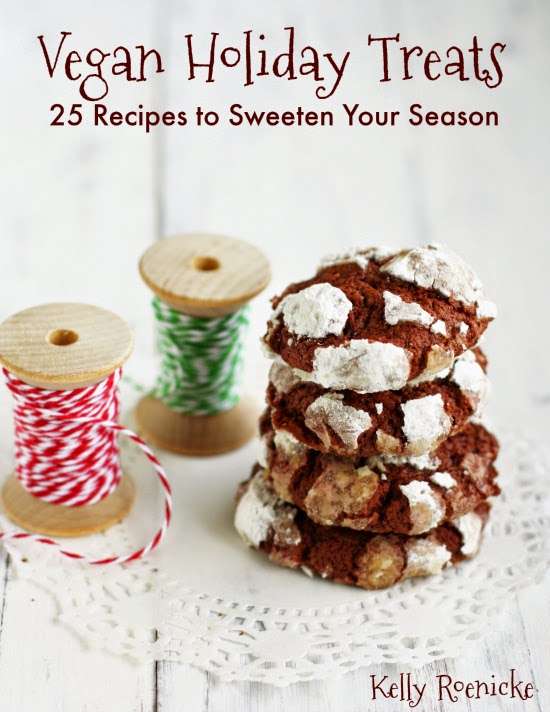 Her new e-book Vegan Holiday Treats is filled with lots of delicious things to tempt you. Once you start looking at it, you will want to make all of them. Everything from the classics like Old Fashioned Molasses Cookies to festive things like Candy Cane Sugar Cookies, Pumpkin Chocolate Chip Oatmeal Cookies and Frosted Gingerbread Doughnuts. She includes a few savory snacks and drinks as well, so you could plan a whole Holiday Dessert and Snack Party off of this book.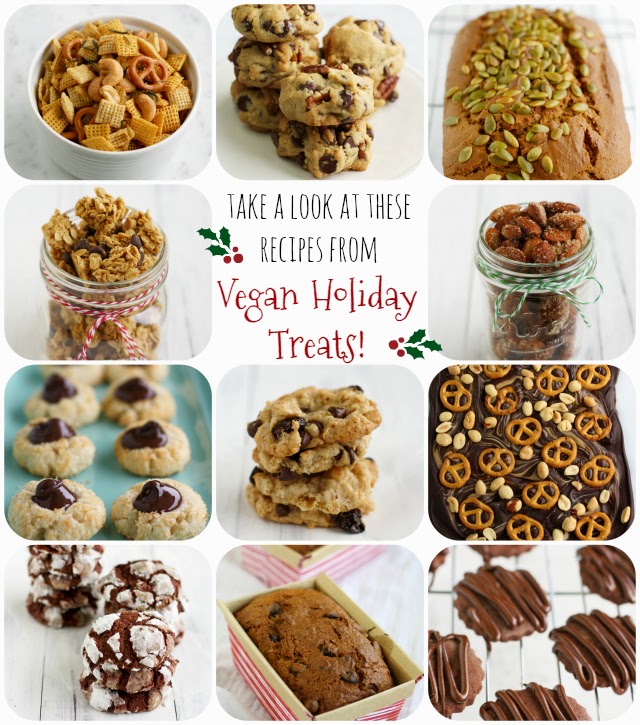 I wanted to try one of the recipes from the book right away, and the one that caught my eye was the Peanut Butter and Jelly Thumbprints. I am a kid at heart, what can I say. I love peanut butter and jelly in anything, and especially desserts.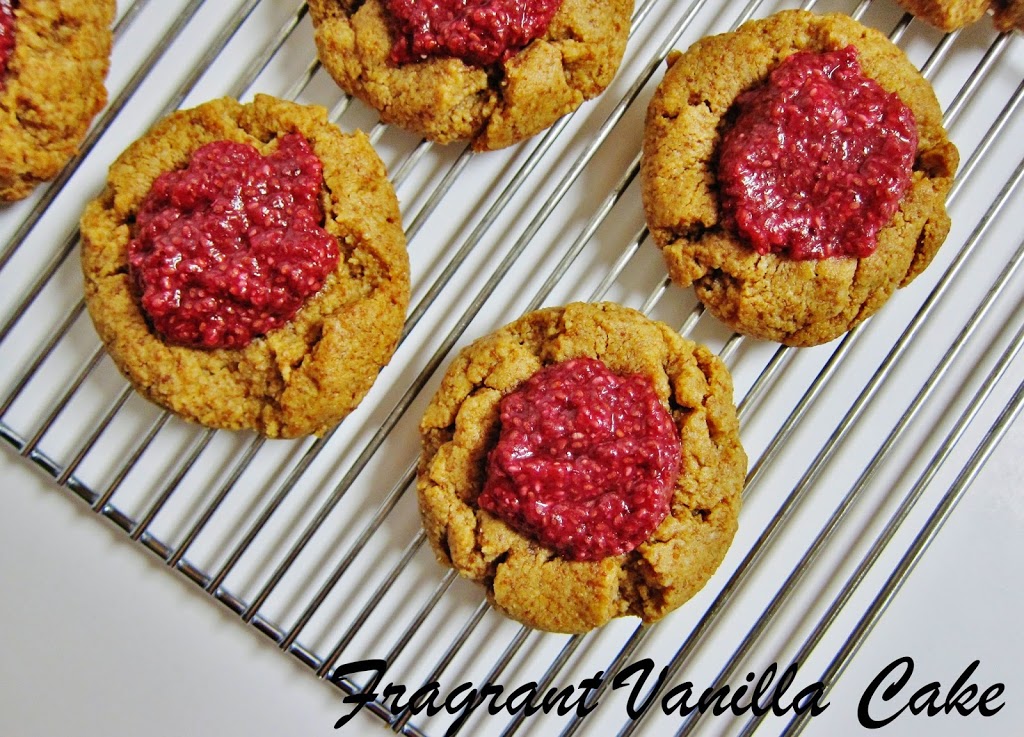 The cookies baked up wonderfully, and you would not be able to tell that they are gluten free and vegan because they taste amazing. I made my own Pomegranate Cranberry Orange Chia Jam to top them off and they were simply delicious! I am sharing this recipe with you, but you need to check out this book, so you can make some of her other recipes too! If you want to win a copy of Vegan Holiday Treats, simply scroll to the bottom of the page to enter the giveaway! Or, if you can not wait, and want to buy a copy now here is the link to Vegan Holiday Treats.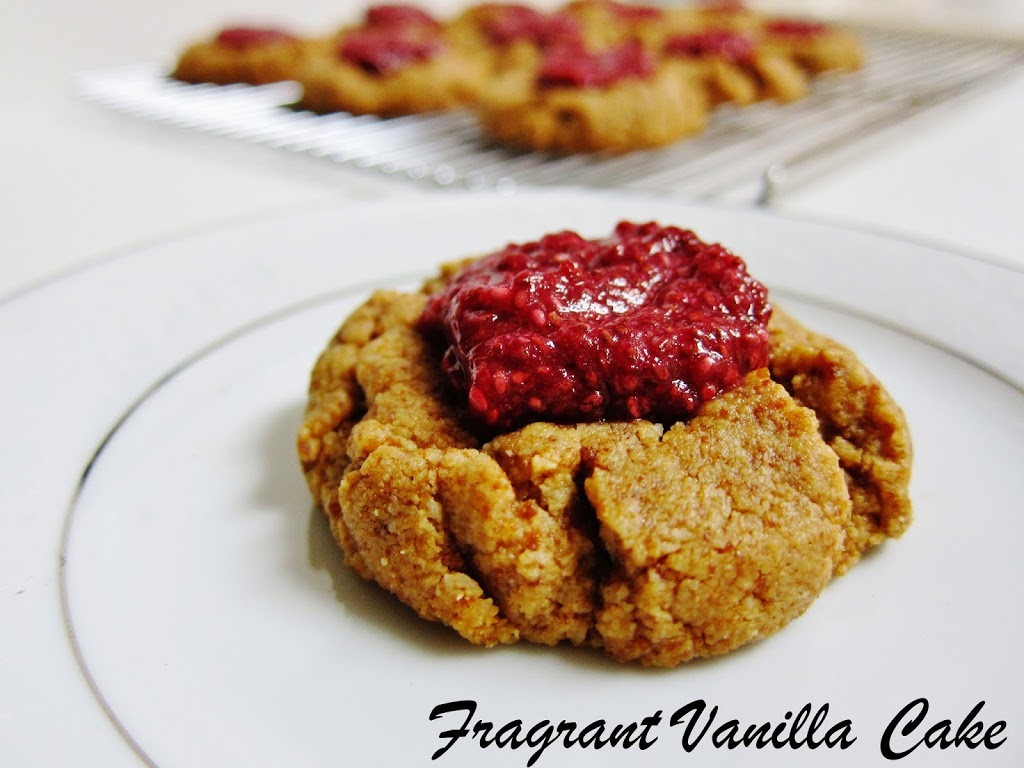 Peanut Butter and Jelly Thumbprints
(from Vegan Holiday Treats by Kelly Roenicke)
1 cup peanut butter (I used raw jungle peanut, you can also use almond butter)
¾ cup sugar (I used palm coconut sugar)
1 flax egg (1 Tablespoon ground golden flax seed + 3 Tablespoons water)
½ teaspoon baking soda
¼ teaspoon salt
½ cup almond meal
¼ cup jam of your choice (I used Pomegranate Cranberry Orange Chia Jam*)
In a large bowl, mix up your ground flax seed and water and let sit for a few minutes so it can gel up.
Once the flax egg has reached an egg like consistency, add the creamy peanut butter, sugar, almond meal, baking soda, and salt. Mix until well combined. Chill the dough for about 30 minutes.
Preheat the oven to 350 degrees. Line two cookie sheets with parchment paper.
Roll the chilled dough into one inch balls. Place on the cookie sheets and press your thumb into the middle of each cookie.
Bake until cookies are golden, 12 to 14 minutes. These cookies are fragile when warm, so cool for
about 15 minutes on the cookie sheets; transfer cookies to a tray to cool completely.
Place one teaspoon of jam in the center of each cookie (if using store bought jam, you may need to warm it slightly). Store cooled cookies in the refrigerator. Makes 24 cookies.
*Pomegranate Cranberry Orange Chia Jam:
Makes about 1 cup
3/4 cup pomegranate seeds
3/4 cup fresh cranberries
1/3 cup fresh orange juice
1 Tbsp orange zest
a pinch sea salt
3 Tbsp chia seeds
In a high speed blender, combine all ingredients except chia seeds, and blend until smooth Stir in chia seeds. Store in a container in the refrigerator for up to a week.
(Visited 53 times, 1 visits today)