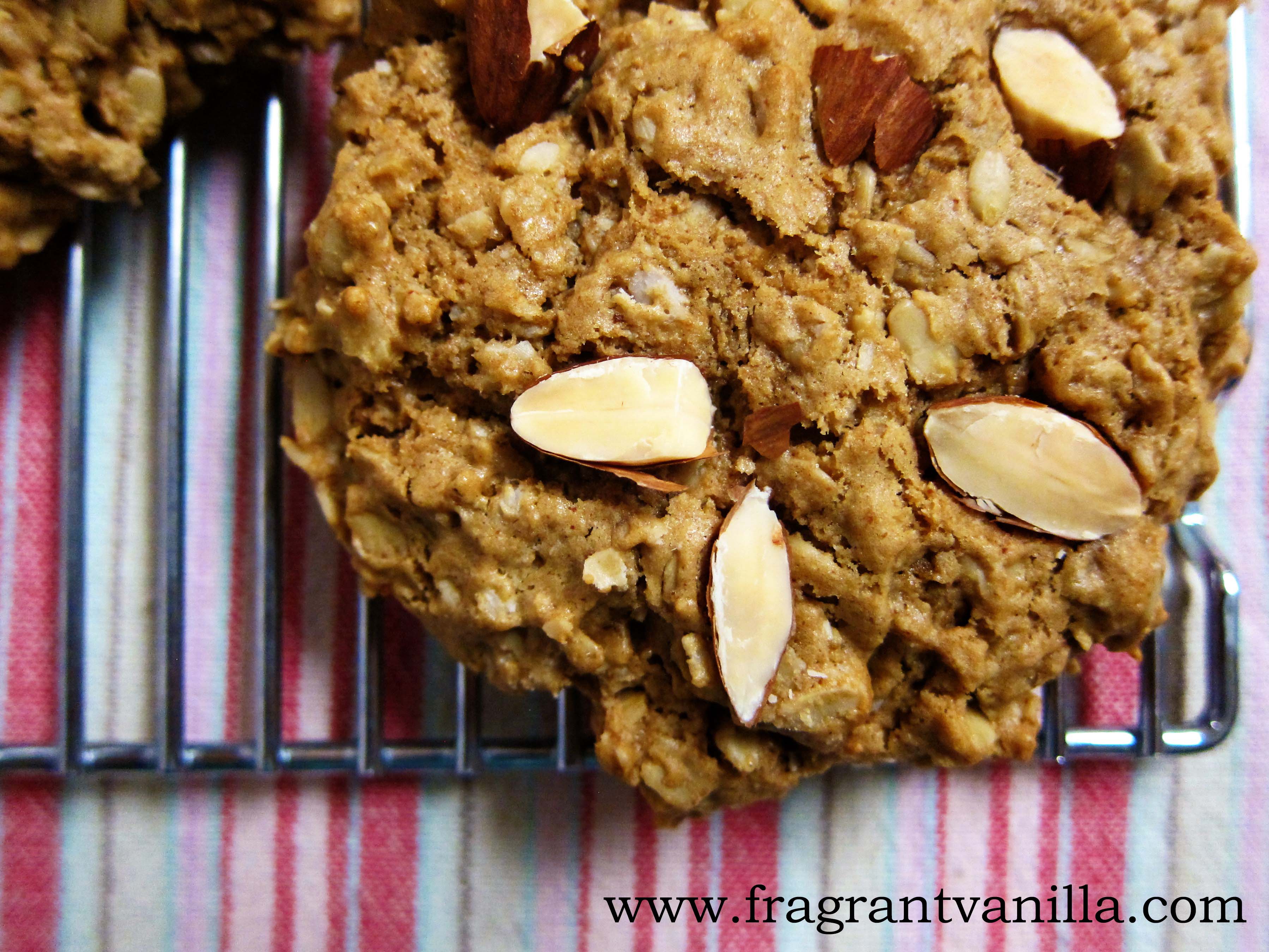 Vegan High Protein Almond Butter Oatmeal Cookies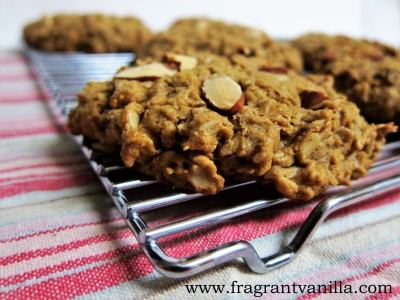 When I was younger, my Mom always justified eating oatmeal cookies by the fact that they have oatmeal in them. "They are healthy, and they have fiber." She said.  Well, she is right, I mean compared to other cookies which are made with simply refined flours they are a little kinder on the system.  They have always been her favorite and mine as well.  I am just a chewy on the inside crunchy on the outside kind of a girl when it comes to cookies.  My Mom's oatmeal cookies always came out that way.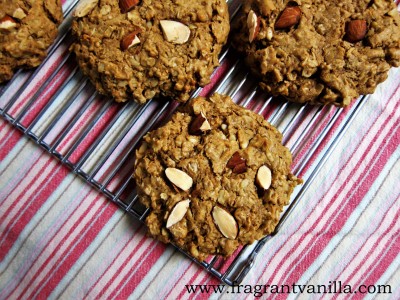 Often times now, she will ask me to make her some.  Because she knows I love to bake cookies and I can not resist. So, a few days back, I made some almond butter oatmeal cookies. I love the combination of nut butter and oatmeal cookies together, and I kept these pretty simple with flavors.  I did however want to add a little more protein since I know my Mom eats these for snacks with her coffee so I added some Sprout Living Original Epic Protein Powder.  You could not taste it in there, but it made these have more staying power for snacks.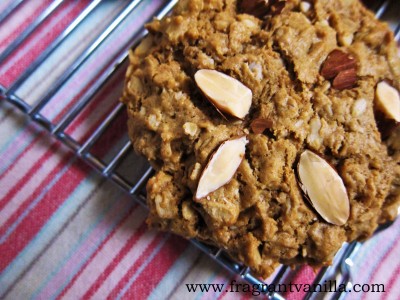 They were fast to make, just mix together, drop on the pans, and bake, nothing fussy or time consuming like chilling dough or rolling out.  They smelled amazing while baking as well.  My mouth was watering and I was getting super hungry.  They baked up lovely, just how oatmeal cookies should be.  They tasted wonderful, and both me and my Mom thought so!  If you are looking for a healthier cookie, give these a shot. You can always make them a little smaller if you like (just reduce the baking time) since I make jumbo cookies.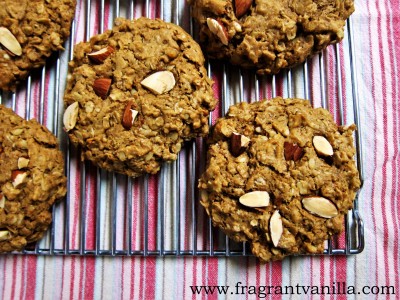 Vegan High Protein Almond Butter Oatmeal Cookies
Makes about 4 dozen
1/2 cup coconut oil, warmed to liquid
1/2 cup raw almond butter
1 1/2 cups coconut sugar
3/4 cup aquafaba*
1 Tbsp pure vanilla extract
1 1/2 cups gluten free oat flour
1/2 cup Sprout Living Original Epic Protein powder
1 tsp baking soda
2 tsp cinnamon
3/4 tsp sea salt
3 cups gluten free old fashioned rolled oats
In a large mixing bowl, mix together the coconut oil, almond butter and sugar until well blended. Add aquafaba, vanilla, and beat until well combined (the mixture will become very thick). Mix in the flour, soda, cinnamon, and sea salt until well blended. Mix in the oats until well combined. Heat the oven to 350 degrees with the rack set at the middle position. Line 2 baking sheets with parchment paper. Roll drop the dough into 14 large balls on the 2 cookie sheets with plenty of room in between and press down just slightly. Bake for 15 minutes or until golden, but not overbaked. Let cool on sheet a few minutes, then remove to a wire rack lined with parchment to cool.
*Aquafaba is the liquid of canned or cooked chickpeas. You want it to be the consistency of egg whites. If it is too thin, put it in a pan on the stove and reduce it until it thickens.
(Visited 62 times, 1 visits today)