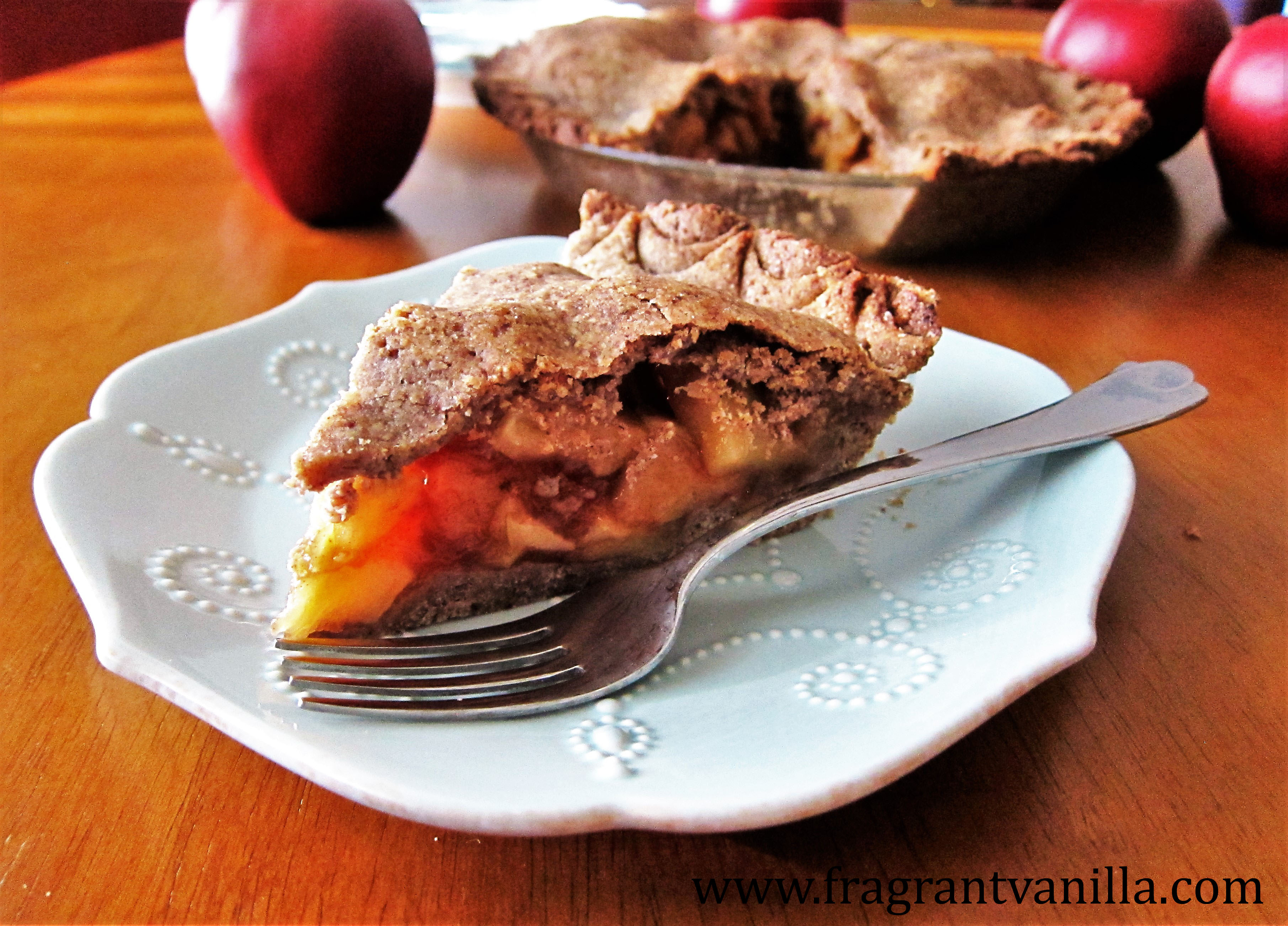 Vegan Hazelnut Crusted Apple Pie
I ran my second race of the season Friday, and it was a bit challenging, but I like a challenge.  The course was not fast and flat like the previous one I had done, and I had gone into this thinking I was going to break my time from a few weeks back because I had people to push me.  Well...not so much.  It was like running a cross country course with slippery mud, dirt ruts, long grass and all!  So despite having a little slower time than I wanted (but hey, it was 30 seconds faster than last year at the same race), I said to myself, "I'll take it!" because it was a bit warm and humid that day too.  It is those challenging runs and races that make us stronger after all.  I should feel awesome by the time the cool fall air rolls in and the temps in the AM are in the mid 50s.  That is my favorite type of running weather.  Especially when the trees are changing color and you can run through the crunchy leaves on the paths.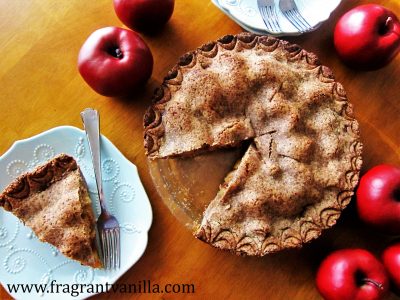 I am in the mood for Fall, cozy sweaters, pumpkins and apple pie.  So, since I had the rest of the day off Friday, I made a glorious apple pie. One that was mounded tall with apples.  None of that flat pie because the apples shrunk type business.  Fill it properly!  For the filling I used my favorite local apples, the honey crisps.  No, they do not contain honey, I am still vegan, it is just what their name it.  They were developed here in Minnesota which I think is pretty awesome!  Anyways, they are the best pie apples next to Haralson which are from here too, and which is what my Mom uses. My Mom always said to use tart apples for pies for the best flavor and honey crisps are a perfect balance of tart and sweet.  Mom's pies were always the best!  She doesn't bake them anymore, so I share some of mine with her.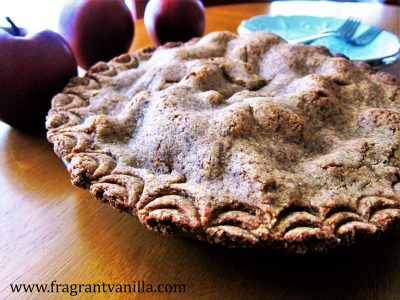 I was going to make a regular old apple pie, but nut crusts on pies are always amazing so I made a hazelnut crust for this one.  It was so rich and delicious once baked to perfection!  When the apples were bubbling and the sweet aroma was permeating my house, I was happy with the sight of it as I pulled it from the oven.  After letting it cool, I couldn't wait to dive in.  I topped it off with some of my
pecan pie ice cream
and it was amazing!  I love this time of the year!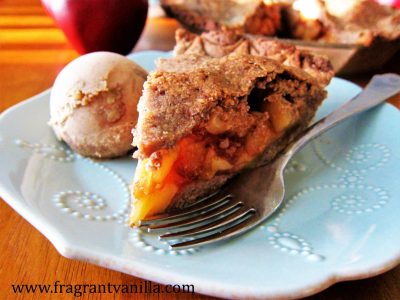 Vegan Hazelnut Crusted Apple Pie
Makes 1 8 inch pie
Ingredients:
Crust:
1 1/2 cups organic whole wheat pastry flour
1 1/2 cups hazelnut flour*
1/4 cup coconut sugar
1/4 tsp sea salt
1/4 cup plus 1 Tbsp coconut oil, in its solid form
1/4 cup plus 1 Tbsp almond butter
about 4-6 Tbsp cold water
Filling:
4 large sweet tart apples (such as honey crisp), diced
1/4 cup maple syrup
2 tsp cinnamon
4 Tbsp all purpose gluten free flour
2 tsp pure vanilla extract
Directions:
To make the crust, in a large bowl, mix together flours, sugar, sea salt.  Cut in coconut oil and hazelnut butter with a pastry blender or 2 knives until it is in pea sized pieces.  Mix in just enough water to create a smooth dough that holds together but isn't too sticky.  Add a touch of water if needed, and knead slightly until a smooth dough is created.  Divide into 2 balls.
Roll each out into about a 9-10 inch round using parchment underneath and floured rolling pin.  Place bottom crust into an 8 inch pie pan and fit to edges.  If it tears, no worries, just press it back together and patch it up. Set aside in the refrigerator. Set the top crust aside (if it is pretty warm, place it in the refrigerator too, you just do not want it to get too hard or it will not be pliable to shape over the filling).
Pre-heat the oven to 400F degrees. In a large bowl, toss together the filling ingredients. Spoon into crust.  Place the top crust over the filling using the parchment to assist. Crimp the edges, and cut a vent in the center.  Bake for about 1 hour and 45 minutes in the middle rack of the oven until apples are cooked through and bubbling.
Remove from oven and let cool until warm, and top with some vegan ice cream or coconut vanilla whipped cream and...enjoy!
*To make hazelnut flour, place hazelnuts in the blender and blend for about 30 seconds until they are finely ground like flour (but not too long or you will have butter).
*Note: if you would like to make this a gluten free pie, I have also used Bob's Red Mill Gluten Free Flour to make this crust with success, so just replace the whole wheat in equal amounts with it.
(Visited 116 times, 1 visits today)