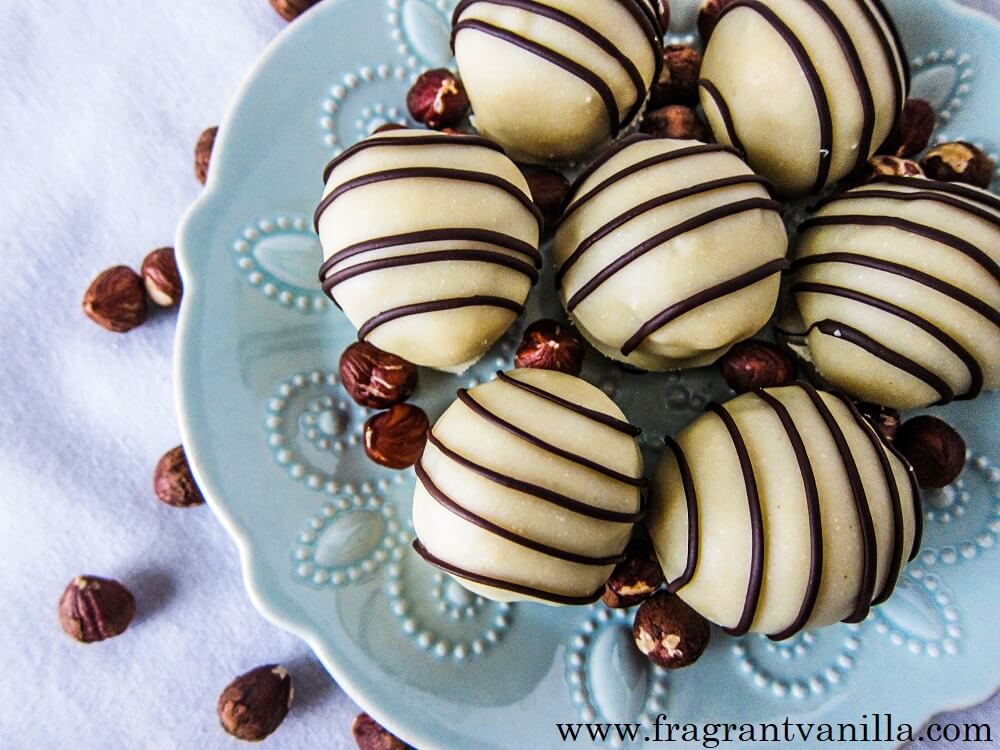 Vegan Hazelnut Crunch White Chocolate Truffles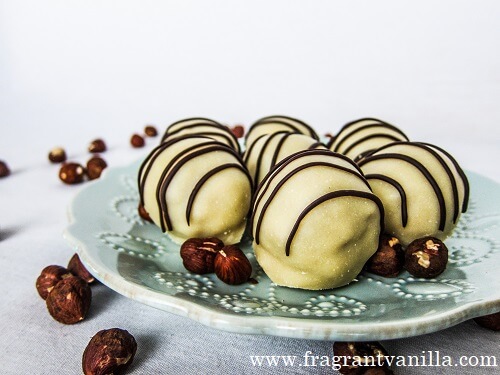 It snowed for 2 days here, and I really didn't feel like going outside.  I had to go to work, and drive home in a scary blizzard, but after that I just hunkered down until the snow stopped.  It was the perfect time to make some truffles.  I can't imagine a better way to make the fact that there was a blizzard here in April than making candy in my kitchen.  My go to activity for when I can't go outside is coming up with new recipes.  Desserts are my favorite of course.  Raw Guru recently sent me some of their Raw Coconut Butter , and Rawmio Hazelnut Crunch Spread, and I thought it would be perfect to make truffles with!  Their coconut butter is super smooth compared to the stuff I make at home, so it was a treat, and that hazelnut crunch spread is like dessert just by itself.  It is a smooth sweet raw hazelnut butter with vanilla and cacao nibs for crunch.  So good!  If you would like to try either of them, Raw Guru has given me a 10% off code for you to use when checking out on their website.  Just enter the code: FRAGRANTVANILLA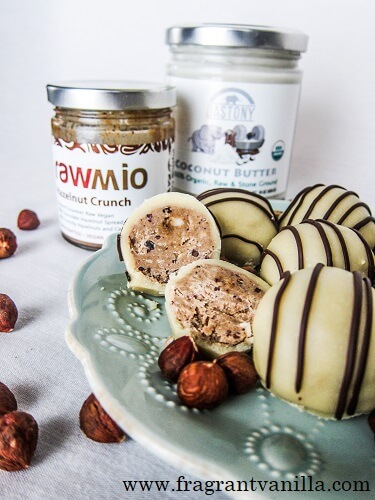 So back to my truffles I have been telling you about.  The filling is super simple, you just combine the hazelnut crunch spread with the coconut butter and it is so good!  The spread is sweet enough that you don't need to add anything to it.  But if you were making this with just a plain hazelnut butter, you could add maple syrup to taste. The filling mixture is so good, you will be tempted to eat it with a spoon. But trust me, it is even better with the white chocolate!  I used a mixture of the coconut butter, cashew butter and cacao butter sweetened with maple syrup and vanilla  which is what I always use, but it was even more delicious than usual.  The stone ground coconut butter is so much more silky than home made.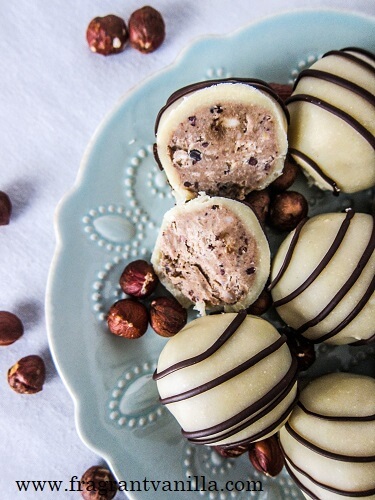 I dipped the centers in the white chocolate, which always gets a little messy in my kitchen, but it is ok.  Because I like eating all of the excess chocolate that falls off and drips off. You don't have to be perfect when making truffles, all that matters is that they taste good.  I actually ended up dipping these about 3 times to get a thick layer of the white chocolate, but it was so worth the extra effort, because they turned out so good!  I drizzled them with some dark chocolate for decoration and they were perfect!  I couldn't wait to try the finished product.  They were bomb!  Sweet, rich nutty hazelnut filling with crunchy cacao nibs, and a sweet, vanilla scented white chocolate coating!  So much better than anything you can buy at the store or get in a box of chocolate.  If you are a white chocolate fan, give these a try! They definitely cured my snow blues!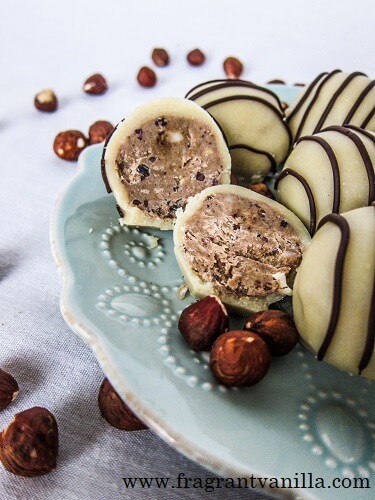 Vegan Hazelnut Crunch White Chocolate Truffles 
Makes 8 truffles
Ingredients:
Filling:
White Chocolate:
Dark Chocolate:
about 1/2 cup chopped vegan dark chocolate or chocolate chips
Directions:
Combine Rawmio hazelnut butter and coconut butter, and whisk until completely combined. Place in the freezer for about 15 minutes until it is firm enough to scoop (stirring occasionally so it cools evenly). Scoop and roll into 8 balls, rolling them with your hands.   Place on a parchment lined tray, and place back into the freezer until firm, about 30 minutes.
Meanwhile, to make the  white chocolate, combine all ingredients in a double boiler, and whisk until combined and melted.
Once the filling has firmed up, dip each truffle into the white chocolate, being sure to let the excess drain off, and place back onto the tray (I like to set mine on a fork to allow it to drain better). Once they are all dipped, set them in the freezer until hardened.  If you want a thicker layer of white chocolate, you will have to repeat this process several times.  I dipped mine 3 times.  Allow to harden in the freezer.
Melt the dark chocolate in the top of a double boiler, then drizzle it over the truffles.  Allow the chocolate to harden, then enjoy!
Store any leftover truffles in the refrigerator.
*If you are just using regular hazelnut butter, add 3 Tbsp of maple syrup to it (or to taste).
(Visited 223 times, 1 visits today)