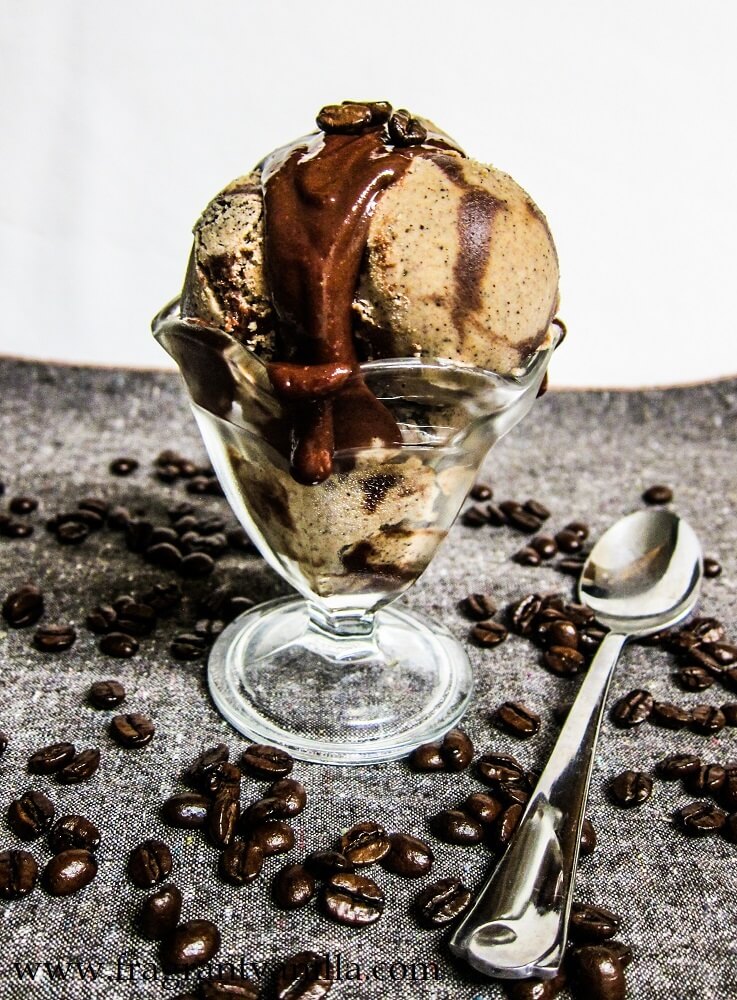 Vegan Hazelnut Coffee Ice Cream with Fudge Swirl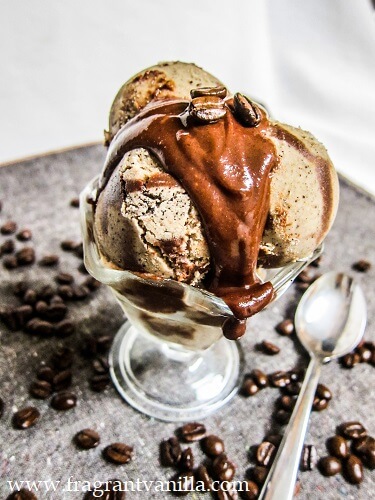 I used to drink lots of coffee when I was in college.  Like 3 32 oz tall mugs every morning.  Don't worry, I don't anymore, I have adopted one large matcha tea instead.  I don't know why I drank that much coffee, it was just a habit, and it tasted good and was warming and gave me energy. I usually just bought good quality coffee that didn't need any add ins and drank it black.  I figured good coffee doesn't need anything added to it.  But, I know I am kinda different in that respect.  Most people like a little something.  I know many people love to add hazelnut flavor to their coffee, but I never really got into that, because it always tasted fake to me (and probably had no trace of real hazelnuts).  You know what I mean, that fake hazelnut flavored creamer or hazelnut syrup, or coffee supposedly infused with it?  Well, it never tasted right to me, as in not like real hazelnuts.  But what if hazelnut coffee was done right and actually made with real hazelnut milk or something?  Now, I like that idea.  Because the idea of coffee and hazelnuts together sounds wonderful, just not the fake flavored stuff I was exposed to when I was younger.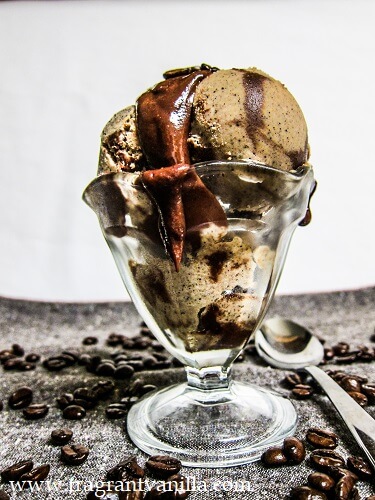 So, I decided to make an ice cream with those two ingredients.  I had lots of hazelnut butter on hand, because I had been given about 4 lbs of hazelnut meal and made a lot of it into butter.  Home made hazelnut butter is so much cheaper than store bought, and sooo good!  Especially if you turn it into nutella, but that is another post and another day.  Plain is awesome for using in recipes like this ice cream.  I used a coconut milk ice cream base, as it is my favorite for this.  I think it makes the silkiest ice cream next to cashew milk, but coconut milk is slightly sweeter and cheaper plus I have it on hand always. The base was super luscious with the mixture of hazelnut and coconut and just the right amount of sweet with maple syrup and vanilla added.  I also added espresso powder for the coffee flavor and it was so good!  Even better once churned all silky and creamy!  But I wanted to add even more deliciousness so I made a rich hazelnut chocolate coffee fudge to ribbon throughout it.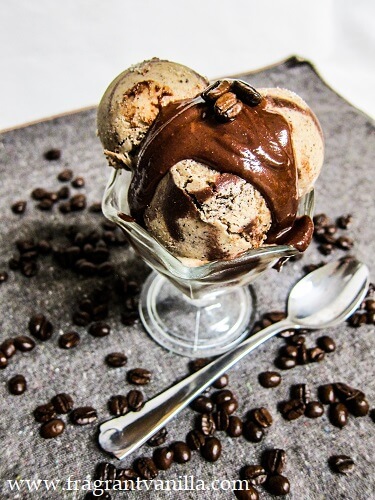 It was simply heavenly!  Just the right amount of coffee aroma and the nutty flavor of real hazelnuts!  That fudge was the perfect pairing with it, gooey and rich on the luscious cool ice cream.  This is even better than the gourmet ice cream you buy at the store.  If you are a coffee lover, give this ice cream a try!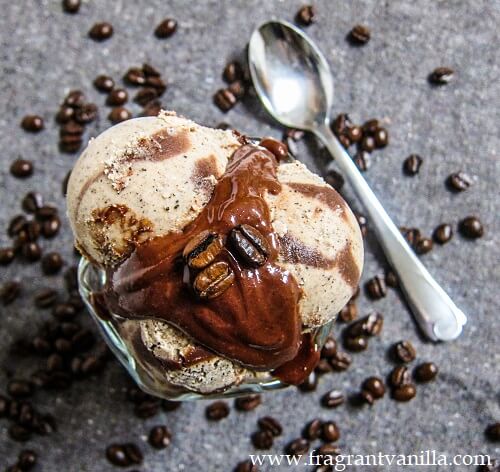 Vegan Hazelnut Coffee Ice Cream with Fudge Swirl
Makes about 3 cups
Ingredients:
1 15 oz can organic full fat coconut milk
1/2 cup maple syrup (or to taste)
½ cup hazelnut butter
1 1/2 Tbsp very finely ground organic coffee (use your favorite kind) or 2 Tbsp coffee extract
1/2 tsp sea salt
2 tsp pure vanilla extract
Fudge:
1/3 cup hazelnut butter
3 Tbsp cacao powder
3 Tbsp maple syrup
1/4 cup cooled brewed coffee (or as needed)
Directions:
Combine all ingredients in a high speed blender and blend until smooth.
Pour into an ice cream maker and process according to package directions.
Meanwhile to make the fudge, whisk together all ingredients until smooth and pour-able but still thick (if too thick, add a little more coffee, to thin, a little more cacao powder.
Once the ice cream has finished churning, pour 1/3 of it into a freezer safe container with a lid, then drop 1/3 of the fudge over it.  Pour half the remaining ice cream over that, then half the remaining fudge, then more ice cream and more fudge. Swirl with a knife a few times.
Place the lid on, place in the freezer and freeze for about 4 hours or until firm enough to scoop. Enjoy!
*Note, if you do not have an ice cream maker you may also freeze it this way. Pour into a bowl, and place in the freezer. Whisk once every half hour until it has frozen to the consistency of soft serve. Then continue to pour into your freezer safe container as the above directions state.
*If your ice cream gets hard after freezing, let sit out about 15-20 minutes before scooping.
(Visited 790 times, 1 visits today)