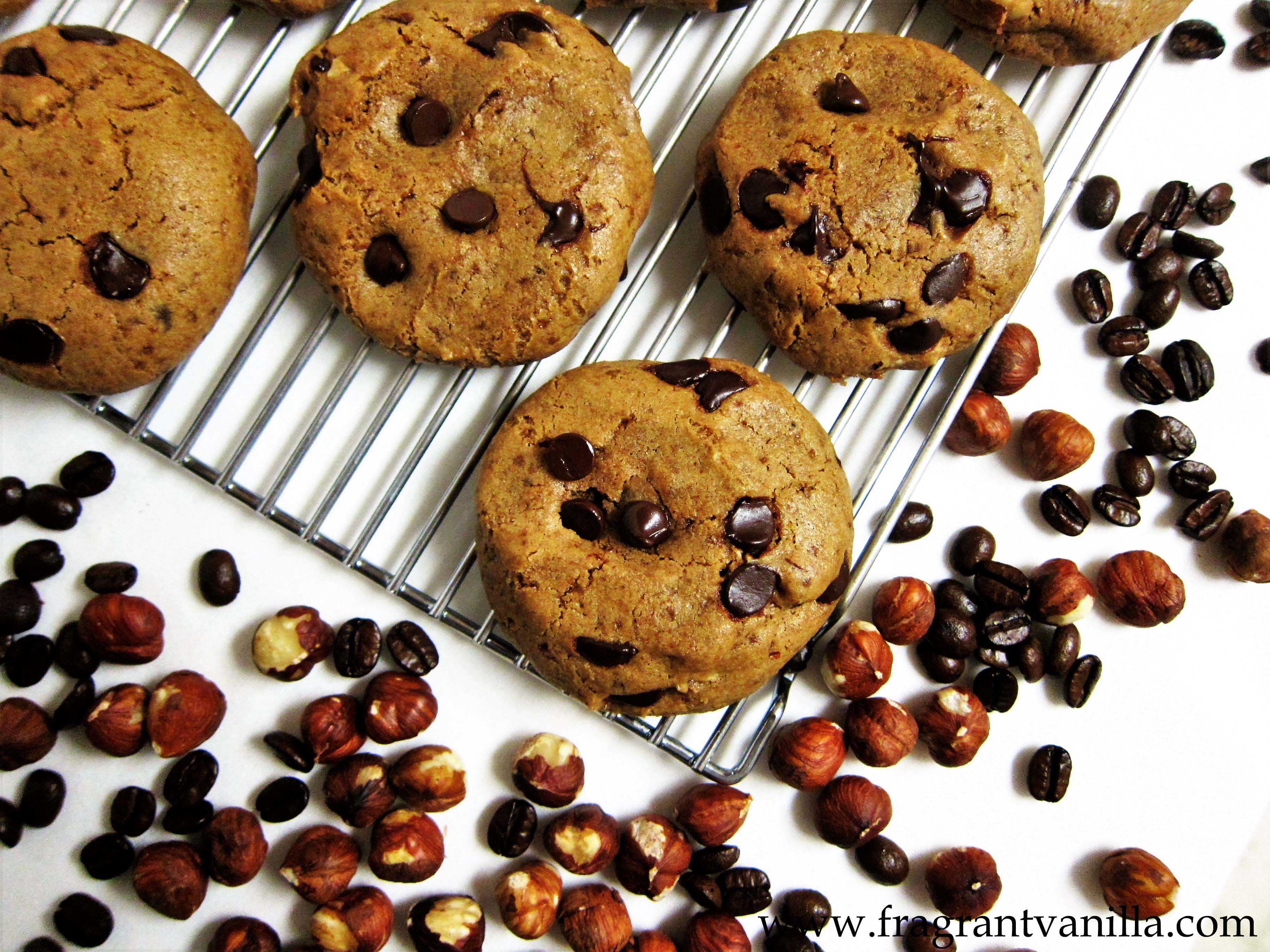 Vegan Hazelnut Coffee Chocolate Chip Cookies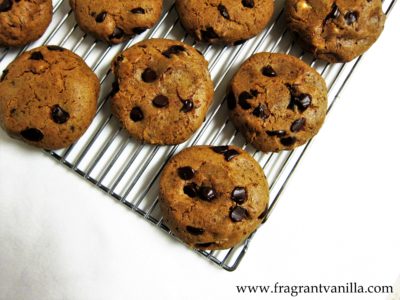 I first fell in love with hazelnuts when my Mom and I were in Europe when I was in high school, and we bought some really delicious hazelnut chocolates in Belgium.  They were the best chocolate I had ever tasted.  I hadn't had much exposure to hazelnuts before that, save buying Nutella (the commercial brand really doesn't taste much like hazelnuts in my opinion), and that was not a good way to get the flavor of real hazelnuts.  Now I consider them kind of special, because they are a little more spendy and less common than almonds.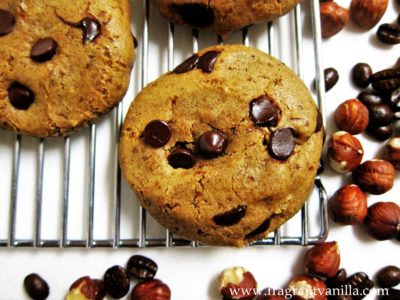 So, I recently made some hazelnut butter and I am enjoying using it in recipes.  I decided last Friday that I wanted some chocolate chip cookies, and it made its way in there too along with some chopped hazelnuts.  I also decided that a touch of coffee would be a delicious addition.  The dough tasted wonderful.  Good dough is the true measure of a good cookie to this dough lover.  And I ate plenty of it.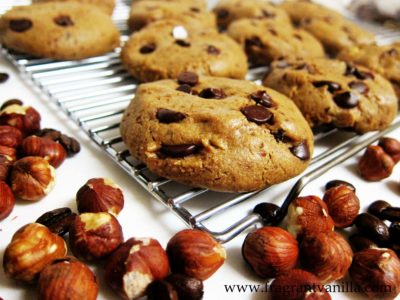 The cookies smelled amazing while baking.  And of course I had to try one warm out of the oven.  Because that is the second best time to enjoy cookies (second after dough eating). The soft hazelnut coffee scented cookie with the gooey chocolate chips was heavenly.  Baking is definitely my favorite Friday night activity.  So relaxing, and who doesn't like a little cookie aromatherapy?!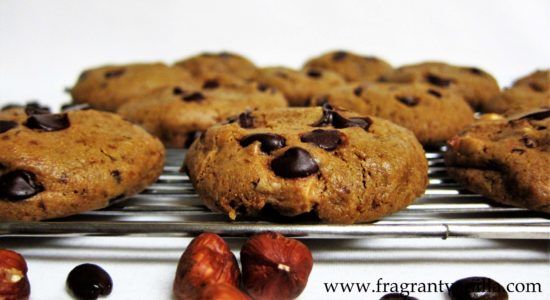 Vegan Hazelnut Coffee Chocolate Chip Cookies
Makes 28 cookies
Cookies:
2 Tbsp ground flax seed
1/4 cup plus 2 Tbsp filtered water
1 cup virgin coconut oil, warmed to liquid
1/2 cup hazelnut butter
1 1/2 cups coconut sugar
1 teaspoon vanilla extract
1 teaspoon baking soda
3/4 teaspoon sea salt
1 Tbsp espresso powder
3 cups gluten free all purpose flour
1 cup mini vegan chocolate chips or chocolate chunks
1 cup chopped toasted hazelnuts
In a small bowl, whisk together the flax seed and filtered water. Set aside in the refrigerator for 15 minutes.
Meanwhile, in a large bowl, coconut oil with sugar and hazelnut butter and mix until well combined.
Mix in the vanilla extract and flax mixture until well combined.
Add the baking soda and salt and espresso powder, then the flour, a cup at a time, mixing between each addition, until well combined.
Mix in the chocolate chips and hazelnuts. Place in the freezer for about 10 minutes until it is firm enough to scoop (if it is too soft at all, it may not be, in that case proceed with scooping. It just depends on how warm the coconut oil was).
To bake, Preheat your oven to 350F degrees. Line 2 large baking sheets with parchment paper. To Form the cookies take about a 1 inch chunk of dough, and form into a ball.  Place on prepared cookie sheets a couple inches apart, and press down just slightly. Bake for about 12 minutes, until puffed and just starting to brown slightly. Remove from the oven and let cool on the pan a few minutes, then remove to a wire rack to cool. Repeat with remaining cookies and let cool before enjoying.
(Visited 235 times, 1 visits today)