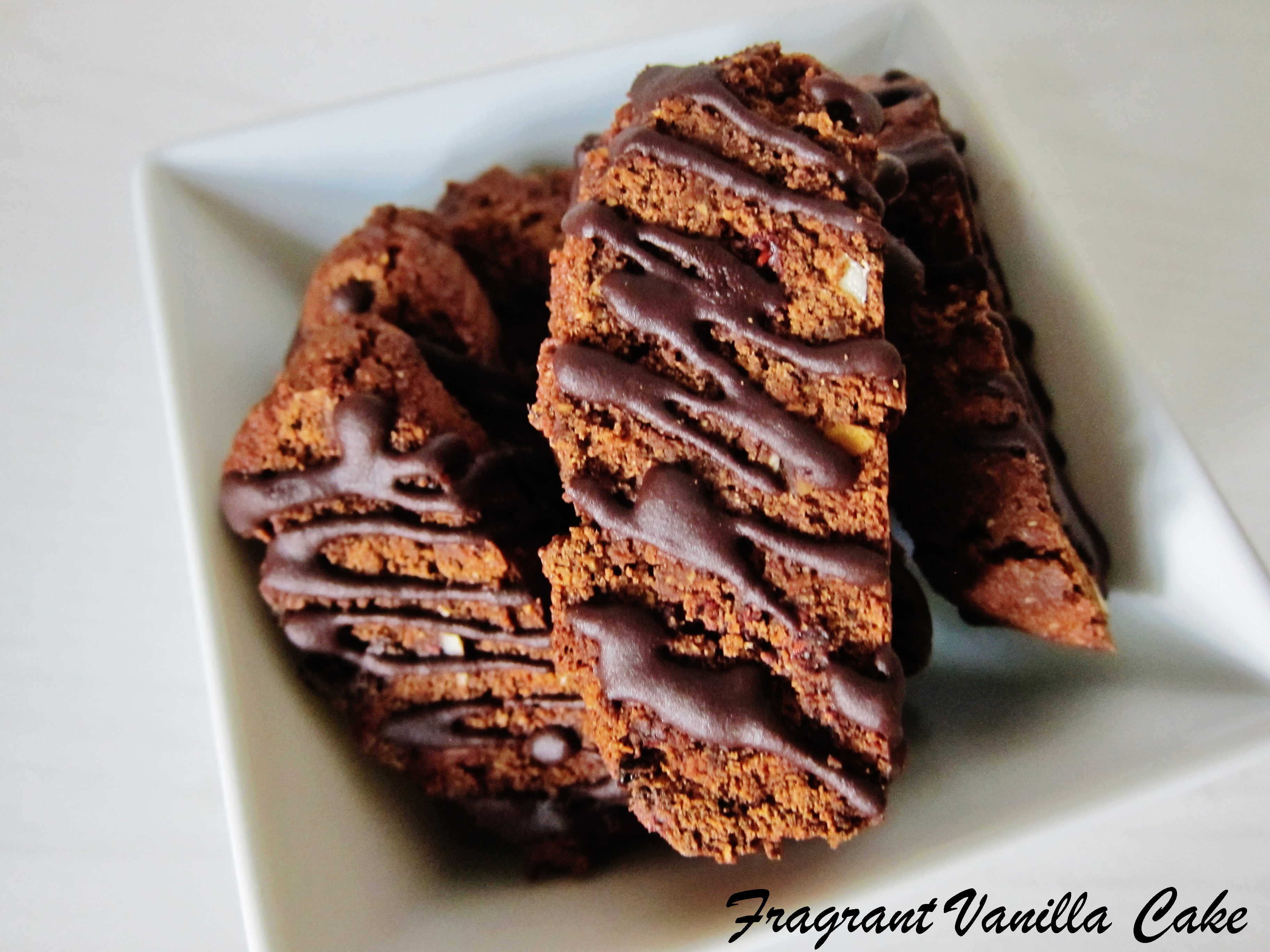 Vegan Hazelnut Chocolate Raspberry Biscotti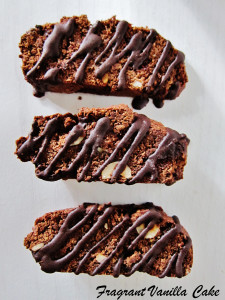 There was a time when I made a lot of biscotti. It was back when I was in college and I had found some biscotti recipes in a magazine and decided to try them all, then make my own variations.  I loved the stuff.  Plus, it was a nice change from regular cookies, having a nice crunchy texture thanks to the twice baked treatment it gets. It had been quite a while since I had made it...probably at least 8 years, and I decided that it was time to change that.  I had seen some beautiful biscotti and it inspired me to create a healthier vegan version.  I thought long and hard about what flavor to make, and I ended up with chocolate hazelnut raspberry.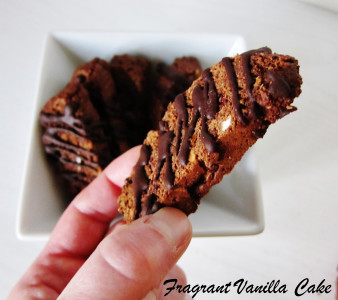 I used hazelnut flour in them as well as chopped hazelnuts for extra deliciousness.  And, a chocolate dough as well as chocolate drizzle on top for double chocolate. I added dried raspberries for little bursts of tart sweet flavor and it was all together a heavenly combination.  These do not have any oil in them, the fat comes from the hazelnuts, but they are so nice and crisp you would think they were richer than they are.  These would be perfect with coffee or tea for a mid morning relaxation break!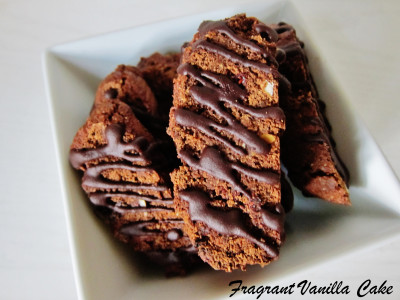 Vegan Hazelnut Chocolate Raspberry Biscotti
Makes 2 dozen
Dough:
3 Tbsp ground flax seed
1/2 cup plus 1 Tbsp filtered water
1 3/4 cups all-purpose gluten free flour
1/2 cup unsweetened cocoa powder
1 cup hazelnut meal
1 cup coconut sugar
2 teaspoons baking powder
1/4 teaspoon fine salt
1 tablespoon pure vanilla extract
1/4 cup coconut milk or almond milk
1 cup hazelnuts, chopped into large pieces toasted
1 cup dried raspberries
1/2 cup chopped vegan dark chocolate
In a small bowl, mix together the flax seed and water.  Set aside in the refrigerator for 15 minutes.
Meanwhile, in a large bowl, whisk together the flour, cacao powder, hazelnut meal, coconut sugar, baking powder and sea salt until well blended.  Add the flax mixture, vanilla, milk, and stir until well blended and a soft dough.  Mix in the raspberries and hazelnuts.
Form into 2 logs on a parchment lined baking sheet, and bake at 350F degrees 20-25 minutes, then let cool 20 on a rack.
When cool, slice into 3/4 inch thick pieces on the diagonal, and place back on the sheet.  Bake for 30-35 minutes more until crisp and lightly browned at the edges.  Let cool completely.
Melt the dark chocolate in a double boiler (or your preferred method), then place in a pastry bag (or a ziplock bag with the corner cut off) and drizzle over all the biscotti. Allow the chocolate to set before serving.
Store in an airtight container in the refrigerator for up to 2 weeks.
(Visited 90 times, 1 visits today)