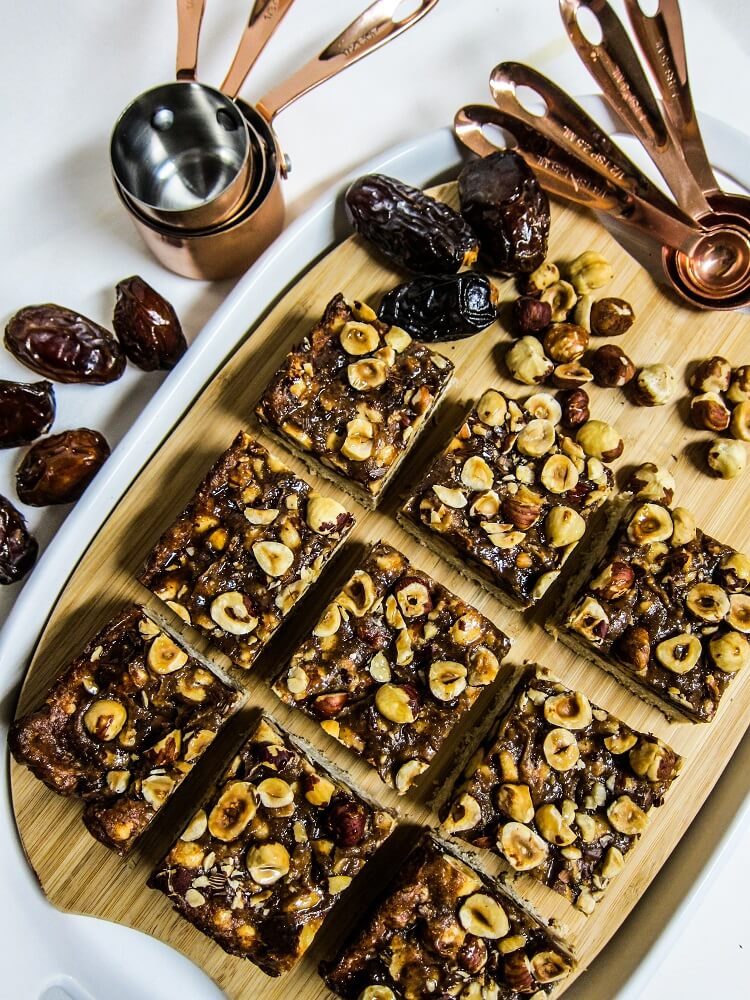 Vegan Hazelnut Caramel Bars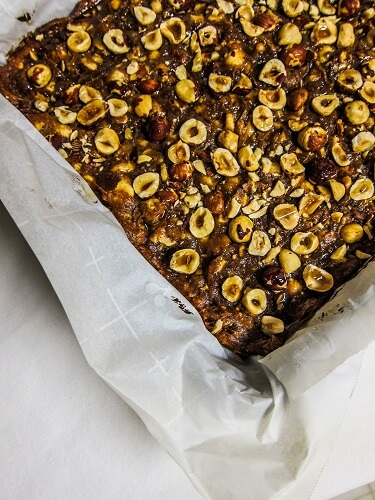 When I go to the grocery store I admit I am usually in a hurry to grab what I need then get out.  Eric makes fun of me for it, saying I need to slow down sometimes, because I am missing out on things.  Surprisingly though I hardly ever forget something.  If I do though, I can get it at my work (I work in the deli of a health food store), or at the Aldi up the street.  On my day off last week though, I was taking it a little slower at Aldi since I didn't have anything else going on, and I noticed that they had toasted hazelnuts.  I love getting pre-toasted nuts for recipes, because it saves me a lot of time in the kitchen. Especially when I go to grab the nuts for my nut butter and find out I haven't toasted them yet.  Anyways, toasted hazelnuts sounded good, so I grabbed a bag figuring I could make something delicious with them.  So taking time to look around paid off that time.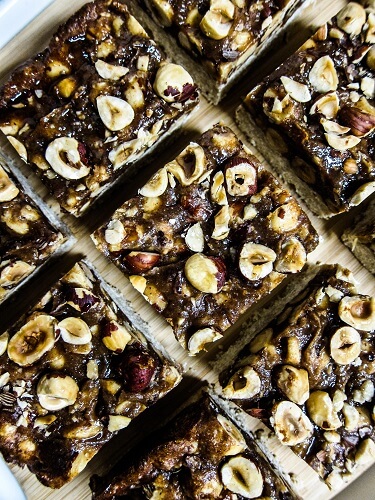 Later on that day, I decided to make some hazelnut caramel bars.  I wanted them to have the same type of filling as a pecan pie but with toasted hazelnuts instead.  It was an odd fall day, 80F degrees with a dew point of 70 so my Mom said I was crazy to be baking when I told her what I was going to do, but you know what?  Sometimes it is worth heating up the oven on a hot day for a delicious treat.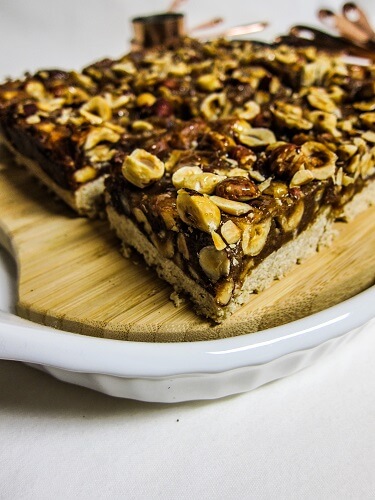 I gave the bars a shortbread like crust to begin with, I wanted it to be buttery, rich and melt in your mouth.  I used a mixture of whole wheat pastry flour and tapioca flour to make it a bit more tender.  For the filling, a mixture of dates and hazelnut butter made for a luscious caramel.  I figured why not make these as hazelnut flavored as possible!  But if you can't get hazelnut butter and don't want to make your own you could use cashew butter instead or almond butter.  I mixed it plenty of hazelnuts and it was amazing. I could have sat there and ate it with a spoon but then I wouldn't have enough for the bars.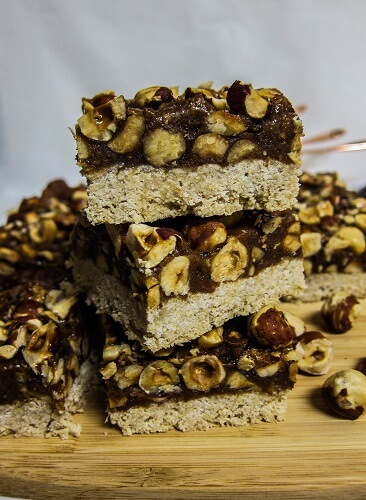 They baked up beautifully and I could not wait to try them!  Unfortunately since it was evening I had to wait for them to cool overnight.  At least it gave me something to look forward to after work!  They were sooo good!  Rich, and caramelly with a hint of maple and the nuttiness of the hazelnuts plus plenty of crunch, and that buttery crust!  Totally heavenly!  If you are a fan of hazelnuts, definitely give these a try!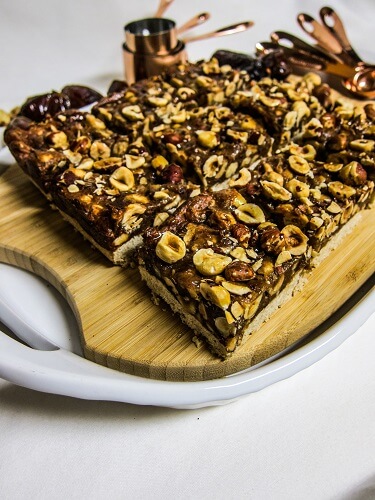 Vegan Hazelnut Caramel Bars
Makes 16
Crust:
1 1/2 cups organic whole wheat pastry flour*
1/2 cup tapioca flour (or cornstarch would work as well)
1/2 cup maple sugar
1/4 tsp sea salt
1/4 cup melted coconut oil
1/4 cup plus 2 Tbsp avocado oil (or other neutral oil liquid at cool temperatures)
Filling:
1 cup soft pitted medjool dates (if they are not soft, soak them in filtered water for 30 minutes and drain well
before using)
1/4 cup hazelnut butter (or raw cashew butter or almond butter)
1 Tbsp maple syrup, plus more for brushing the top of the pie
1/8 tsp sea salt
1 tsp pure vanilla extract
1/3 cup filtered water
1 Tbsp coconut oil
2 cups toasted hazelnuts, plus more for top of bars
maple syrup for brushing bars
Directions:
Preheat oven to 375F degrees.
To make the crust, in a large bowl, mix together flour, tapioca flour,  sugar, and sea salt. Mix in oil and stir (or use your hands and knead) until a smooth dough is created. Press into the bottom of an 8x8 inch square pan.
Place in the oven and bake for 15 minutes or until just starting to brown.  Remove from the oven.
To make filling, combine all ingredients in a high speed blender or food processor except the hazelnuts. Process until smooth, then scrape into a bowl and stir in the hazelnuts. Spread the filling over the crust, and top with more hazelnuts. Brush the top lightly with maple syrup. Place in the oven.
Bake for about 20 minutes until it is starting to brown lightly.
Remove from oven and let cool completely before serving.
(Visited 451 times, 1 visits today)