Vegan Hazelnut Butter Cardamom Chocolate Chunk Cookies
I bought a big old bag of hazelnuts recently, just to switch things up a bit. I am usually always buying almonds or walnuts, but the hazelnuts just sounded really good.  I toasted a big pan to use in recipes, then ended up making most of it into hazelnut butter...which was really good.  I snacked on some of it, but I decided that it also needed to be used in a delicious dessert as well.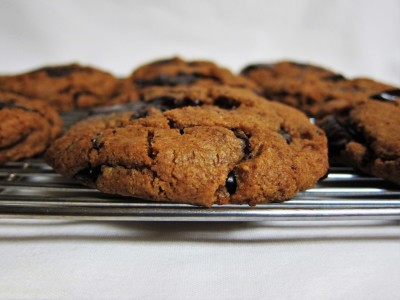 I had cookies in mind.  you know, like peanut butter cookies but with hazelnut butter?  I am more of a soft cookie person so it sounded fabulous to me.  They weren't just going to be plain though.  I wanted to include chocolate chunks as well.  I could have made them really chocolaty and made the dough chocolate too, which would have made Eric even happier, but I am the type of person who likes balance.  So the chocolate chunks in the non-chocolate dough sounded better at the time.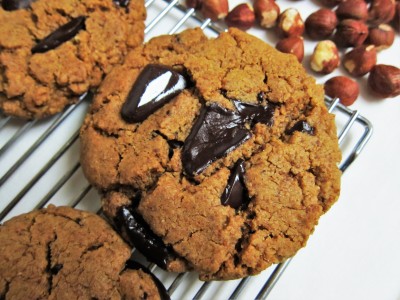 But that would have even been too plain for me.  Just the chocolate chunks weren't enough, I decided that cardamom would be lovely in these cookies as well.  It is a warming spice, so perfect for this time of the year.  L. C. Finn's a local company that makes wonderful extracts recently sent me some to try, and cardamom was one of them, so I put it to use.  Stay tuned, I will be talking more about L.C. Finn's tomorrow and there will be a giveaway of their extracts!  Anyways, their cardamom extract was awesome I the cookies.  Light, but aromatic.  They smelled amazing and tasted even better.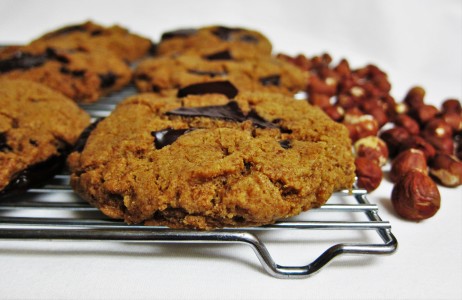 Vegan Hazelnut Butter Cardamom Chocolate Chunk Cookies
Makes 12 cookies
1 Tbsp ground flaxseed
3 Tbsp filtered water
1 cup coconut sugar
3/4 cup Dastony hazelnut butter
1/4 cup coconut oil, warmed to liquid
1 tsp L.C. Finns vanilla extract
1 tsp L.C. Finns cardamom extract (or 1 tsp dried cardamom)
1 1/4 cups gluten free all purpose flour
3/4 tsp baking soda
1/2 tsp baking powder
1/2 tsp sea salt
1 cup vegan chocolate chunks or chips
In a small bowl, whisk together the flax seed and water.  Place the bowl in the fridge for 15 minutes, this is your flax egg.
In a large bowl, with a wooden spoon, mix together the sugar, hazelnut butter, coconut oil, vanilla and flax egg, until smooth.  Then mix in the flour, soda, baking powder, and sea salt in until the mixture is smooth.  Stir in the chocolate chunks or chips.
Preheat the oven to 375F degrees.  Line a sheet pan with parchment.
Shape the cookie dough into 2 inch balls, place on your baking sheet a few inches apart and flatten slightly with your hand.
Place in the oven and bake at 375 for 12 minutes or so, until lightly browned and set.  Allow to cool completely on a rack.
(Visited 51 times, 1 visits today)