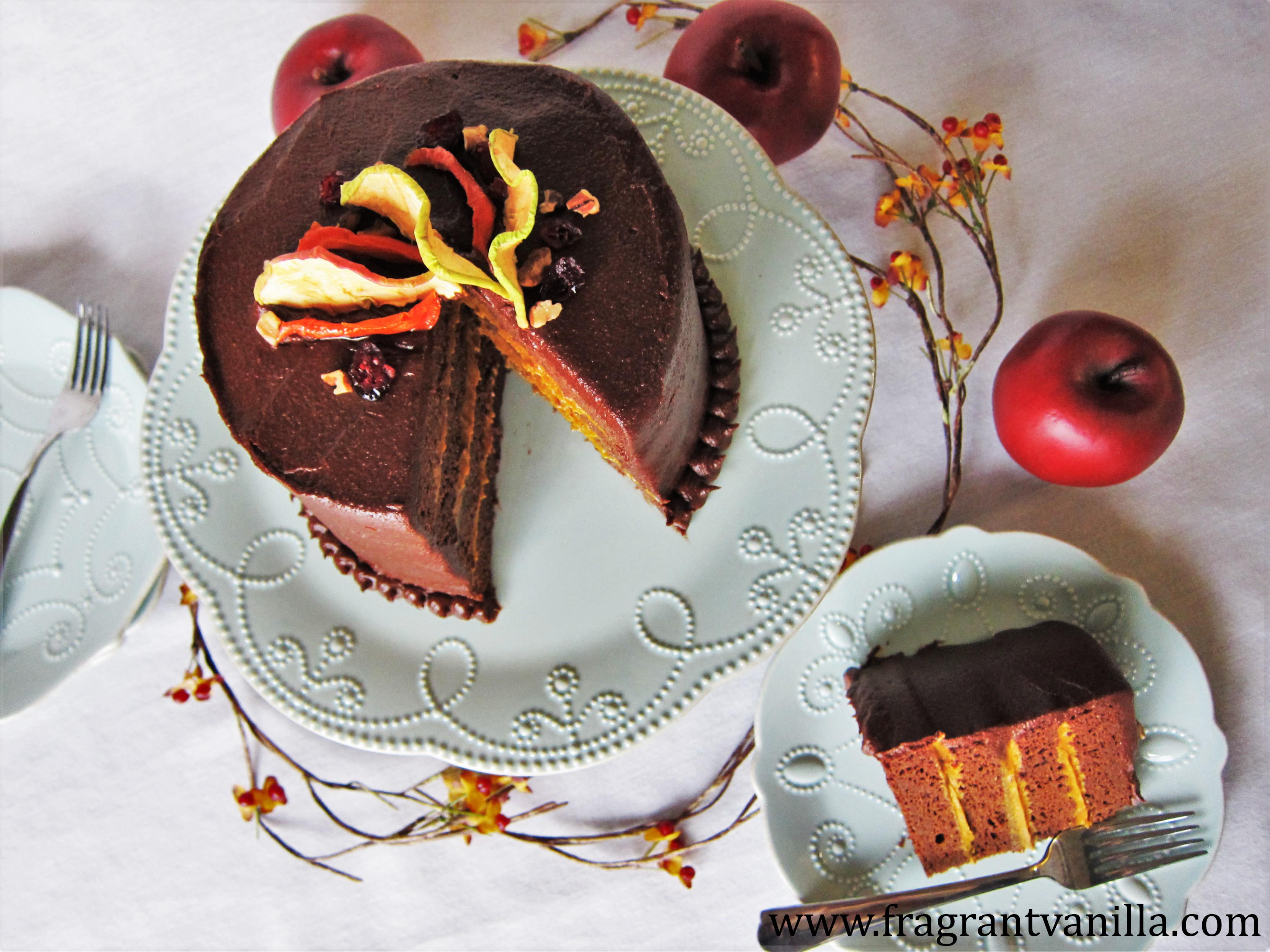 Vegan Harvest Chocolate Cake with Pumpkin Caramel Filling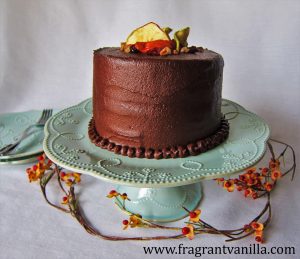 I can think of nothing better than making a big chocolate cake after my long run.  That is not to say I run for cake, but it just sounds really good.  Not immediately after, but like later in the day when I am ready to chill and relax with some cake, wine and my man.  So, after my 10 mile run on Sunday, I made some chocolate cake.  Not just any chocolate cake though, special chocolate cake with secret healthy ingredients.  I love hiding veggies in my desserts, it is not like you taste them, they just improve the texture and make them extra moist.  Who doesn't love carrot cake, or chocolate zucchini bread after all?  I certainly love them.  So, this was one of those sort of things. I had been wanting to make this cake for a couple of weekends now, but hadn't had time so I had to jump on it when I did!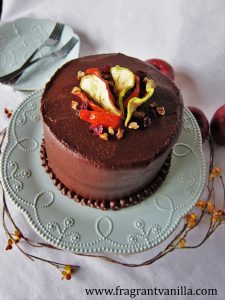 For the cake portion, I created a moist, delicious, rich crave worthy batter filled with goodness.  I used pumpkin puree and applesauce to keep it moist, along with shredded parnips, carrots, and beets, so there was a lot of nutritional value hidden in this cake.  Don't worry, you can not taste any of them, they just give it a wonderful texture.  What you do taste is rich chocolate cake, so good you would not know it is vegan.  I sweetened it with dates as well, since they are about as natural as you can get when it comes to sweetners, and they give anything they are used in an almost caramelly flavor.  This cake is also gluten free thanks to Bob's Red Mill gluten free flour, which is my go-to flour.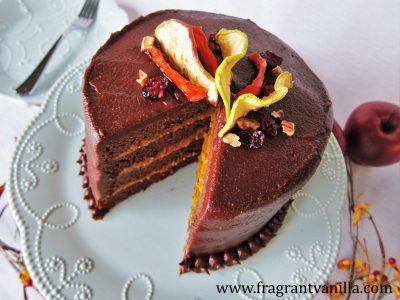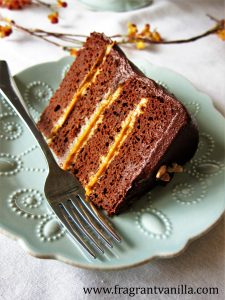 The cake smelled amazing while baking, like decadent brownies or something of that caliber.  It had to be decorated with something equally as good, so I made a simple fudge frosting that contains only 4 ingredients but it tastes amazing!  When I finally got around to enjoying the cake, it tasted wonderful!  You would never know it was hiding veggies, or is vegan because it tastes decadent as all get out.  So it would be perfect for serving to guests who you may be trying to win over to the vegan side.  It pairs well with red wine FYI, which is what I enjoyed with it.  I hope you all are having a wonderful Fall!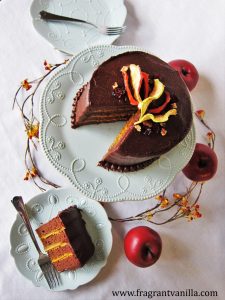 Vegan Harvest Chocolate Cake with Pumpkin Caramel Filling
Makes 1 6 inch 2 layer cake
Ingredients:
2 6 inch cake pans
Cake:
1/2 cup cacao powder or unsweetened cocoa powder
1 1/2 tsp baking soda
1 tsp baking powder
1/2 tsp sea salt
1 tsp cinnamon
1 cup packed soft medjool dates, pitted, soaked in water for 30 minutes and 1 cup of the soaking water reserved
1/4 cup walnut butter or almond butter
1 Tbsp pure vanilla extract
1/2 cup pumpkin puree
1/2 cup applesauce
1 cup shredded mixed root vegetables (such as rutabaga, parsnips, beets, carrots)
2 Tbsp apple cider vinegar
Frosting:
1 1/4 cups pitted medjool dates, soaked in water for 30 minutes, and 1 cup of the water reserved
3/4 cup walnut butter or raw almond butter
3/4 cup cacao powder
pinch sea salt
Pumpkin Caramel:
1 cup soft medjool dates, pitted (if they are not soft, soak them in water and drain well first)
2 heaping Tbsp walnut butter or almond butter
1 Tbsp coconut oil, warmed to liquid
1/8 tsp sea salt
1 tsp pure vanilla extract
2 Tbsp filtered water (plus more as needed)
1/4 cup pumpkin puree
1 tsp cinnamon
1/2 tsp ground ginger
1/8 tsp cloves
1/8 tsp nutmeg
Directions:
Preheat the oven to 375F degrees and position rack in center of oven. Line two six-inch-diameter cake pans with 2-inch-high sides with parchment paper. Coat parchment paper and pan sides lightly with oil so that the cake doesn't stick and line the bottom of the pan with a piece of parchment fit to the pan.
Whisk flour, baking powder, baking soda, spices and sea salt in a large bowl to blend well.  Set aside.
Place dates, reserved water, almond butter, pumpkin puree, apple sauce, and vanilla extract into a blender, and blend until smooth, then whisk this blended mixture into the flour mixture until well blended. Fold in the root vegetables.  Whisk in the cider vinegar until bubbles form. Transfer cake batter to prepared pans and bake cakes until tester inserted into center comes out clean, about 30 minutes. Cool cakes completely in pan on rack, about 1 hour. Cut around sides of pan to loosen. Turn cakes out onto plates, and peel off parchment paper. Cut layers in half horizontally.  Set aside.

Meanwhile, to make the frosting, combine all ingredients In a high speed blender, and blend until smooth (since moisture content in dates varies, and nut butters may vary in runniness, if it seems too thin, add a little more cacao powder, too thick, a little more water).

To make the caramel, combine all ingredients in a blender and blend until smooth (adding a little more water if necessary, it should be the consistency of spreadable but still thick caramel).

 To assemble, place one cake layer on a plate, and spread 1/3 of the caramel over it.  Place the other cake layer over that, then spread a little of the fudge frosting, and half the remaining caramel over that. Then another cake layer, the remaining caramel, then the last cake layer.  Then spread the remaining frosting on the top and down the sides of the cake.
*If you would like this cake to be nut free, raw tahini may be used in place of the nut butter in the frosting and caramel, and olive oil or avocado oil in place of the nut butter in the cake batter.
***If you would like a 2 layer 9 inch cake, double this entire recipe and bake in two 9 inch cake pans.  It will take longer to bake, about 50 minutes to 1 hour.
(Visited 319 times, 1 visits today)