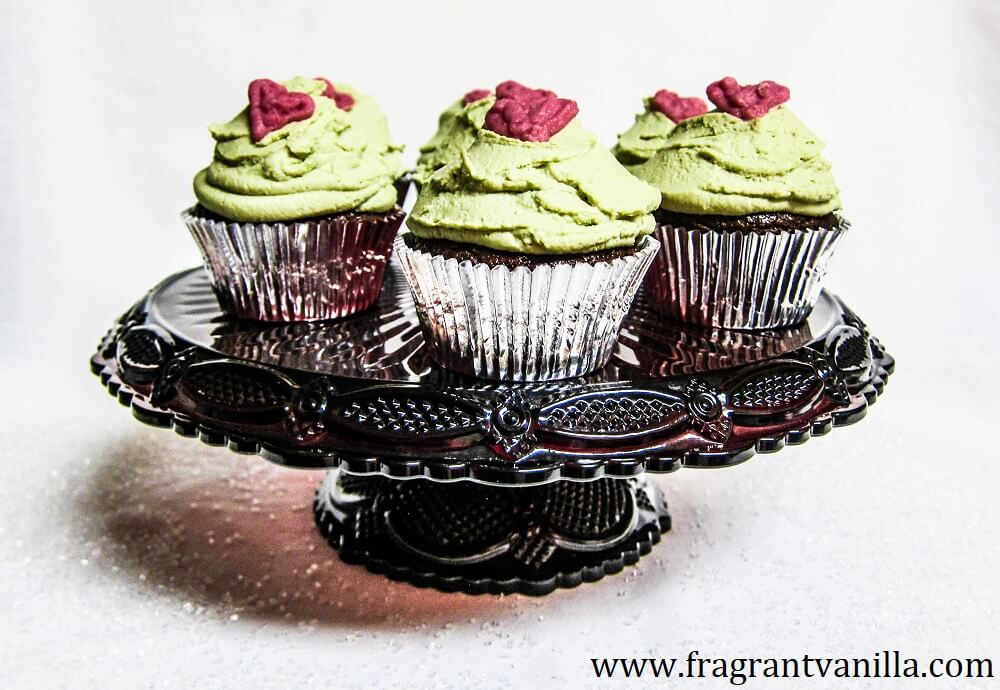 Vegan Grinch Cupcakes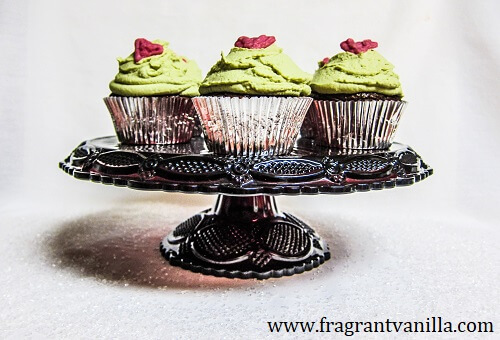 Everyone has their favorite classic Holiday movie.  I have a few that I have to watch every year, including "White Christmas", "Charlie Brown Christmas" and "How the Grinch Stole Christmas".  The latter of which is my favorite.  There are so many things that I love about it.  How happy the Whos are in Whoville, how they get so excited to celebrate every year, and how they all seem to be filled with joy and love to start with.  Also, the Grinch himself is pretty comical, and his song even more so..."You're a mean one, Mr. Grinch..." you know the one.  And the story has a happy ending with the Grinch's heart growing and him finally accepting Christmas.  But I only like the old version of the movie, the old classic animated one.  The new one with Jim Carey is ok, but the animation on the old one is what makes it so much more awesome.  They just don't make animated movies like they used to.  I mean, it is pretty impressive that was all drawn by hand and not computer generated like it is now.  Anyways, this year I decided to make some Grinch cupcakes in honor of my favorite Holiday movie.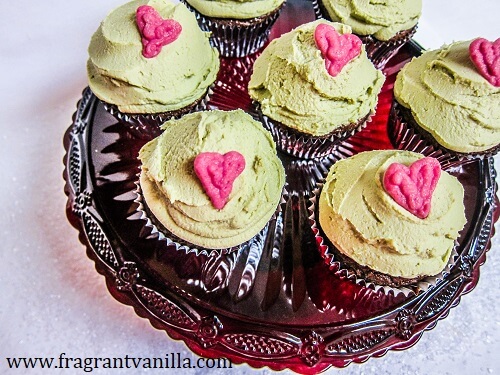 I thought I might as well make them delicious as well, so I flavored them chocolate, mint and matcha.  It is a heavenly combination.  I drink matcha daily so I always have it on hand. Peppermint kind of seems essential this year, and chocolate I don't need to explain, it is always good no matter what it is in dessert-wise. For the cupcakes, I baked up my classic date sweetened chocolate cake because it is quick and easy to make in a blender, and I can not resist anything sweetened with dates.  It was just the right consistency once baked. Moist, soft and light as cupcakes should be if you bake them the right amount of time.  To make these "Grinch" cupcakes, I needed to color the frosting green, which is why I chose matcha.  Now, of course I could have used food coloring or spinach powder but that doesn't give them the lovely flavor that matcha has. I added in some peppermint as well and it was so good!  I use a combination of coconut milk and cashew butter in my frosting, and it turns out like buttercream frosting, which was always classic go-to before going vegan.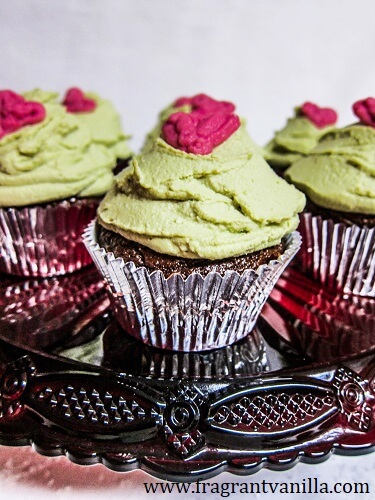 They were a lovely green color, but in order to complete them, they needed the red heart, the one that grew 3 sizes in the movie.  So, I tinted some white chocolate red, and made cute little hearts to top them off.  They were super delicious!  Rich dark chocolate cake, fluffy minty frosting scented lightly with matcha...right up my alley, I was very pleased with how they turned out.  These would even make the Grinch happy I think!  I hope you are all having a wonderful Holiday season!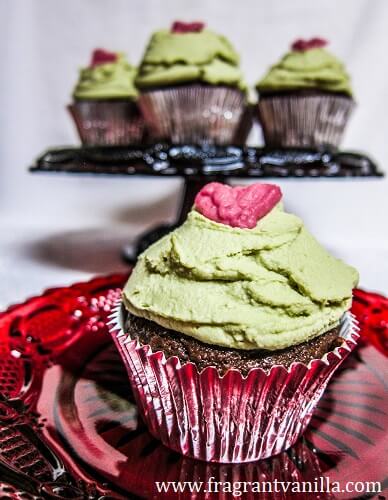 Vegan Grinch Cupcakes  (Chocolate Matcha Mint Cupcakes)
Makes 16 cupcakes
Ingredients:
2 8 hole muffin tins
16 cupcake liners
Cake:
1 1/2 cups Bob's Red Mill Gluten Free All Purpose Flour
1/4 cup cacao powder or unsweetened cocoa powder
1 1/2 tsp baking soda
1 tsp baking powder
1/2 tsp sea salt
1 1/4 cups packed soft medjool dates, pitted, soaked in water for 30 minutes and drained
1/4 cup almond butter
1 tsp pure vanilla extract
1 tsp peppermint extract
2 cups filtered water
2 Tbsp apple cider vinegar
Frosting:
1 15 oz cans full fat organic coconut milk, at room temperature
1/2 cup raw cashew butter
1/4 cup maple syrup
1/8 tsp sea salt
1 tsp pure vanilla extract
1/2 tsp peppermint extract
3 Tbsp matcha powder (or as needed)
1/2 cup plus 2 Tbsp raw coconut butter (NOT OIL), warmed to liquid
Candy hearts:
1/4 cup vegan white chocolate, chopped
natural vegan red food coloring
Directions:
Preheat the oven to 375F degrees and position rack in center of oven.
Line muffin tins with cupcake liners.
Whisk flour, cocoa powder, baking powder, baking soda, and sea salt in a large bowl to blend well.
Place dates, water, almond butter, and vanilla extract into a blender, and blend until smooth, then whisk this blended mixture into the flour mixture until well blended. Whisk in the cider vinegar until bubbles form.
Pour the cake batter into prepared tins, and place in the oven.
Bake cakes until set and a toothpick inserted into the center comes out almost clean, about 12-15 minutes.  Remove from oven, and let cool completely.
Meanwhile to make the frosting, combine all ingredients in a blender and blend until smooth.  Pour into a bowl and place in the freezer allowing it to chill until the consistency of whipped cream, (which usually takes about 45 minutes depending on how warm it has gotten) whisking about every 15 minutes.
Meanwhile, to make the hearts, melt the white chocolate, and whisk in the food coloring.  Place in a pastry bag or ziplock bag with the corner cut off and pipe into little hearts on a piece of parchment.  Place in the freezer to harden.
Place the frosting in a pastry bag once it has chilled, and pipe over the cupcakes (or spread it over if you don't prefer to pipe).  Place a heart on top of each one.  Enjoy!
Store any leftover cupcakes in a covered container in the refrigerator.
(Visited 222 times, 1 visits today)