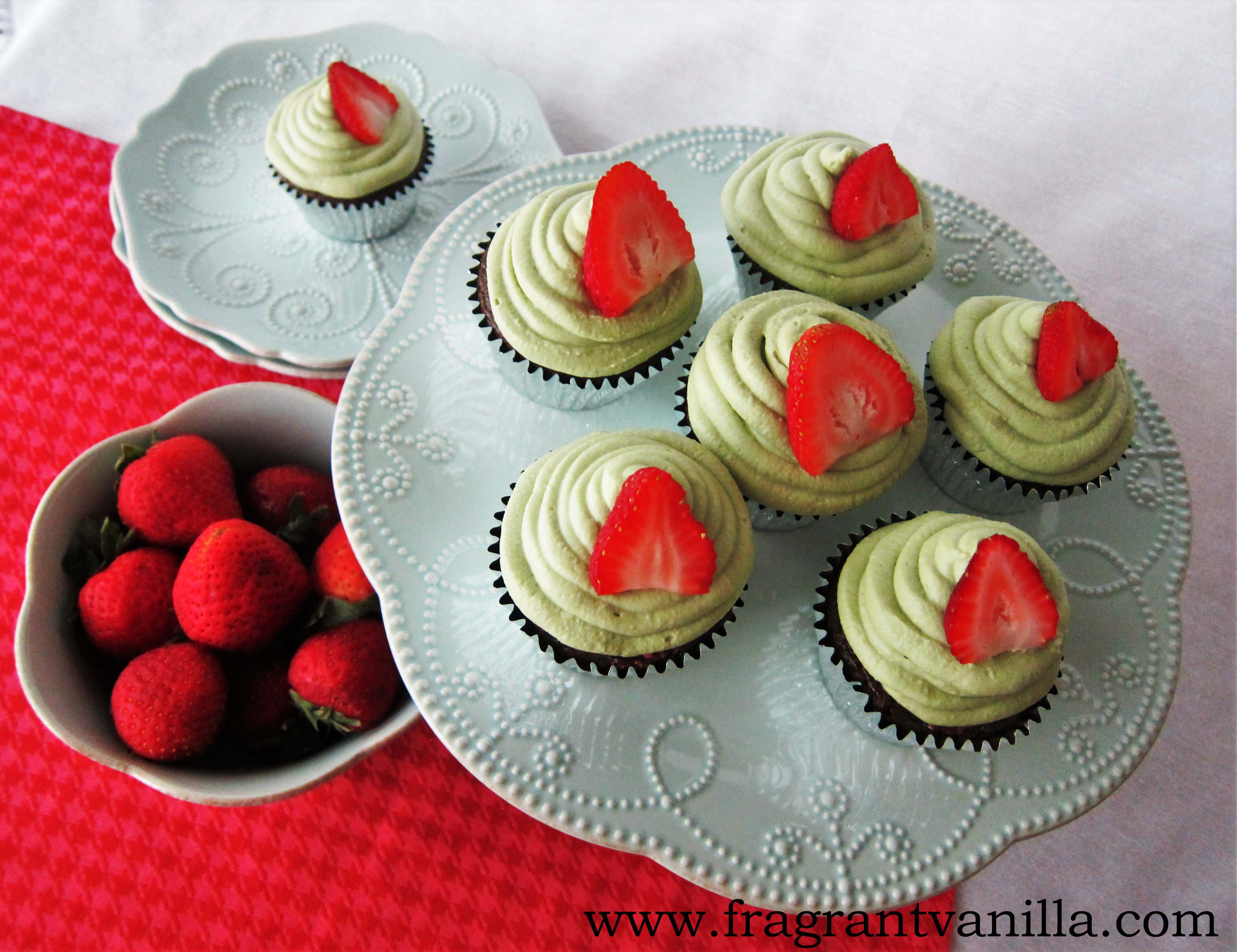 Vegan Green Tea Strawberry Rhubarb Cupcakes
Did your Grandma ever make jam? Or did she have friends that did who shared it with you? Well mine did, and let me tell you, that jam was some of the best I have ever eaten. I mean really, most store bought jam just doesn't compare to home made. So, I was thinking about how I don't eat much jam anymore and the fact that I kind of missed it at that moment. I decided at that point that I needed to make some of my own. The reason I stay away from most of it now is the loads of sugar that is added to it. But in making my own I could control that. I made a quick strawberry rhubarb refrigerator jam, with chia seeds to thicken it. Because to be completely honest making that Grandma style jam where you have to boil the jars and all scares me. Anyways, the quick jam I made turned out so delicious!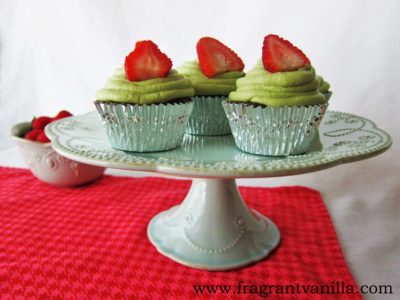 It reminded me of that jam I enjoyed as a child, but had much less sugar so it was just right for my tastes. Of course I just enjoyed some of it. Because who doesn't love a PB & J? But I wanted to make something with some of it too. So, I decided it would be awesome stuffed into cupcakes. I love a good surprise inside my cupcake. Nothing like biting into one and finding delicious jam like a jelly doughnut!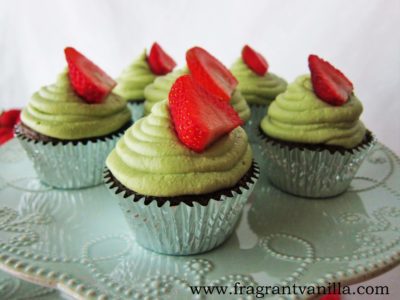 I didn't just make these vanilla cupcakes though, I made them green tea cupcakes. Green tea is so good with berries, and if you haven't tried this combination you simply must! In the summer a chilled green tea with berries is so refreshing. But back to my cupcakes. Matcha (green tea) powder makes it possible to make pretty much green tea anything without having to steep tea bags or worry about your food tasting bitter because you steeped them too long. You just add it to the recipe, so easy!  These cupcakes turned out so delicious! I frosted them with a fluffy matcha coconut buttercream and it went so well with the jammy sweet strawberry rhubarb and moist matcha cake. The color combination made me happy too. I would have shared these with you all if I could, but since I couldn't I figure sharing the recipe will have to do!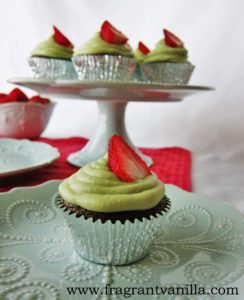 Vegan Green Tea Strawberry Rhubarb Cupcakes
Makes 10
Cake:
3/4 cup all purpose gluten free flour
3/4 tsp baking soda
1/2 tsp baking powder
1 1/2 Tbsp matcha powder
1/4 tsp sea salt
1/2 cup packed soft medjool dates, pitted, soaked in water for 30 minutes and 1/2 cup of the water reserved
2 Tbsp coconut oil, warmed to liquid
1 tsp pure vanilla extract
1/2 cup light coconut milk
1 Tbsp apple cider vinegar
3/4 cup Strawberry Rhubarb Chia Refrigerator Jam
Frosting:
1 15 oz can full fat coconut milk, chilled overnight in the refrigerator
1/4 cup maple syrup
1 tsp pure vanilla extract
1 1/2 Tbsp matcha powder
1/2 cup plus 2 Tbsp coconut butter, warmed to liquid
Organic strawberries for decorating
Preheat the oven to 375F degrees and position rack in center of oven. Set out 16 standard sized cupcake liners. Whisk flour, baking powder, matcha, baking soda, sea salt, in a large bowl to blend well. Place dates, reserved water, oil, coconut milk, and vanilla into a blender, and blend until smooth, then whisk this blended mixture into the flour mixture until well blended. Whisk in the cider vinegar until bubbles form. Spoon the batter into the bottoms of the liners, then top with a scant Tbsp jam, then the rest of the batter (but not filling more than 3/4 full). Place in the oven and bake for about 15 minutes until set.  Remove from the oven and let cool completely.
To make the frosting, combine all ingredients in a high speed blender and blend until smooth. Pour into a bowl and place in the freezer.  Chill for about 30-45 minutes until the consistency of frosting.  Set aside in the refrigerator until ready to use. When ready to use, place in a pastry bag and pipe over the cupcakes (or just spread it). Top with a half a strawberry. Enjoy! Refrigerate any leftovers.
(Visited 69 times, 1 visits today)