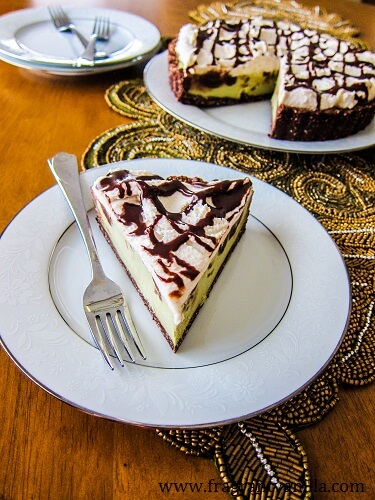 Vegan Grasshopper Pie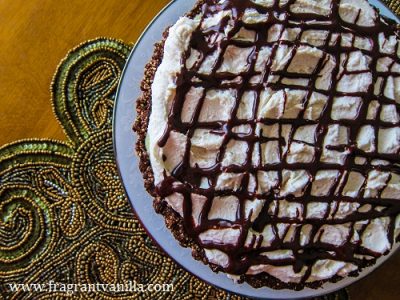 When I was little, my Mom and I used to go to this local diner that was 50s themed, and I would always insist on ordering grilled cheese and either a malt or strawberry rhubarb pie.  The pie was amazing, but the grasshopper malt was super delicious!  Dreamy mint ice cream in liquid form with chocolate fudge drizzled throughout and whipped cream on top... every 8 year old's dream!  Come to think of it, whenever we went places that had malts, that was what I ordered because they were always so good.  It had to have the fudge though and lots of it, because that is what made it over the top.  I have not had a malt in ages, probably at least a good 14 years, but I have good memories of them.  I should totally remake it vegan sometime, but for now I have another grasshopper themed dessert to tell you about.  Since this week it is all about all things green for St. Patrick's Day, I decided to make a grasshopper pie.  I have been wanting to make a cream pie for a while now, but got into a cake baking rut.  Yes, I tend to get into ruts sometimes...but when things are so good, it is hard to take a chance and branch out.  But I took a chance and made a pie.  And a delicious pie it was!  I thought about making a mint french silk, but then it dawned on me how delicious those grasshopper malts used to be.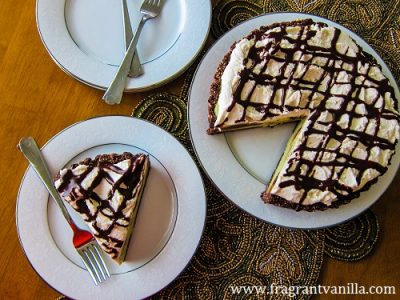 Why not turn one of those into pie form?!  I have not made anything with a crust in ages.  It has been too long so it was perfect.  I made a crunchy chocolate crust using one of my raw recipes I perfected a while back and it was perfect.  What gives it the crunch is the sprouted, dehydrated buckwheat groats.  I keep them on hand already made in my freezer at all times.  If you have not heard of them, they are pretty easy to make.  You just buy raw buckwheat groats (most health food stores sell them in the bulk section), soak them in filtered water for 30 minutes, then dehydrate them on a tray until dry (about 24 hours) or if you do not have a dehydrator, place them on a lined sheet pan and bake them in the oven at the lowest temperature (170F or so), for about 5-7 hours until completely dry.  Then you may use them for recipes.  I like them in my raw crusts so that I don't have to use so many nuts.  They are great for adding crunch to things.  Anyways, they worked perfect in this crust!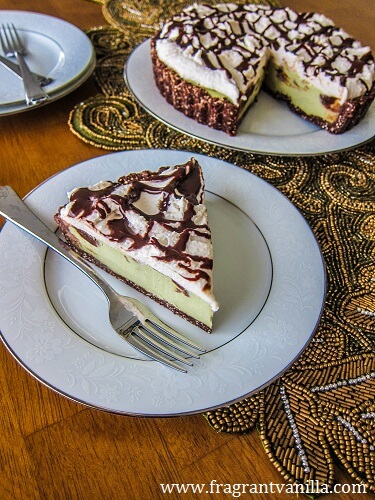 For the filling, I made a creamy coconut based mint cream, and it was so luscious I could have eaten it like that.  But I saved it for the pie, because I knew when combined with the rest of it, it would be even better!  I tinted the pie a lovely green with spinach.  I love natural food coloring!  Don't worry, you don't taste it at all, just the delicious mint and vanilla.  I then made a gooey fudge swirl in the spirit of the malt, and it was perfect!  Lastly I topped it off with a billowy coconut cream and more fudge.  It was beautiful, but it tasted even better than it looked.  If you are in search of a green dessert for St. Patrick's Day, this might just be perfect for you!  I loved it even more than I ever loved those grasshopper malts.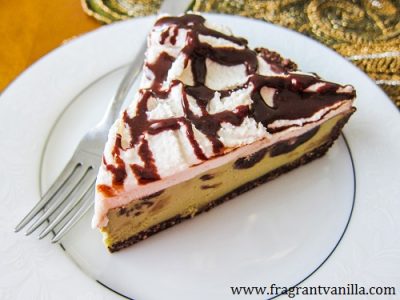 Vegan Grasshopper Pie
Makes one 8 inch pie
1 8 inch pie plate
Crust:
3/4 cup finely shredded dried coconut
3/4 cup sprouted, dehydrated buckwheat groats, or raw walnuts
1/4 cup ground flax seed
1/4 cup raw cacao powder or unsweetened cocoa powder
1 cup soft pitted medjool dates (if they are not soft, soak them 30 minutes and drain well before using)
1/4 tsp sea salt
filtered water as needed
Filling:
1 1 15 oz can full fat organic coconut milk, chilled
1/3 cup maple syrup
1/4 tsp sea salt
1 tsp pure vanilla extract
1 tsp peppermint extract
1/2 cup raw cashew butter
2 large handfuls fresh spinach (spinach powder or matcha powder will work too for green color, about 1 tsp if using)
1 cup coconut butter warmed to liquid
Fudge Swirl:
1/3 cup  plus 2 Tbsp raw cacao powder
1/4 cup plus 2 Tbsp maple syrup (or your choice liquid raw sweetener)
1 Tbsp raw coconut oil, warmed to liquid
pinch sea salt
Cream Topping:
1 1 15 oz can full fat organic coconut milk, chilled
1/4 cup maple syrup
pinch sea salt
1 tsp pure vanilla extract
1/2 cup plus 2 Tbsp raw coconut butter, warmed to liquid
Instructions:
For the crust, combine all ingredients in the food processor until finely chopped and starting to hold together when squeezed (if it doesn't you may need to add a little filtered water 1 Tbsp at a time).
Press the mixture into a 9 inch removable bottom tart pan or pie pan greased with coconut oil.
For the filling, combine all ingredients in a high speed blender and blend until smooth. Pour into the crust.
For the fudge, whisk together all ingredients until smooth, then remove about 3 Tbsp and set aside in a bowl.  Drop the rest of it over the filling by the heaping teaspoon, then swirl it with a knife or toothpick to marble it.  Place in the freezer until set, about 2 hours.
Meanwhile, for the cream topping, combine all ingredients in a blender and blend until completely smooth. Pour into a bowl and place in the freezer until it is thick like whipped cream (whisking every so often), about 45 minutes.
Once the cream is ready, spread over the top of the pie.
Drizzle the remaining fudge over the top (it may need to be warmed or thinned out a little with a touch of water first).
Pie keeps refrigerated for 1 week in a container.
(Visited 532 times, 1 visits today)