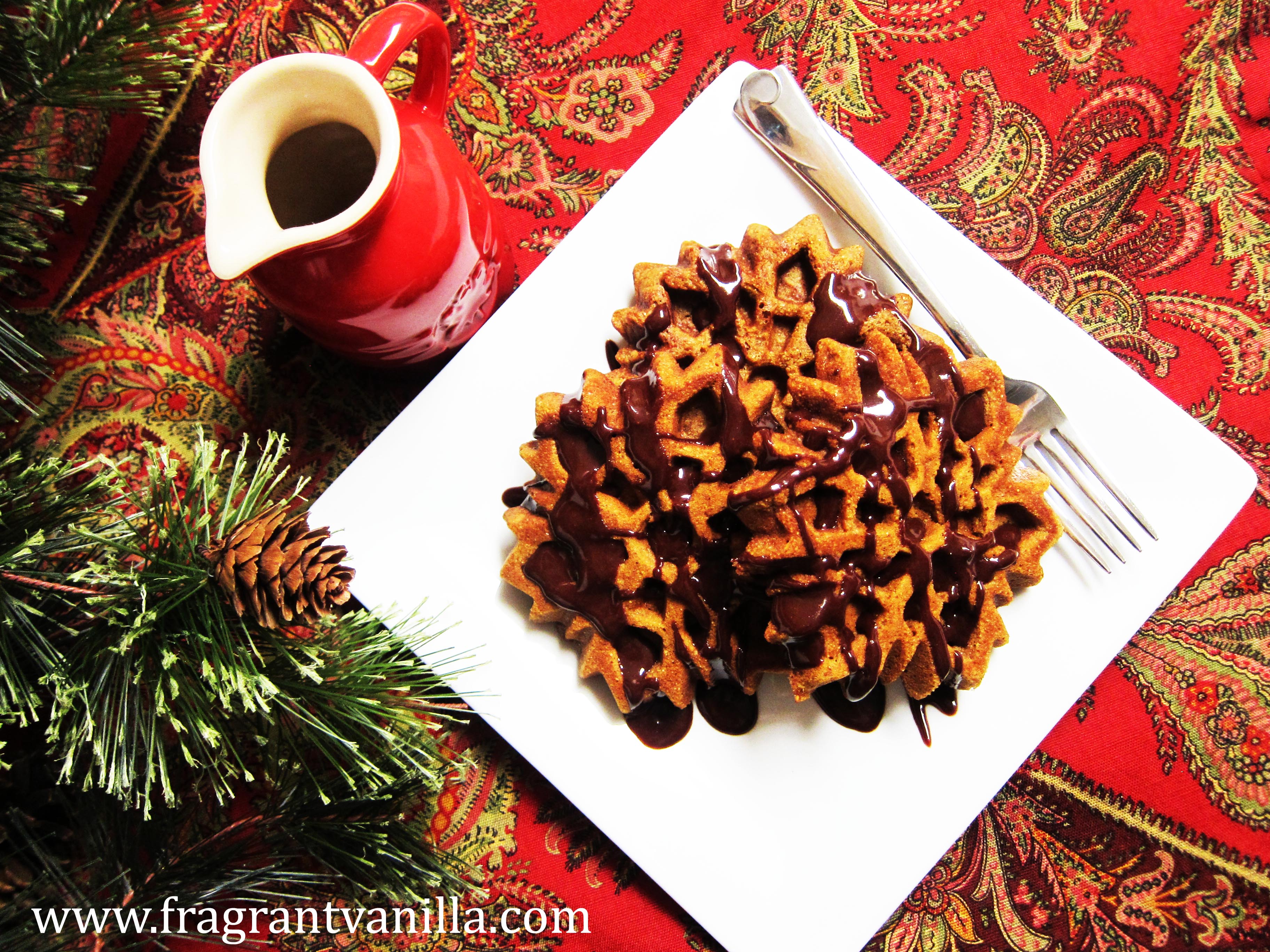 Vegan Gingerbread Waffles
It was below zero yesterday, and all I could think about all day at work was getting warm when I got home. I work in a kitchen, so you would think it would be warm there, but not so much when the drafts come in from the front of the store. I even used my treadmill that morning instead of running outside, because I didn't feel like dressing like the kid in "A Christmas Story". One of my coworkers had baked some molasses cookies, and I thought to myself. Mmm warm gingerbread something sounds good! So I decided that I would make something of the gingerbread variety when I got home. I decided on waffles. I have never made gingerbread waffles before, and I hadn't made waffles in a while. The funny thing about me and waffles is they rarely get made for breakfast, always in the evening for dinner.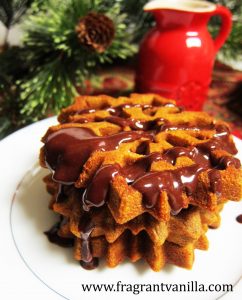 My Mom made breakfast for dinner sometimes, and I liked that idea. But you can make these whenever your little heart desires. Make them at midnight if you have a craving for waffles and feel like it! My boyfriend Eric works an overnight shift, so he is eating his lunch at midnight. He isn't picky what time of the day he eats his waffles. Anyways, these are really simple to make. Just whisk together the batter, cook them (I like to keep mine warm in the oven while I cook the others until they are all done), and enjoy! I made these on my cute little Frozen (as in the Disney movie) waffle maker I got from my Dad last year. He knows I love anything cute that has to do with food prep. It makes the most adorable little snowflake waffles. I think it is meant for kids, since they are smaller, but I am one big kid.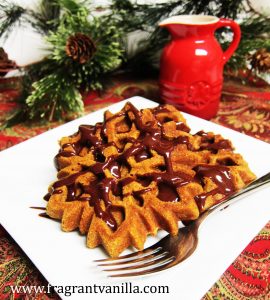 They smelled amazing while cooking, like gingerbread cookies! You can serve these with whatever you prefer, like the classic maple syrup, or drizzle them with chocolate fudge syrup like I did! I hope you are all staying warm this winter!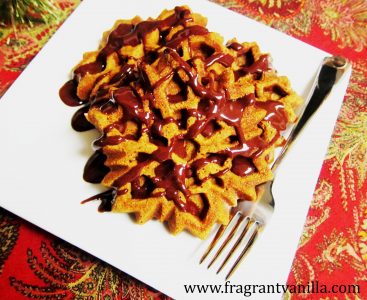 Vegan Gingerbread Waffles
makes 10-12 depending on your waffle maker
Batter:
2 cups gluten free all purpose flour
1/4 cup coconut sugar
1/2 tsp baking soda
1 tsp baking powder
2 tsp cinnamon
2 tsp ginger
1/4 tsp nutmeg
1/4 tsp cloves
1 tsp sea salt
1/2 cup plus 1 Tbsp aquafaba*
1 1/2 Tbsp molassess
2 Tbsp melted coconut oil
2 cups thin coconut milk
Whisk together all of the dry ingredients, then whisk in the wet ingredients.  Pre-heat waffle iron. Once it is heated, add about 1/3 cup waffle batter to the iron and close it (the size of the scoop of batter you need may change if you have a larger iron, mine is smaller).  Cook according to waffle iron package directions.  Keep warm in an oven at low heat (150F degrees) until serving.
*Aquafaba is chickpea liquid.  You may used canned, or if you are using the liquid from home cooked chickpeas, reduce it to the consistency of egg whites.  Alternatively, you may use 3 flax eggs for the recipe (3 Tbsp ground flaxseed, whisked together with 1/2 cup plus 1 Tbsp filtered water).
*For the chocolate fudge syrup I served them with, whisk together unsweetened cocoa powder, a pinch of sea salt, and maple syrup until smooth, (I start with equal parts, about 3 Tbsp each) adding more syrup if too thick, more cocoa powder if too thin until you get a consistency you like.
(Visited 104 times, 1 visits today)