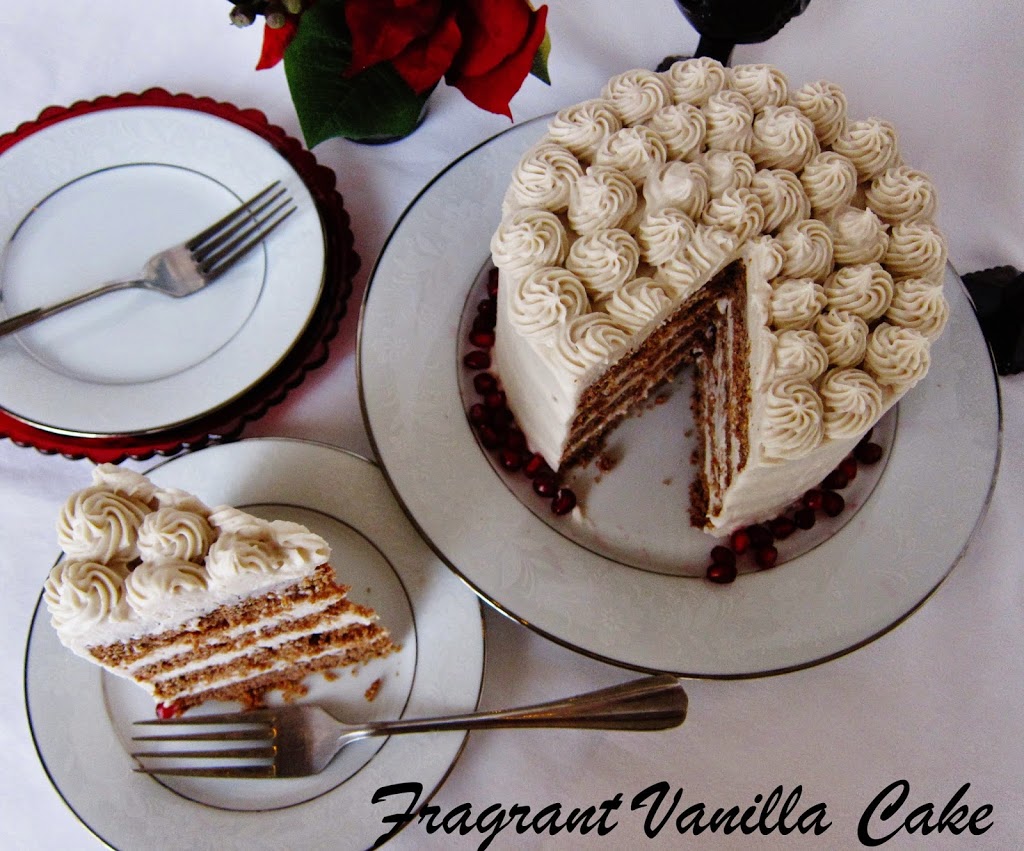 Vegan Gingerbread Spice Cake with Cinnamon Frosting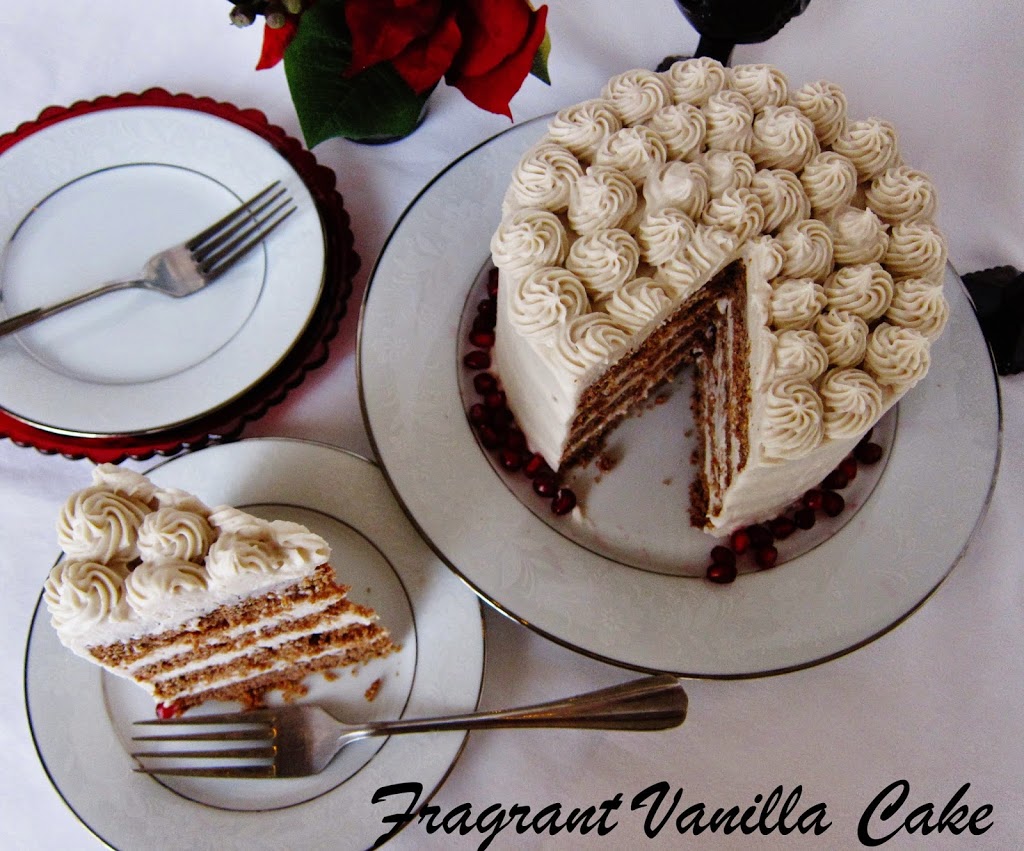 Yesterday would have been my Grandma's 79th Birthday.  Sadly, we said goodbye to her earlier this month, but she is still in my heart.  I can remember, every Christmas we would give her Birthday presents as well since the days were always so close together.  But, Grandma was always modest telling everyone they didn't have to get her so many gifts.  Funny because she was the queen of gift buying and giving.  She wanted her family to feel loved around the Holidays (and all the time).  It was her that taught me it is better to give then to receive, and many times when giving a gift, you do not need one in return to feel happy.  She gave because it made her happy, not because she wanted something back.  I get that now as an adult.  If I want to give someone a gift, I don't expect one in return, just the fact that they are happy with it is enough.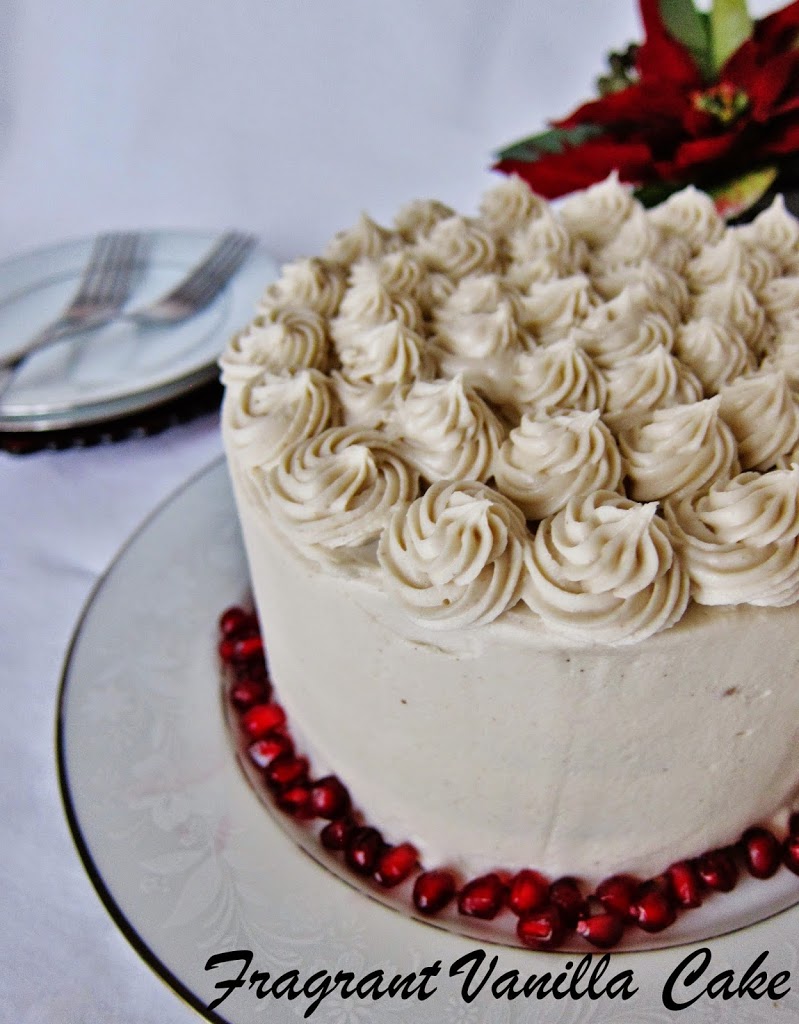 If my Grandma were still around, I would be happy to share some of this Vegan Gingerbread Spice Cake with Cinnamon Frosting with her.  She loved my desserts, and she used to say "I am your number one taste tester".  She was proud of that.  And I loved sharing with her. I did get to share this cake with loved ones, and it was a wonderful choice for Christmas.  You may be wondering why I baked a cake instead of making a raw one, and the simple answer to that is, to be different and because it won the vote among those I was going to share with.  I make raw cheesecakes all the time, and although they are my favorite, it can be nice to step outside the box.  A fluffy spiced gingerbread with cinnamon frosting was just the ticket.  I did make this cake gluten free and free of refined sugars.  Because gluten and white sugar no longer are welcome in my kitchen.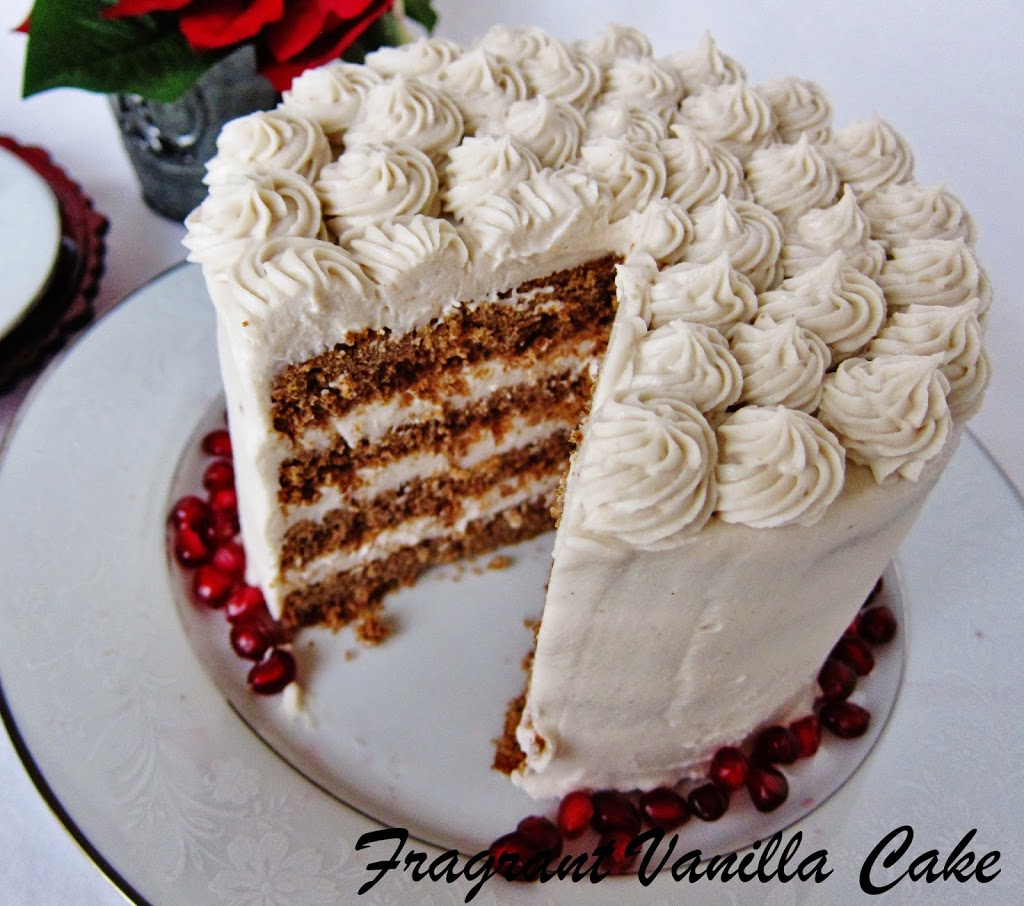 This cake was pretty magnificent looking with its four tall layers and white frosting. This is the sort of thing that you serve, and don't tell anyone it is vegan...until after they are done, then they are amazed when you do. It tastes rich as all get out, but no dairy in sight!  I think it would be good anytime of the year, not just Christmas because I love a good spice cake.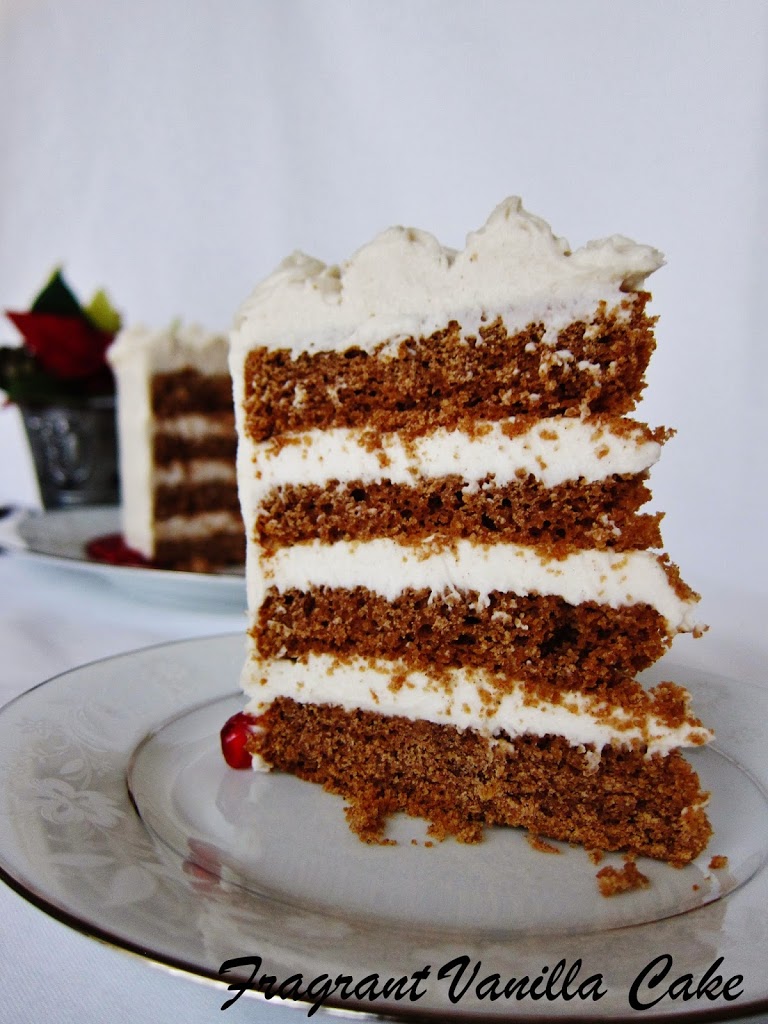 Vegan Gingerbread Spice Cake with Cinnamon Frosting
Makes 1 6 inch 4 layer cake
Cake:
1 3/4 cups Bob's Red Mill all purpose gluten free flour
1/2 tsp sea salt
1 Tbsp cinnamon
1 tsp cardamom
1/2 tsp nutmeg
2 Tbsp fresh ginger, minced
1 tsp dried ginger
1 cup coconut sugar
1 cup almond milk or coconut milk
1 Tbsp pure vanilla extract
2 Tbsp cider vinegar
Frosting:
4 cups young coconut meat*
2 cups raw cashews, soaked at least 4 hours and drained well
3/4 cup coconut water
2 tsp cider vinegar
3/4 raw coconut nectar, maple syrup or agave nectar
1/2  tsp sea salt
1 tsp cinnamon
seeds of one vanilla bean, or 1 Tbsp pure vanilla extract
3/4 cup 
coconut butter
, warmed to liquid
Preheat the oven to 375 degrees and position rack in center of oven. Line two six-inch-diameter cake pans with 2-inch-high sides with parchment paper. Coat parchment paper and pan sides with nonstick spray. Whisk flour, baking soda, spices, and sea salt in a large bowl to blend well. Whisk sugar, oil, milk, and vanilla extract together in small bowl to blend well, then whisk into the flour mixture until well blended. Whisk in vinegar and stir quickly (pale swirls will be in the batter, which is the baking soda reacting with the vinegar, which allows the cake to rise since there are no eggs). Transfer cake batter to prepared pan and bake cakes until tester inserted into center comes out clean, about 25-30 minutes. Cool cake completely in pan on rack, about 1 hour. Cut around sides of pan to loosen. Turn cake out onto platter; peel off parchment paper. Let cool completely, then place in the fridge to chill until very cold to make slicing easier (since cakes with no eggs crumble easier). When chilled, slice cakes horizontally in half so that you have 4 layers.
Meanwhile, to make the frosting, combine all ingredients but the coconut butter in a food processor and process until smooth.  With the motor running, add the coconut butter and process a minute more.  Pour the cream into a bowl and let sit in the fridge until the consistency of whipped cream. 
When ready to frost, place one cake layer on a plate. spread frosting about 1/2 inch thick over the first layer, then top with the second.  Repeat the frosting, then another cake layer, then more frosting then the last cake layer. Spread frosting over the top and down the sides of the cake, smoothing out.  Place the remaining frosting in a pastry bag, and pipe decoratively on the top of the cake.  Store cake in the fridge.
*If you do not have access to young coconut meat, you can use 4 cups soaked cashews instead along with the other cashews.
(Visited 262 times, 1 visits today)