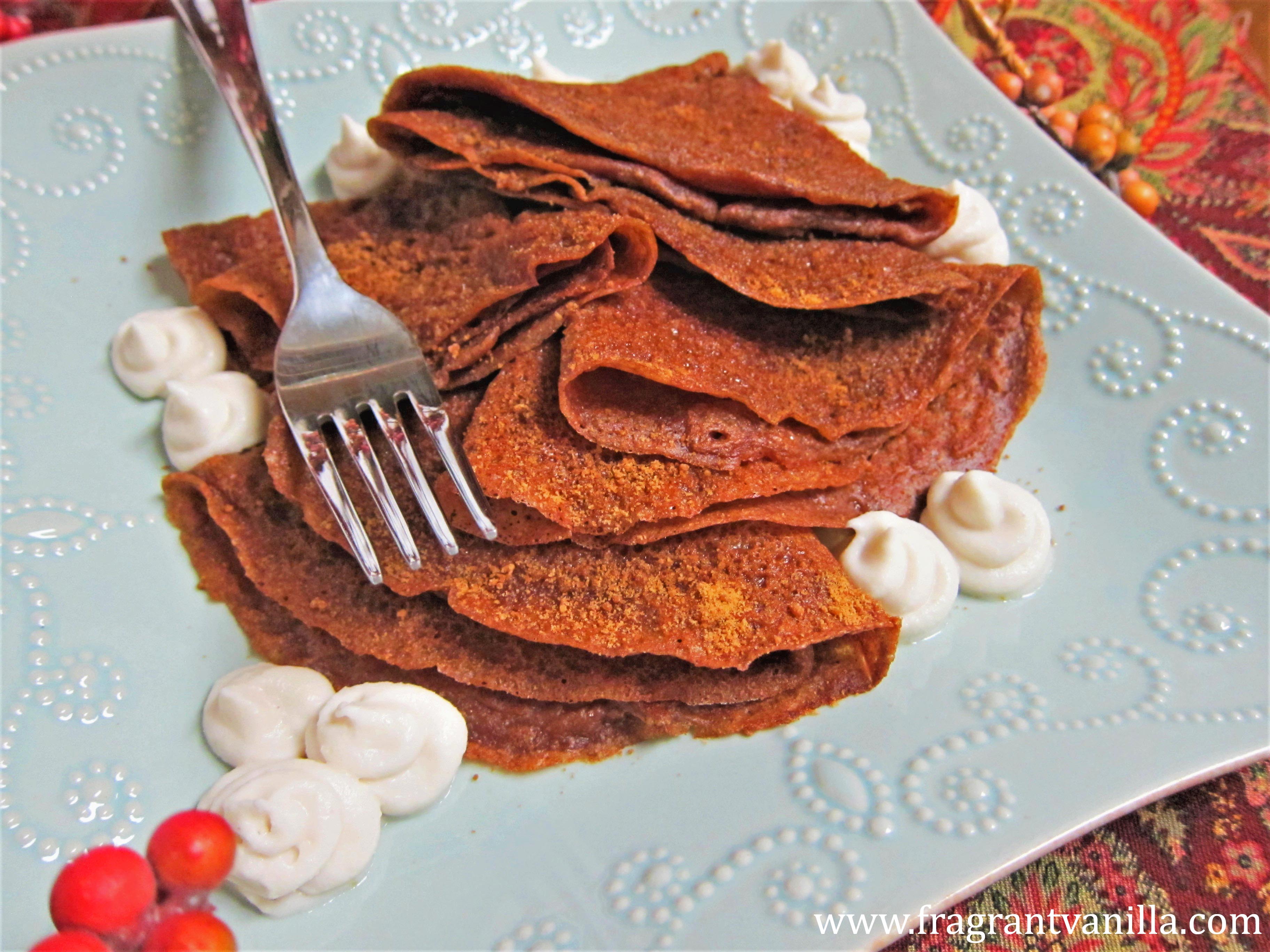 Vegan Gingerbread Crepes
Thanksgiving has come and gone, so that means Christmas, Christmas everywhere!  Pretty soon you won't be able to go anywhere without hearing Christmas music, or seeing festive decorations.  Sometimes I think people go a little overboard, with big decorations but you know what?  Whatever makes them happy!  My Mom was always kind of a minimalist when it came to decorating our home growing up, classic white lights, nature decorations like pine cones and boughs, and I guess that is what I have grown to like.  But you know, what makes me much more happy than Christmas music and decorations, is Christmas goodies!  I love baking cookies this time of the year of course, and gifting them, but this time of the year means making things with the flavors of the season like gingerbread!  Which I don't believe should be limited to just cookies.  So, since it is Christmas time, I made some gingerbread crepes.  I have been wanting to make crepes for a few weeks now, and since I can finally make the fun Holiday flavored ones I went for it!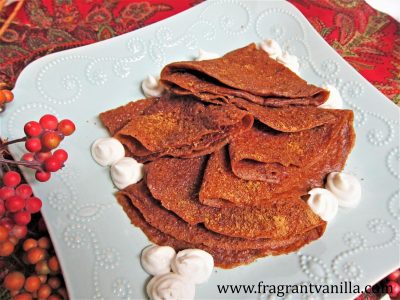 They were super easy and quick to make! Just whisk together the ingredients, cook them and enjoy!  They smell like gingerbread cookies while cooking!  It is one of the things about the Holidays that I love, all of the good smells.  Reminds me of when my Mom and I used to bake a lot of cookies, fill a big tin and enjoy them for the next few months after.  Gingerbread was usually included.  Anyways, once they were finished, I simply dusted them with a little coconut sugar, served them with a little coconut whipped cream, and they were sooo good!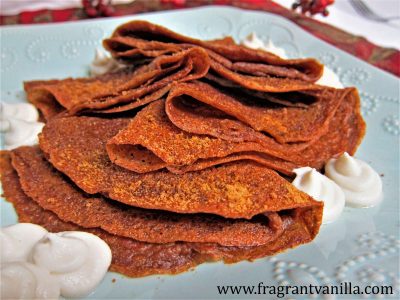 If you are looking for a special little treat to make for Holiday brunch, or an indulgent weekend breakfast, these are perfect!  I think they would be good with some cranberry sauce or jam included too (not the canned stuff though, the good home made stuff).  Or, even topped with chocolate fudge...because chocolate and ginger are amazing together too!  That is the thing I love about crepes, you can stuff them with whatever you want, or keep them really simple with sugar on top.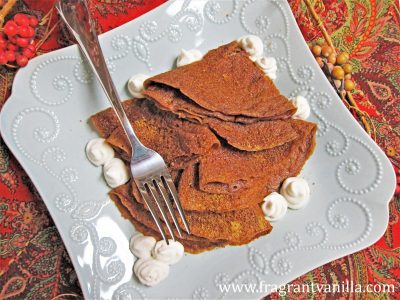 Vegan Gingerbread Crepes
Makes 14
Crepes:
1/4 cup ground flaxseed
3/4 cup filtered water
1 1/2 cups gluten free all purpose flour
3 Tbsp coconut sugar
2 tsp cinnamon
2 tsp ginger
1/4 tsp nutmeg
1/4 tsp cloves
pinch sea salt
2 Tbsp molassess
1/4 cup melted coconut oil
1 1/2 cups light coconut milk
1 tsp pure vanilla extract
coconut sugar and coconut whipped cream for serving
To make the crepes, mix together the flaxseed and water in a bowl, and set aside in the refrigerator for 15 minutes until it is the consistency of egg whites.
Meanwhile, whisk together the coconut sugar, flour, and sea salt in a bowl, then whisk in the coconut oil. Slowly whisk in the milk little by little to make sure the mixture stays free of lumps. Next, whisk in the vanilla, followed by the flax mixture you had set aside.
Heat a non-stick 6 inch pan over medium heat, then pour in 1/3 cup batter, and swirl the pan so that it spreads out to the edges.  Cook for about 3 minutes on the first side, then flip over and cook the second side. Once the crepe is done, set aside on a plate.  Repeat with the remaining batter, separating the crepes with parchment paper on the plate so that they don't stick together. Once you have finished allow them to cool completely.
(Visited 118 times, 1 visits today)