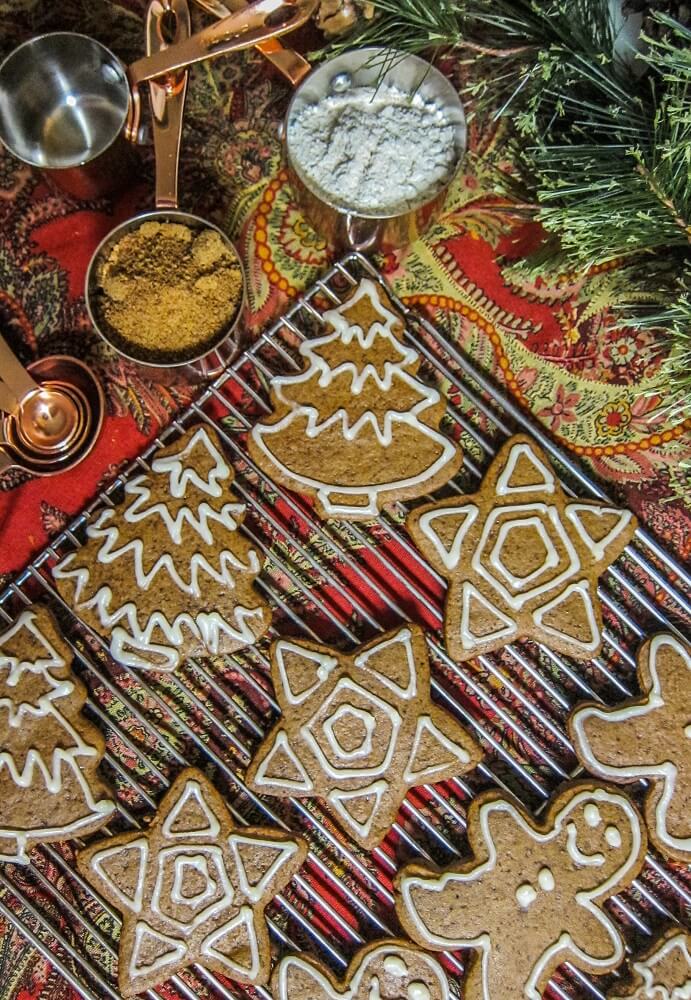 Vegan Gingerbread Cookies
I used to make gingerbread cookies a lot back in the day.  In fact, when I was a senior in college, I made gingerbread cookie sculptures for my senior art show.  Things like a gingerbread sculpture of my car, my house, and household items like a bed and table with chairs.  I really enjoyed it, it was a lot of fun being able to work with cookies and do art at the same time.  I have gingerbread cookies since then, but I haven't attempted to make a vegan gingerbread cookie house surprisingly enough.  Maybe sometime when I have a lot of free time which doesn't seem to happen in recent years around the holidays.  I do like to make gingerbread cookies though.  Now that Thanksgiving is over I thought I would whip up a batch!  Tis the season!  There is snow on the ground, and we are expecting more so it is the perfect time to stay cozy inside and do some baking.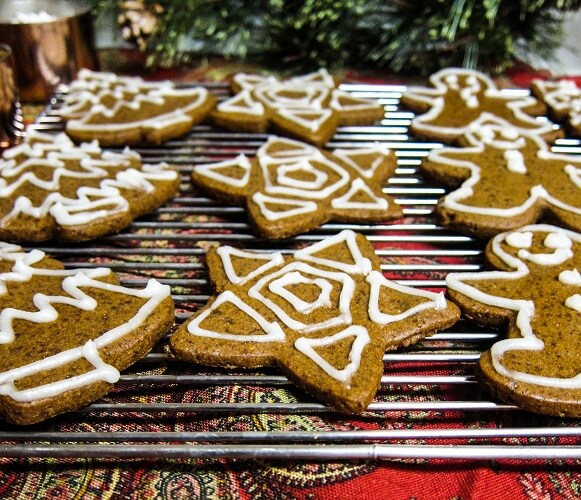 I admit I usually stay away from cookies that need to be rolled and frosted because I don't have time to make fussy cookies after work on a weeknight, but since I had the day after Thanksgiving off it gave me plenty of time.  And these were really not all that fussy.  They start with a spiced molasses base with ginger, cinnamon, nutmeg and cloves and it smells amazing.  It is a delicious soft dough.  I should know I tasted enough. I mean eating cookie dough is one of my favorite parts of baking cookies.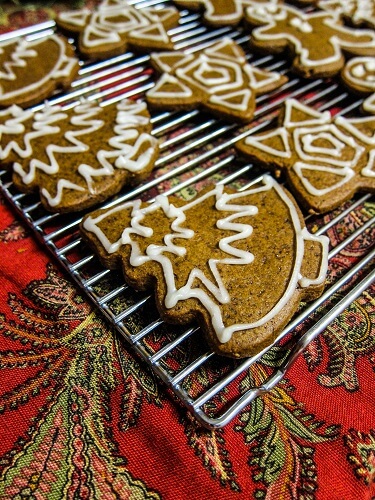 This is almost my original recipe that I made back in the day except for the flax eggs that I swapped in for the real ones. It works just as well, I don't even notice the difference.  Another change I made is I used Raw Guru coconut sugar instead of the brown sugar I used to use and it tastes just as good.  This dough actually chills a lot faster than the original dough too because I used coconut oil instead of butter like in the original one. It gets hard pretty quick. This is one of the easier doughs to work with so long as you don't chill it too long (or it will be hard).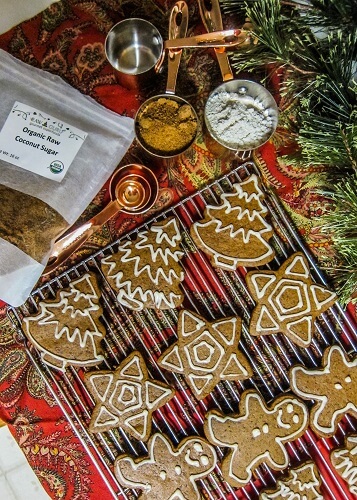 I cut them into cute little gingerbread men, stars and trees because why not?  I haven't actually made any gingerbread men in a while I opted for stars the last few times.  When they were all cool, I decided to top them off with a cream cheese "icing" I say icing in quotes because it is not made with powdered sugar, it is made with healthier things like cashew butter and coconut butter with a touch of maple syrup.  These cookies turned out sooo good!  If you are in the mood for some classic holiday cookies, definitely give these a try!  In place of the glaze melted dark chocolate piped onto them would also be good if that is more your jam.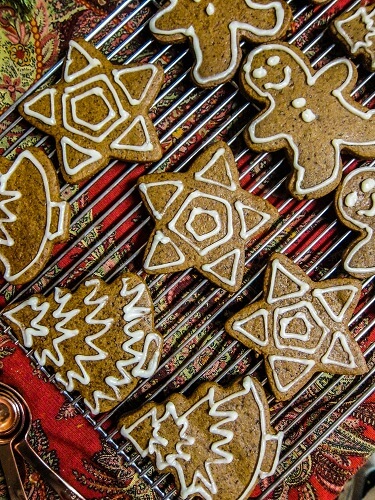 Vegan Gingerbread Cookies
Makes about 42 cookies
Ingredients:
Dough:
3 cups organic whole wheat pastry flour*
1 tsp baking soda
1 tsp ground cinnamon
1 tsp ground ginger
1/2 tsp cloves
1/4 tsp nutmeg
1/2 tsp sea salt
3/4 cup melted coconut oil
1/2 cup Raw Guru coconut sugar
2/3 cup molasses
1 Tbsp ground flax seed mixed with 3 Tbsp filtered water allowed to sit 15 minutes before using
Icing:
Instructions:
Preheat the oven to 350F degrees.
In a medium bowl, whisk together the flour, soda, spices, and sea salt.
In a large bowl, whisk together the coconut oil, coconut sugar, molasses and flax mixture until smooth.
Add the dry ingredients to the wet and mix until smooth.
Divide the dough into 2 balls, place each on a parchment lined tray, and roll out until 1/4 inch thick (if it is too sticky to roll, pop it in the freezer for a few minutes first.  Place in the freezer for about 5-10 minutes until more firm (but not hard, coconut oil hardens pretty fast), then cut into shapes and place on a parchment lined baking tray. Pop back into the freezer until completely firm, about 10 minutes.
Place in the oven and bake for about 12 minutes or until set (but not dried out).
Remove from the oven and let cool completely.
*If you want to make these gluten free, swap the whole wheat pastry flour 1:1 with Bob's Red Mill All Purpose Baking Flour.  I have tried this brand and know it works well (I can not say the same for all other brands as I have not tried them).
(Visited 1,249 times, 1 visits today)