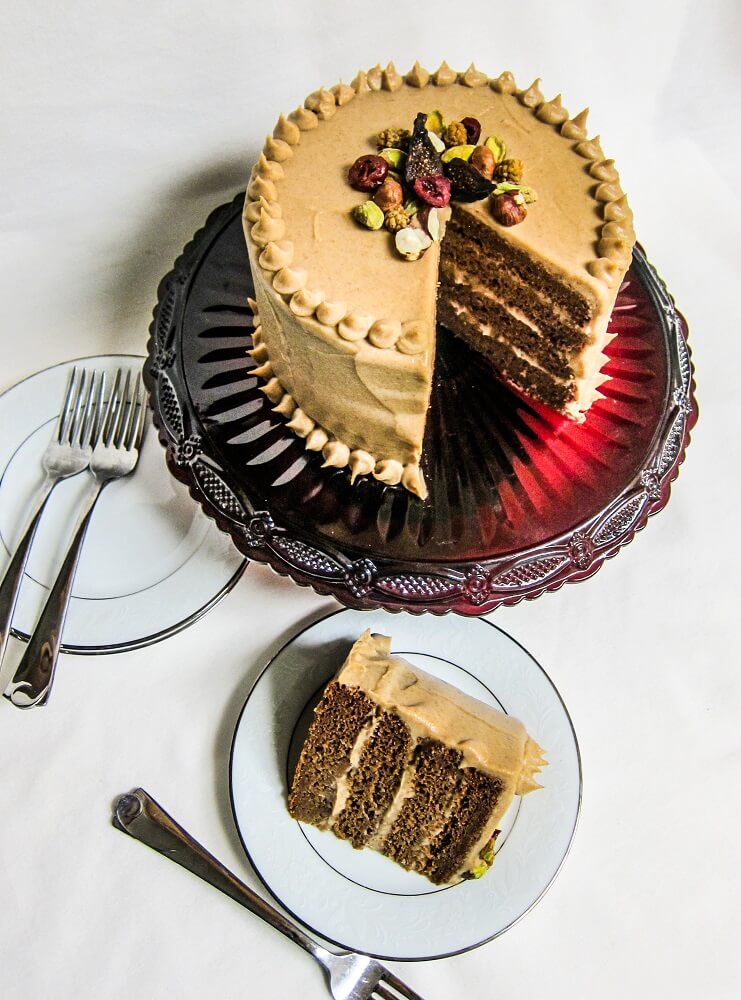 Vegan Gingerbread Cake with Caramel Frosting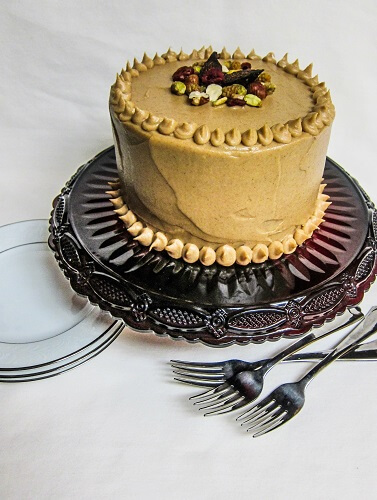 I realized this week that I haven't made a layer cake in a really long time.  Really long to me is 3 months, because it used to be that I made them at least every other week, or some sort of cake every weekend.  I have just been pretty busy with the holidays and other stuff going on that I opted for more simple desserts.  But the fact is I love cakes!  They are one of my favorite things to create! I love baking them, because I get to lick the batter from the bowls and eat the extra frosting and cake scraps, and of course have fun frosting and decorating them.  I was craving gingerbread this week, so I made a gingerbread cake last weekend.  I know it is standard to put white icing or some sort of white frosting on it but I wanted to make mine a little different and I wasn't feeling the white frosting this time.  I was having a hard time deciding between caramel and chocolate frosting so I asked my Facebook friends to help me decide.  Caramel it was!  That I can totally live with.  I have loved caramel ever since the first time I tasted it as a kid!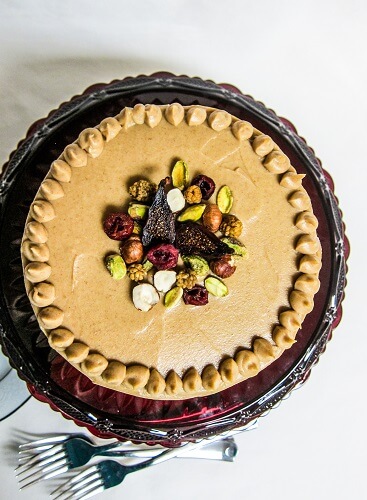 I wanted this cake to be fairly healthy as far as cakes go.  So I used a quinoa flour in it, which also happens to be gluten free!  Don't worry, you will not notice that it doesn't have regular flour, it has a nice soft texture like cakes with wheat flour.  Also, the cake was oil free and fruit sweetened.  I like to use dates in my cake base instead of sugar not only because they are about as natural as you can get and have a nice caramel flavor, but they also keep the cake soft and moist.  I hate dry cakes and this prevents the cake from ever getting dry. The batter tasted amazing even before I baked it, spiced with ginger, cinnamon, nutmeg and cloves.  I always taste my cake batter to make sure it is good before baking it, luckily this one needed no tweaks and was perfect!  It baked up beautifully as well and my kitchen smelled amazing!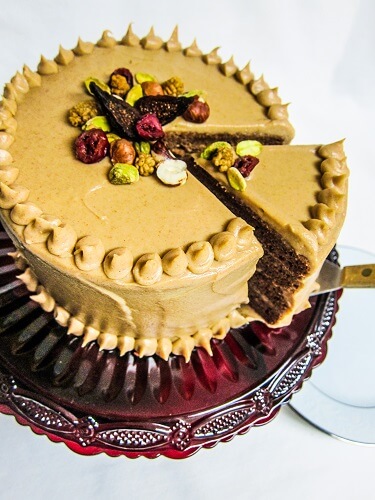 Then it was time to make the caramel frosting.  No cooking sugar needed here!  I used a secret healthy ingredient as the base.  White fleshed sweet potatoes!  They are naturally sweet, and when you blend them up with dates, vanilla and a little nut butter it tastes just like caramel!  It is smooth, spreadable and easy to work with too!  Plus you know me, I am always trying to hide veggies in things.  The cake turned out so good!  You would never guess that it was gluten free, fruit sweetened and oil free!  It just tasted like super delicious spiced gingerbread with a nice moist but light texture and sweet gooey caramel frosting!  Also, although it is a layer cake, it is one of the easier ones I have made as the frosting is simple and non-finicky so if you haven't baked a lot, don't let it intimidate you.  This would be perfect for a Holiday gathering!  I hope you all are having a wonderful December!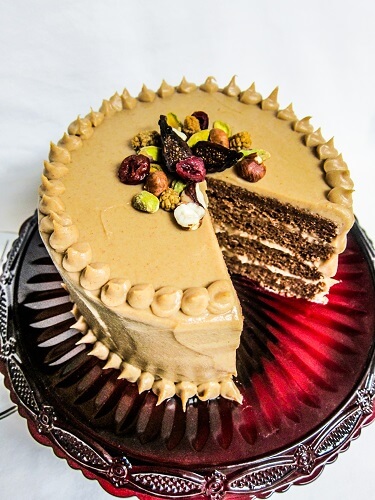 Vegan Gingerbread Cake with Caramel Frosting
Makes one 6 inch cake
Ingredients:
2 6 inch cake pans
Cake:
1 1/2 cups quinoa flour (or all purpose gluten free flour)
1 1/2 tsp baking soda
1 tsp baking powder
1/2 tsp sea salt
2 tsp ginger
2 tsp cinnamon
1/4 tsp nutmeg
1/4 tsp cloves
1 1/4 cups packed soft medjool dates, pitted, soaked in water for 30 minutes and 1 cup of the water reserved
1/4 cup raw pecan butter (or almond butter)
2 Tbsp molasses
1 tsp pure vanilla extract
1  cup filtered water
2 Tbsp apple cider vinegar
Frosting:
2 1/2 cups cooked white fleshed sweet potatoes*
1 1/4 cups soft, pitted medjool dates (soaked in water for 30 minutes and drain well if not soft)
1/4 cup pecan butter or almond butter
1 tsp pure vanilla extract
1/4 tsp sea salt
a few Tbsp filtered water or as needed
Directions:
Preheat the oven to 350F degrees and position rack in center of oven.
Oil two 6 inch cake pans and line the bottoms with parchment paper.
Whisk flour, baking powder, baking soda, spices and sea salt in a large bowl to blend well.
Place dates, reserved water, pecan butter, molasses, water, and vanilla extract into a blender, and blend until smooth, then whisk this blended mixture into the flour mixture until well blended. Whisk in the cider vinegar until bubbles form.
Transfer the cake batter to prepared pans, and place in the oven.
Bake cakes until they are set, but not over-baked about 35 minutes (or when a toothpick inserted into the center comes out almost clean with a few moist crumbs attached.  Remove from oven, and let completely.
Once the cake is cooled, slice it in half horizontally so that you have 4 layers.  Set aside.
To make the frosting, combine all ingredients in a blender and blend until smooth.
To assemble the cake, place a cake layer on a plate, and spread about 1/3-1/2 cup of the frosting over it.  Cover with the second layer and spread another 1/3 cup frosting over it, then another cake layer and the same amount of frosting then the last cake layer.  Spread the remaining frosting over the top and down the sides of the cake.
Enjoy!  Refrigerate any leftovers.
*I peeled my sweet potatoes, and cut them into cubes, then steamed them until tender in a steamer basket.  But you could also roast them in the oven.  Simply preheat the oven to 400F degrees, prick the sweet potatoes with a fork and place them on a baking tray, then roast for about an hour until tender.  Let cool and scoop the flesh out.
(Visited 1,495 times, 1 visits today)