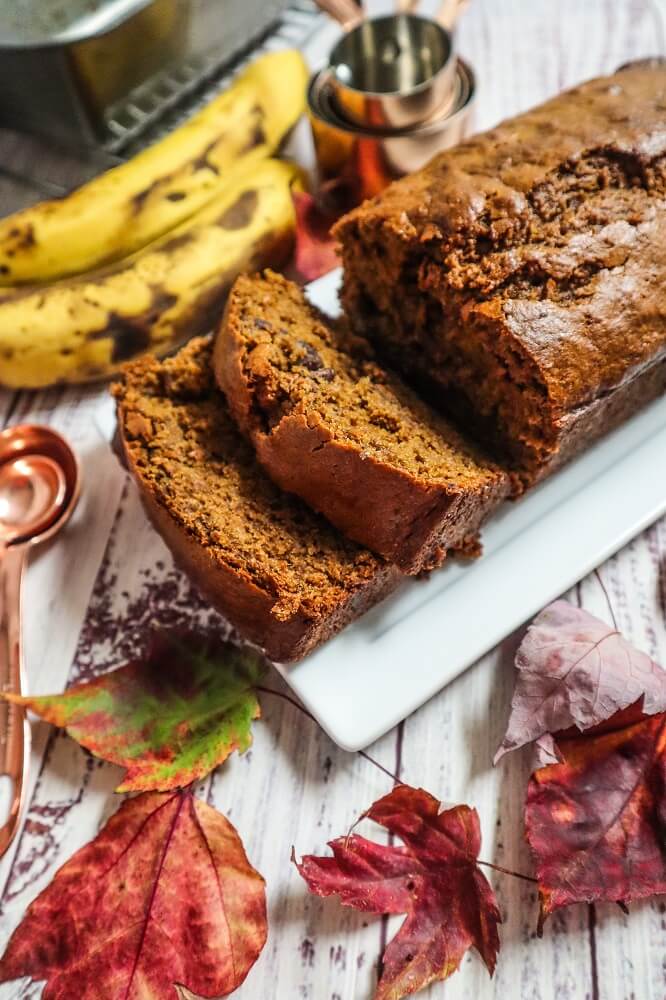 Vegan Gingerbread Banana Bread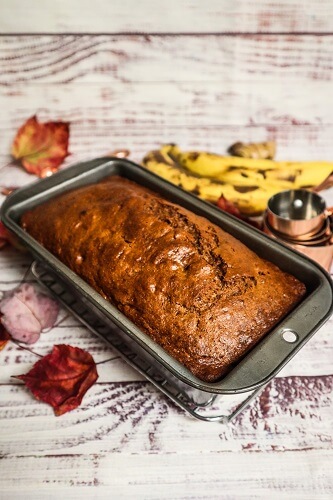 Last weekend Eric and I drove up north to Banning State Park in Minnesota to enjoy the fall colors, and it was honestly some of the most spectacular scenery I have seen this time of the year.  The conditions seem to be just right this year, it stayed warm pretty long, and everything is vibrant right now. Everyone else seemed to have the same idea, it was more packed there than I have ever seen it with lines that seemed like a mile long of cars parked outside the parking lot.  We went on about a 5 mile hike to this waterfall and back and hammocked along the way and it was a fun day but we were both pretty tired for the ride back.  While in the car I had time to think about what I felt like baking on my day off.  There was a chill in the air which had me craving warming spices.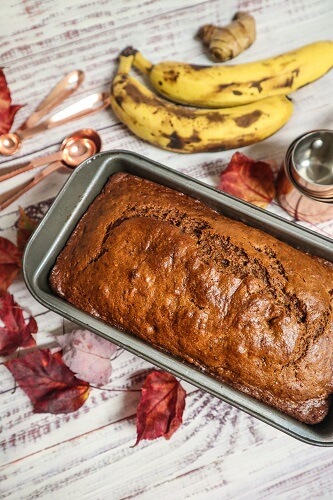 I had some over ripe bananas at home, so I thought a spiced banana bread might be good. But then I remembered how much I liked gingerbread and decided to make it a gingerbread spiced loaf!  I know gingerbread season is usually a bit later into the holidays but why not make something gingerbread now?!  It was the perfect thing to make, because it is easy, and I knew I would love it.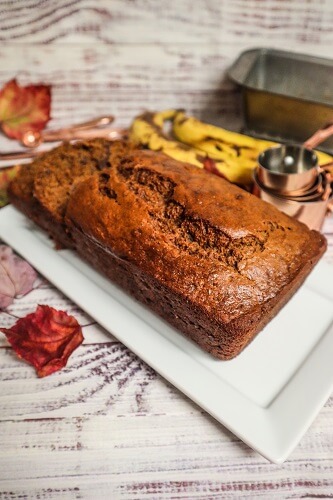 I tweaked the base for my Grandma's banana bread recipe, adding in molasses and spices and even the batter was delicious. I always liked gingerbread in the fall, and in fact when I was in cross country I would make cookies for the team and use my acorn cookie cutter to make gingerbread acorns with a maple glaze that we all loved. Speaking of which, I need to make a veganized version of those!  But for now this banana bread was what I was excited about.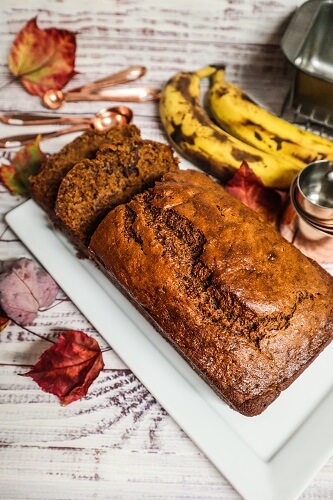 I added in pecans to give it a nice crunch, and it was ready to go into the oven. It made my kitchen smell amazing!  The aroma of warming spices always makes me happy.  I could not wait to try it! Once it was all cooled and ready to cut I was super excited!  It was sooo good!  Moist and delicious but not too heavy with a sweet banana flavor that was perfect with the ginger and the rich molasses! If you have bananas on hand, now you know what to make next!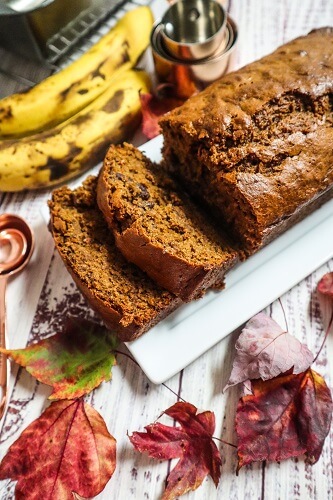 Vegan Gingerbread Banana Bread 
Makes 1 loaf
Ingredients:
1 cup maple sugar*
1 Tbsp ground flax seed mixed with 3 Tbsp filtered water (allowed to sit 15 min. before using)
1/2 cup oat milk*
2/3 cup mashed ripe bananas
1/4 cup avocado oil*
1 Tbsp molasses
1 tsp pure vanilla extract
1 1/2 cups organic whole wheat pastry flour*
1 tsp cinnamon
1 tsp ginger
1/4 tsp nutmeg
1/4 tsp ground cloves
1 tsp baking soda
2 tsp cider vinegar
1/2 cup chopped pecans
Instructions:
Preheat the oven to 350F degrees, and oil an 8x4 inch loaf pan.
In a large bowl, whisk together the sugar, flax mixture, oat milk, bananas, oil, molasses and vanilla until smooth.
Whisk in the flour, baking soda, cinnamon, ginger, nutmeg, and cloves then the vinegar until combined.
Fold in the pecans until evenly distributed.
Pour the batter into the prepared pan, place in the oven and bake for about 1 hour until a toothpick inserted into the center comes out almost clean with a few crumbs attached.
Remove from the oven and let cool before removing from the pan.
Bread keeps at room temperature for up to 3 days in an airtight container or wrapped, in the refrigerator for up to 1 week, or frozen for up to 4 months.
*Notes:
Instead of the maple sugar, you could also use coconut sugar or granulated sugar if you prefer those.
You can use any type of unsweetened plant based milk in this recipe, such as soy, almond or coconut instead of the oat if that is what you have on hand.
If you would like to make this oil free, use 1/4 cup almond butter ( or your favorite nut or seed butter) instead of the oil.
If you would like to make a gluten free version of this bread, swap the whole wheat flour for Bob's Red Mill gluten free all purpose baking flour (I have tried this brand and know it works well for recipes like this).
(Visited 1,606 times, 1 visits today)