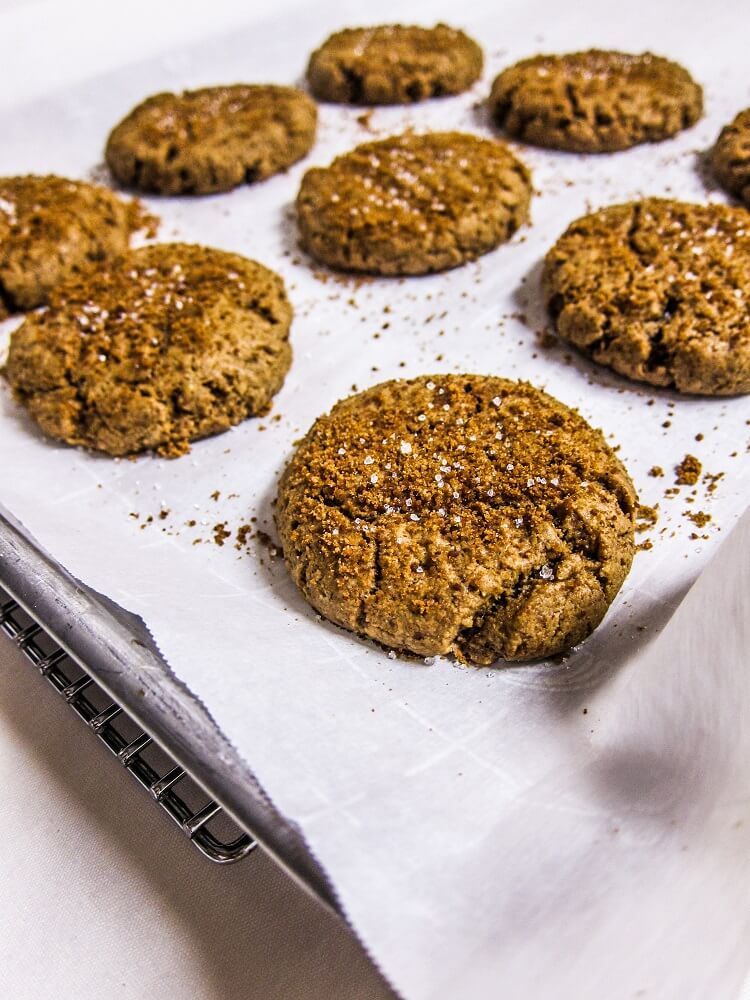 Vegan Ginger Almond Butter Cookies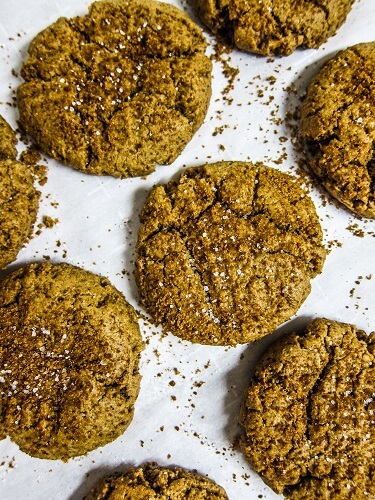 Fall is nearly here, and even though we have had a warm week so far I am ready for a new season and all of it's flavors. Yes I am one of those people who loves pumpkin spice (only when used in the right applications of course), and all other warming spices like cinnamon in an apple pie or ginger cookies.  Which is why I decided to make ginger cookies last weekend!  I love how they are slightly spicy and warming, perfect with a cup of tea and especially during fall and winter.  These would be a little bit different though than the ones I usually make, I decided to make almond butter ginger cookies since I had some Dastony almond butter on hand from Raw Guru.  I like nut butter cookies, the way they are soft and chewy and nutty and I thought the ginger would be perfect in them!
I have been experimenting a lot lately with oil free baking and nut butter cookies are somewhat easy to make oil free due to their high fat content in the nut butter.  Oil free is not to be confused with low fat, it simply means you use a whole food product instead of oil which is more refined, like swapping the coconut oil for all almond butter in this case.  You might think that it makes baked goods less rich, but actually most of the time it turns out quite well, like with these cookies.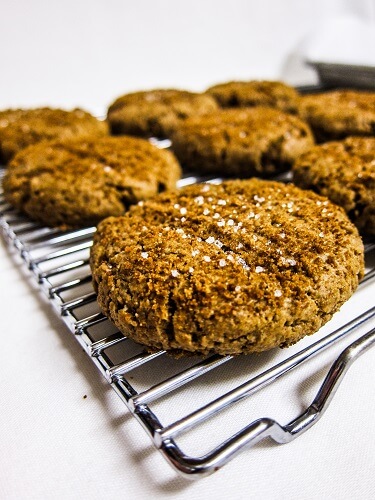 They were really quite simple to make, just mix in a bowl, shape, roll in sugar and bake! I mixed in a few more spices besides the ginger, although the ginger was still the star.  The dough tasted amazing even before baking.  Yes, I always have to test my cookie dough.  You never know when you might forget to add something like the sugar.  Which has happened to me before and I ended up saving the batch because it wasn't baked yet.  Nobody is perfect after all but it is nice when you can catch your mistakes and fix them.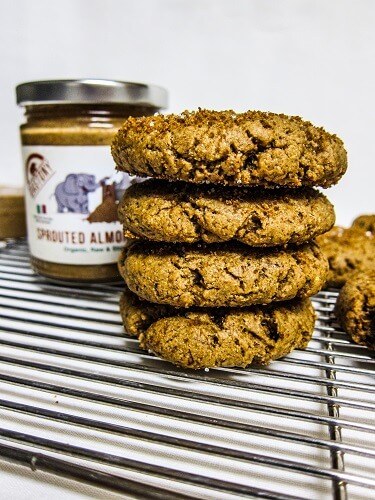 These cookies smelled amazing while baking!  The aroma of sweet spices and ginger filled my kitchen!  I did not wait for them to cool completely before trying one, because they were calling my name.  They were super delicious!  Soft and chewy with just the right amount of spicy ginger and warming spices with the rich flavor of almond butter!  These are perfect for fall, so definitely give them a try if you are a spice cookie sort of person like I am!  They would go perfect with a pumpkin spice latte after all, the unofficial drink of fall!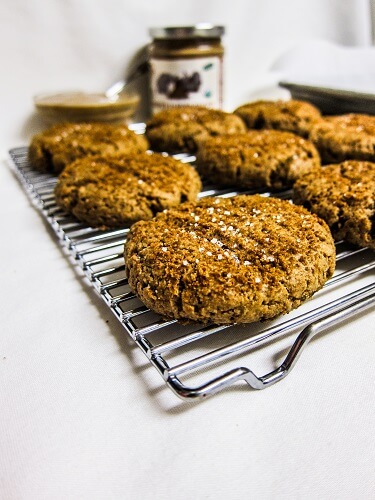 Vegan Ginger Almond Butter Cookies 
Makes 24
Ingredients:
1 cup coconut sugar plus more for rolling cookies
1 1/2 cups Dastony almond butter
1/2 cup filtered water
1 flax egg (1 Tbsp ground flax seed mixed with 3 Tbsp filtered water allowed to sit 15 minutes)
2 cups organic whole wheat pastry flour
2 tsp baking soda
1 tsp cinnamon
2 tsp ginger
1/4 tsp nutmeg
1/4 tsp sea salt
Directions:
Preheat the oven to 350F degrees.
Line a large sheet pan with parchment paper.
In a bowl, mix together the coconut sugar, almond butter , water and the flax egg until smooth.
Mix in the flour, baking soda, and spices until smooth.
Place some coconut sugar in a small bowl.
Roll the cookie dough into 1 inch balls, then roll in coconut sugar and set on the prepared tray, 2 inches apart.
Place tray in the oven and bake for 12-15 minutes until set.
Remove from oven, and let cool before enjoying.
*If you would like to make these gluten free, you can swap in Bob's Red Mill all purpose baking gluten free flour for the whole wheat pastry flour.  I have tested this brand personally and know it works well.
(Visited 240 times, 1 visits today)