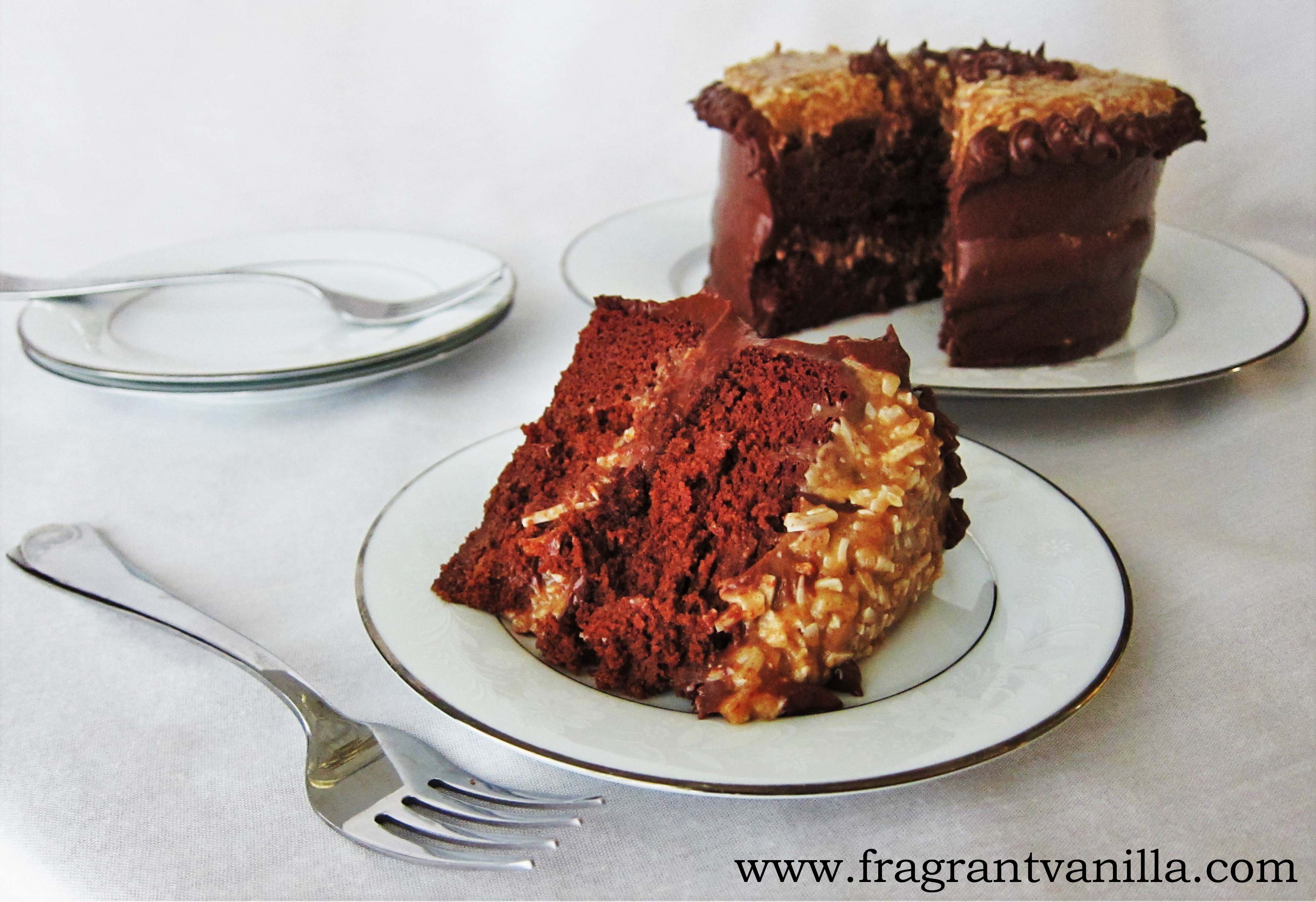 Vegan German Chocolate Potato Cake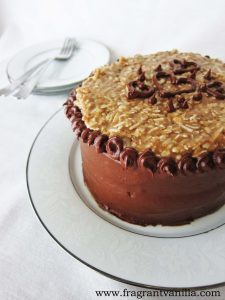 When someone asks me if I can veganize a recipe I am always game.  So when a reader asked me a few weeks back if I would make a potato cake, I was excited to do so!  I had never actually had a potato cake, so I looked up other recipes to see if I could get an idea of what it was, and I gathered that most of them are chocolate.  So that was even better.  I am not going to turn down making a chocolate cake. I told Eric about it, and he said I should make it a German chocolate potato cake.  After all, the cake layers would be the same, I would just be adding some caramel filling laced with coconut and walnuts!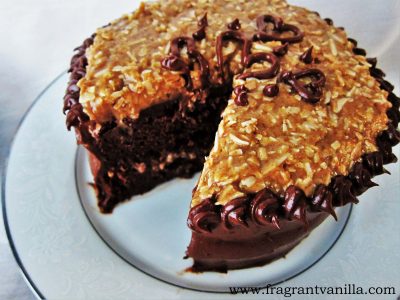 I loved the idea. So, I made the cake layers with mashed potatoes, well, potato puree, and all of the ingredients I usually include in my chocolate cake, and even the batter tasted amazing. But what was important was the fact that the cake had the perfect texture. I did not even use any oil in it! I used pecan butter and the potatoes instead and what resulted was the most moist soft and delicious cake. I frosted it with a simple fudgy frosting made from dates, pecan butter, cocoa powder and sea salt. That stuff was so good. Also, I made a date caramel for the filling and topping with walnuts and coconut as is customary for German chocolate cake.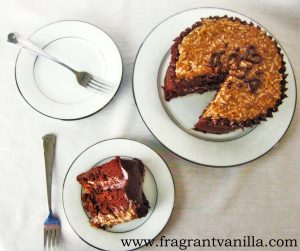 This cake was freaking delicious. Me and Eric shared a few pieces with some wine as is tradition on Sunday nights for us, and we were both in awe of the cake. He said it was the best cake I have ever made. Well, I don't know about that because I think some of the others were equally delicious, but it ranks way up there. I shared some with my Mom as well, and she loved it too. So, you should totally make this if you are craving decadent deliciousness. I think it would make the perfect birthday cake as well for any of you who have birthdays coming up.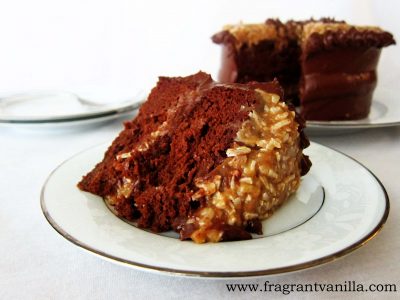 Vegan German Chocolate Potato Cake
Makes 1 6 inch 4 layer cake
2 6 inch cake pans
Cake:
1 cup gluten free all purpose flour
1/2 cup unsweetened cocoa powder
1 cup coconut sugar
1 tsp baking soda
1 tsp baking powder
1/2 tsp sea salt
3/4 cup pureed cooked potato
1/4 cup raw pecan butter or almond butter
1 Tbsp pure vanilla extract
3/4 cup filtered water
2 Tbsp apple cider vinegar
Frosting:
1 1/4 cups pitted medjool dates, soaked in water for 30 minutes, and 1 cup of the water reserved
3/4 cup raw pecan butter or raw almond butter
3/4 cup unsweetened cocoa powder
pinch sea salt
Caramel:
1 cup pitted medjool dates
3 Tbsp raw pecan butter or almond butter
2 tsp pure vanilla extract
pinch sea salt
1/3 cup filtered water
¾ cup finely shredded, dried coconut
1/4 cup finely chopped walnuts
Preheat the oven to 375F degrees and position rack in center of oven. Line two six-inch-diameter cake pans with 2-inch-high sides with parchment paper. Coat parchment paper and pan sides with nonstick spray. Whisk flour, cocoa powder, baking soda, salt, and sugar in a large bowl to blend well. Whisk potato puree, pecan butter, vanilla extract, and coconut milk together in small bowl to blend well, then whisk into the flour mixture until well blended. Whisk in cider vinegar until pale swirls form in the batter and it is well combined. Transfer cake batter to prepared pan and bake cakes until tester inserted into center comes out clean, about 25-30 minutes. Cool cake completely in pan on rack, about 1 hour. Cut around sides of pan to loosen. Turn cake out onto platter; peel off parchment paper.
Meanwhile, to make the frosting, combine all ingredients in a high speed blender, and blend until smooth (since moisture content in dates varies, and nut butters may vary in runniness, if it seems too thin, add a little more cacao powder, too thick, a little more water). Set aside.
To make the caramel, combine all ingredients but the coconut in a high speed blender and blend until smooth. Stir in coconut until well combined.
To assemble, place one cake layer on a plate, and spread frosting 1/2 inch thick over it, then half of the caramel.  Place the other cake layer over that, then spread the remaining frosting on the top and down the sides of the cake. Spread the remaining caramel over the top of the cake.
*If you would like a 4 layer 9 inch cake, double this entire recipe and bake in two 9 inch cake pans.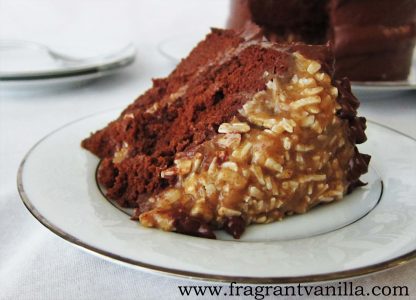 (Visited 359 times, 1 visits today)