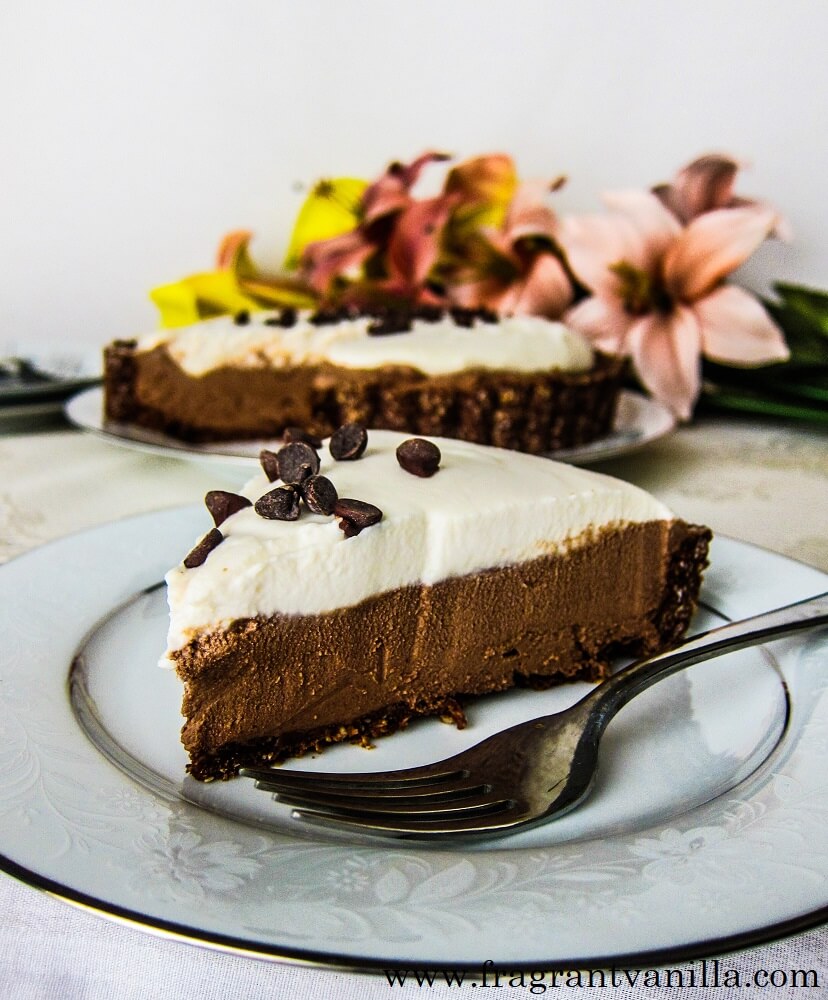 Vegan French Silk Pie
When I was little, French silk pie was one of my favorite things ever. Luscious mousse like chocolate filling covered in fluffy whipped cream and chocolate it was heavenly!  And, at that point in my life I would always choose a cream pie over a fruit one any day.  They are about equal now, but nothing beat a cream pie back then.  It felt special because it wasn't something I ate a lot, it was something that my family would buy for special occasions. I surprisingly have never made a vegan version, but I decided it was about time because I was craving one last weekend.  I knew I could make something even better than the original, and I went for it!  Perfect timing too because this is just the sort of thing you would want to include with your Easter meal if you wanted to go the more traditional route and didn't want a cake.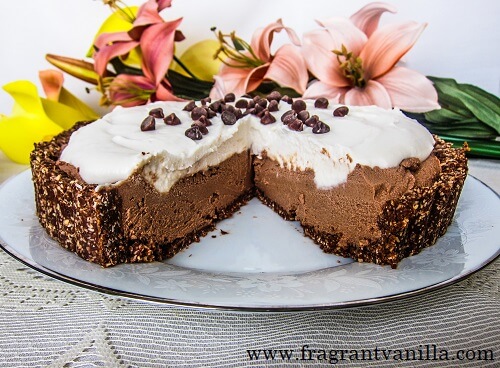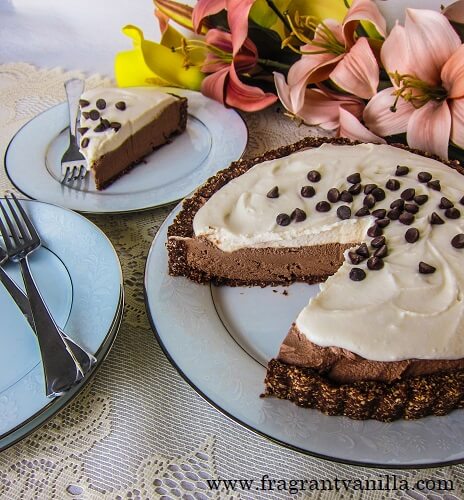 It wasn't difficult to make at all, and I had all of the ingredients on hand.  Which is another reason I chose to make it last weekend.  I don't know about you, but if I can make something without having to buy anything and it saves me money that makes me happy!  This pie has a press in no-bake crust, which makes it easier to make.  I don't always like to fuss with blind baking crusts, so this is the route I usually take.  I made a chocolate crust for this one, because why not make it extra chocolaty!  One can never have too much chocolate, right?!  This crust is actually gluten free too, because I used buckwheat in the crust instead of oats.  But if you prefer oats and that is what you have on had, you can use those instead.  Or walnuts will work as well (as noted below).  The crust comes together in about 2 minutes and it tastes kind of like chocolate cookie dough.  The filling has a coconut milk cashew base and it is heavenly once the cacao powder is added.  Pretty much like a rich chocolate mousse, and I could eat it just like that.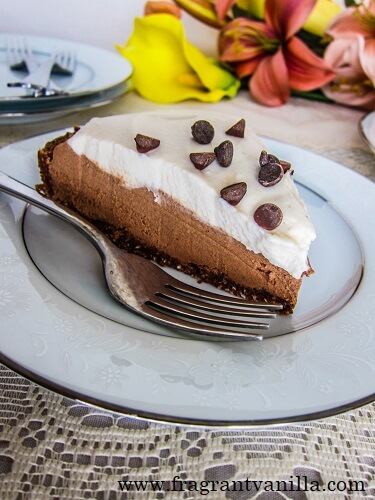 But I added a layer of fluffy whipped coconut cream like the original pie had, and sprinkled it with mini chocolate chips.  It was sooo good!  I enjoyed this version even better than the one I had as a kid, because it tasted better to me, and I still felt good after eating it.  Not like I was going to go into a sugar coma.  I think this would be the perfect addition to your Easter feast if everyone is a chocolate fan!  I hope you all are having a wonderful Spring so far!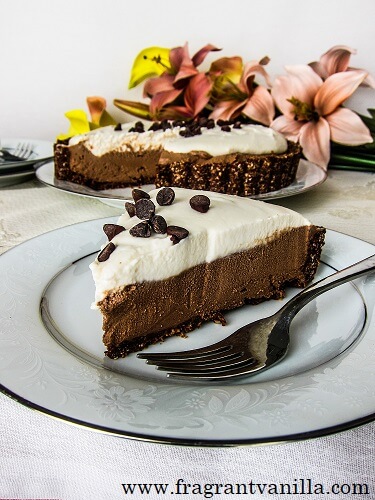 Vegan French Silk Pie
Makes one 8 inch pie
1 9 inch pie plate or 1 9 inch round removable bottom tart pan
Crust:
Filling:
Cream Topping:
Topping:
Instructions:
For the crust, combine all ingredients in the food processor until finely chopped and starting to hold together when squeezed (if it doesn't you may need to add a little filtered water 1 Tbsp at a time).
Press the mixture into a 9 inch removable bottom tart pan or pie pan greased with coconut oil.
For the filling, combine all ingredients in a high speed blender and blend until smooth. Pour into the crust.
Place in the freezer until set, about 2 hours.
Meanwhile, for the cream topping, combine all ingredients in a blender and blend until completely smooth. Pour into a bowl and place in the freezer until it is thick like whipped cream (whisking every so often), about 45 minutes.
Once the cream is ready, spread over the top of the pie.
Scatter chocolate chips or chocolate chunks over the top, and serve!
Pie keeps refrigerated for 1 week in a container.
(Visited 1,003 times, 1 visits today)